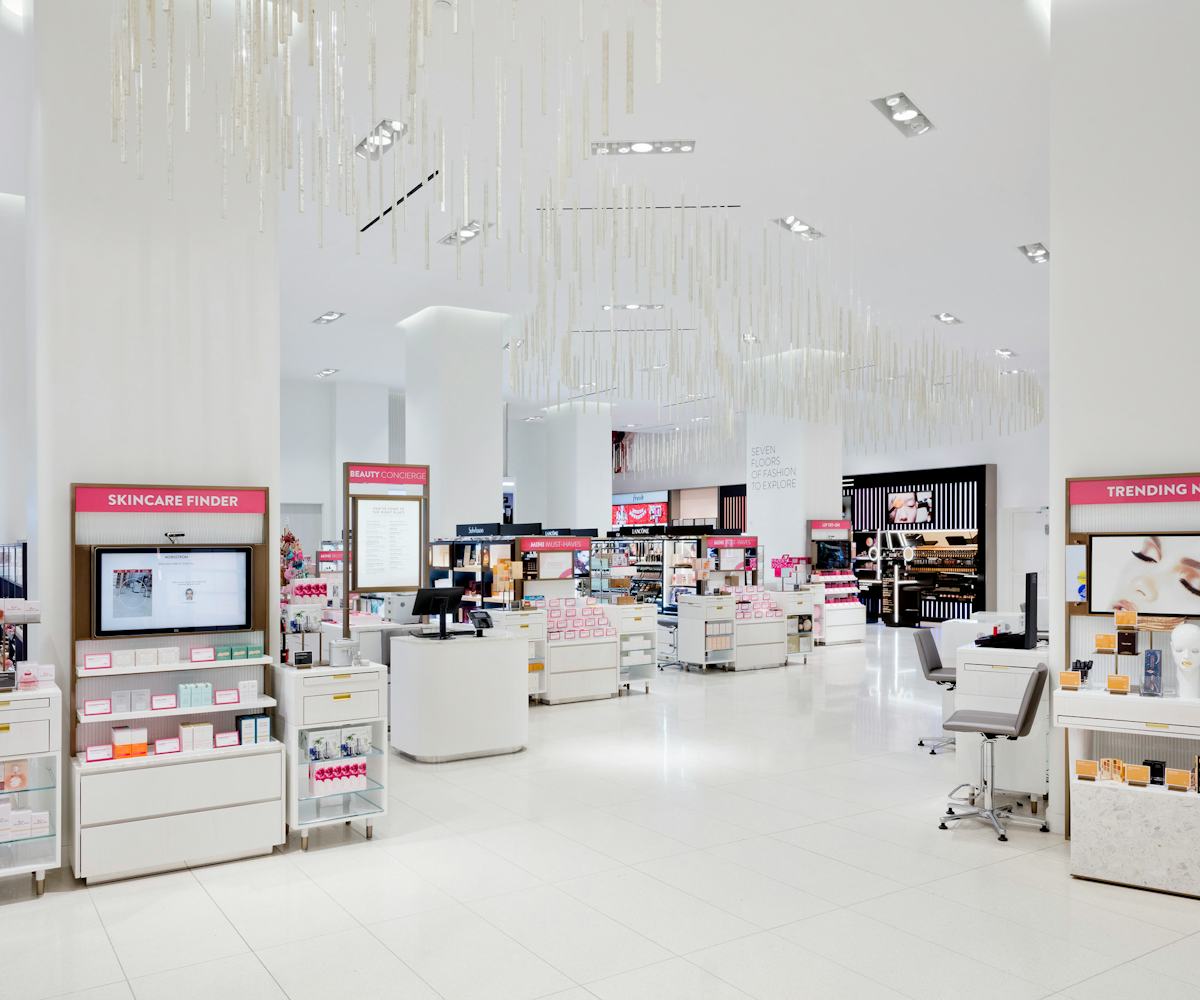 Photo courtesy of brand
Nordstrom's New York City Beauty Floor Is A Skin-Care Lover's Dream
"We're leading with skin care," a glossy-haired Nordstom exec explained as she guided me through the shiny new beauty floor of Nordstrom's just-opened NYC flagship, which has its own entrance on the corner of West 57th Street. I was less than 10 steps in and I already wanted to slap on a face mask, so clearly, the point was made. The space has anything a skin-care enthusiast could want: a machine to examine your skin and recommend products, a healthy mix of indie (Herbivore Botanicals, Tata Harper, Supergoop!) and legacy brands (Kiehl's, La Mer, Lancôme), and med-spa level treatments just a flight of stairs away. There's even a natural skin care aisle, with an entire section dedicated to products infused with CBD.
The space has a "choose-your-own-adventure" feel, which differentiates it from most boxy beauty counters that feel maze-like in their construction. Leading with skin care is smart on Nordstrom's part, and could be the key to a successful beauty department: Makeup sales are on the decline across the industry, and all signs point to the increased obsession with achieving a poreless, glassy skin glow. In fact, many teens are choosing to forgo makeup altogether, with their all-powerful dollars going towards skin products instead of cosmetics. Business of Fashion recently offered tips to retailers, suggesting that businesses "consolidate existing color lines, ramp up skin-care assortments and update store layouts." With the new flagship, Nordstrom has done all three.
Makeup has its own moment on the floor, too: Each brand has its own counters designed for customers to play and interact at will. There will be makeup artists as well, but the goal is for people to drive their own visit rather than being told what to do, which is in line with beauty's new, more informed consumer. People are encouraged to swatch, play, and then, possibly, head upstairs.
One flight up is Beauty Haven, which offers a full suite of experiential treatments. Services include Botox and lip fillers from Kate Somerville, LED facial treatments, a nontoxic nail salon, and Facegym, the cult-favorite "workout for your skin." Of course, there's an Instagrammable selfie mirror on-site, complete with words of affirmation and soft pink pampas grass. It's the kind of place I could get blissfully lost in for hours, which is definitely the point.
The store officially opens Thursday, October 24th.