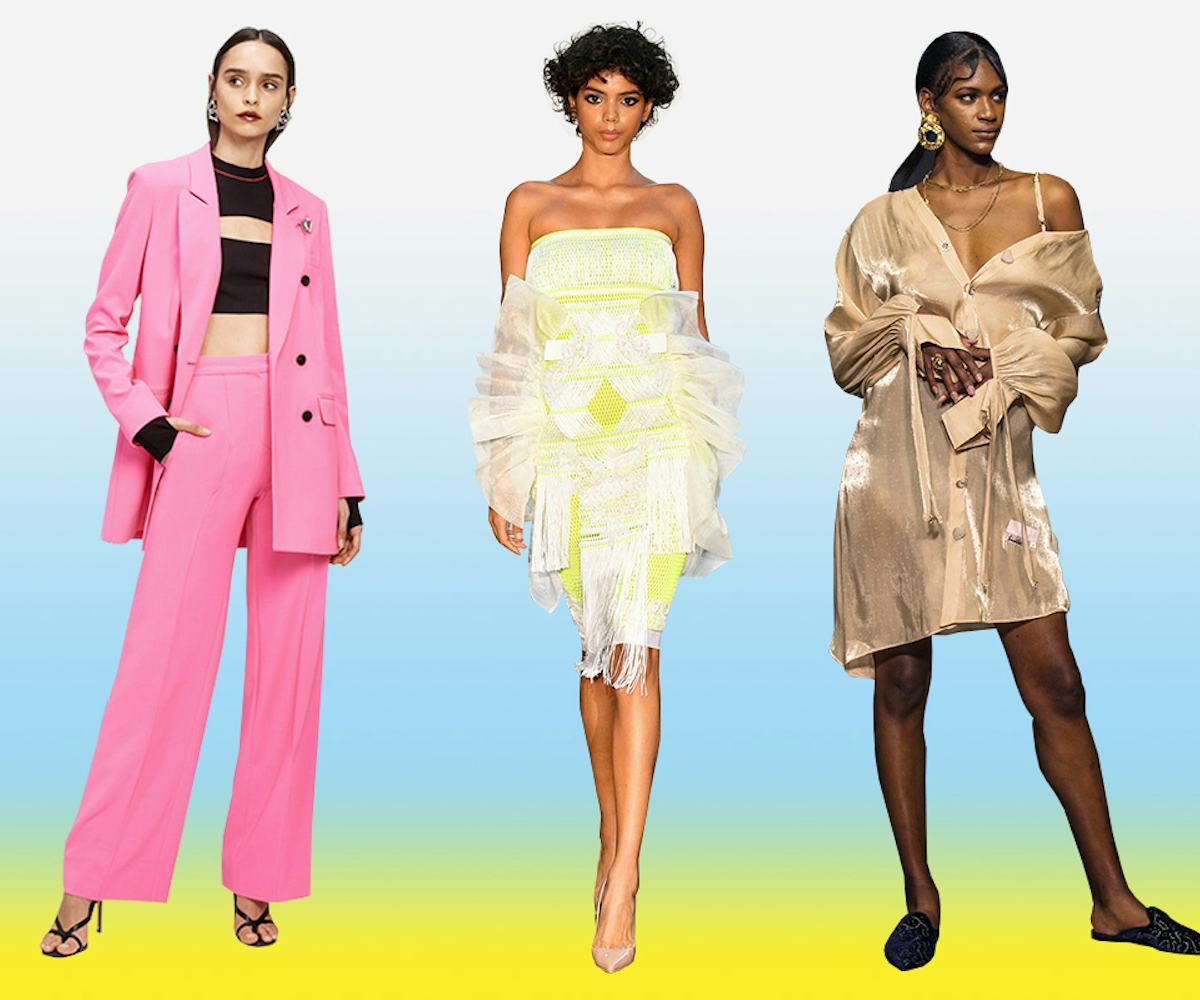 Photos Courtesy of Brands
Get To Know These 9 New York Fashion Week Newcomers
New York Fashion Week isn't dead, just in need of some fresh blood
Many of the mainstay designers of New York Fashion Week are leaving the city, prompting the industry to wonder if New York Fashion Week is dead. Tom Ford, Jeremy Scott, Alexander Wang, and many more have already ditched the city or left the traditional fashion calendar schedule behind. So, who's left?
It's not so much about who is left, but rather who's just now joining the fold. Brands like DANZ and e1972 will be making their official debuts this February while celebrity-beloved Sergio Hudson will finally bring his Beyoncé and Michelle Obama-approved designs to the runway for the very first time. Other brands like DB Berdan, which has already been spotted on the likes of Hayley Kiyoko and Halsey, will be bringing its lusted-after streetwear in from London to join the New York Fashion Week schedule.
This is all to say that New York Fashion Week isn't dead, just in need of some fresh blood, and there's plenty to choose from. Whether they're putting on runway shows or curated presentations, new and up-and-coming designers are coming in hot this season, and bringing clothes you might actually want to wear. Read about nine of the must-know brands making their New York Fashion Week debuts, below.
DANZ
Danica Zheng created DANZ to fill a fashion void for women, creating clothes that are not only easy to wear, but also pack a punch. Inspired by streetwear-leaning, high-fashion brands like Off-White, Alexander Wang, and Ambush, Zheng's debut collection for DANZ shows a wardrobe that is "effortlessly cool and sexy yet pays attention to detail and construction."
A 2014 graduate of Parsons who also studied at Central Saint Martins, Zheng interned for Michael Kors and Narciso Rodriguez before she became an assistant designer for Calvin Klein Collection. She was also the founder behind another up-and-coming label called Pamplemousse, which she decided to shutter in order to launch DANZ, a label that feels much more in line with her own personal aesthetic and creative vision.
About 90 percent of the debut womenswear collection, which also includes some select jewelry, was made in New York from premium fabrics and hardware, and honestly, it shows in the best way.
e1972
e1972's Julia Haart has a different approach to luxury clothing, eschewing ready-made sizes for a made-to-measure approach, inviting everyone of all shapes, sizes, and gender identities to indulge themselves on handcrafted luxury streetwear. The new brand will have ateliers across the world where customers will be able to come in for personalized fittings in an effort to build on the label's goal of challenging "the traditional perception of 'model life' by viewing it through the lens of inclusivity, purpose and positive self-expression."
This season marks the brand's first runway show for New York Fashion Week on February 8, and top talent, like Adut Akech, Lais Ribiero, Isabeli Fontana, Lindsey Wixson, Rachel Marx, Cindy Bruna, Miss Fame, and Joséphine Le Tutour, are already on the model roster, along with a special performance from Bebe Rexha.
KEH
Founded by Wei Ge and Aoyu Zhang in 2018, KEH will host its debut show during New York Fashion Week. While this milestone marks their first presentation during fashion week, Fall 2020 is the third collection for the brand.
Designed by Ge, who studied fashion design at Parsons, KEH's new collection takes inspiration from architecture and sculpture, classic Balenciaga, and fashion photographer Nick Knight's "Roses" exhibition from 2019. While KEH's presentation will only be showing womenswear this season, the brand designs both womenswear and menswear, often melding the two together for a modern interpretation of masculine and feminine. "Mixing genders is what we wanted to capture with the KEH Fall 2020 collection," Ge told NYLON.
Kollar
Canadian streetwear brand, Kollar, founded by David Kollar, held its debut runway show on Wednesday during New York Fashion Week: Men's, presenting a collection inspired by the underground and nightlife of 1990s New York. Founded in 2011, the brand has made a name for itself through a new kind of luxury streetwear, one that actually looks luxurious, from paisley-printed denim jackets to velvet and floral western-style shirts.
oqLiq
oqLiq is going all out for its debut at New York Fashion Week, presenting both women's and menswear collections, as well as pairing the looks with shoes provided by its sponsor Nike. The Tawainese brand has carved out its niche in outerwear for men, playing with technical and practical materials for an updated look on practical dressing. Since then, oqLiq has taken that approach across an entire apparel range, including skirts and sleeveless dresses.
Sergio Hudson
Fans of Sergio Hudson include, but are not limited to, Beyoncé, Rihanna, and Michelle Obama. (Most recently, Demi Lovato wore one of his designs to sing the "National Anthem" before the Super Bowl.) The American designer has been in the game for a while now, even earning the top spot on the Bravo series Styled To Rock back in 2013, where he won $100,000 to expand his brand. And expand he did, with many of the world's most influential women seeking him out to create custom looks. In fact, Obama's custom sequined jumpsuit became so popular after she wore it during an interview with Gayle King last July that Hudson quickly created a (slightly more) affordable version to sell to the masses.
Despite dressing slews of A-list women, New York Fashion Week marks Hudson's very first, which we predict will, undoubtedly, come with a packed front row to watch.
Sukeina
This may be Sukeina's first time at New York Fashion Week, but the brand has long been generating buzz, thanks to fans like Naomi Campbell and Natalia Vodianova. Led by Senegalese designer Omar Salam, who founded the label in 2012, Sukeina's womenswear is dramatic and feminine, full of ruffles, feathers, and figure-hugging tailoring, telling Okay Africa, "It is an unfiltered expression femininity in all its power."
Despite this, Salam, who has worked for fashion houses like Sonia Rykiel and Christian Lacroix, has made it clear that he's not just designing for the Naomi Campbells of the world. "It's not to say that if you aren't a leader or an influential person, you can't wear the clothes," he told Vogue in 2018, adding that his clothes are for every woman, "whether she's a singer or she's typing at a desk."
Luooif Studio
Established in 2015 by Central Saint Martins graduates Lena Loffurzzi and Peng Zhang, Luooif Studio is taking cues from the closets of dads for their New York Fashion Week debut. The designers, who are inspired by the psychedelic and whimsical, are taking dad fashion to a new level this season.
"Dad's style has two meanings, one is vintage, the other is comfort. However, within these two meanings, we have added new ideas to this season to show how much our generation likes to match the wildest part of dad's wardrobe," they said in a press release about their upcoming Fall 2020 collection. "In fact, the craziest and wildest clothes in dad's wardrobe were probably abandoned one by one while we were growing up. So now we are reintroducing and taking dad's wardrobe back to its wildest days."
DB Berdan
Turkish streetwear brand DB Berdan is already popular among the cool kids of London and beyond, boasting fans like Hayley Kiyoko, Hasley, and Agnez Mo. Founded in 2013 by Deniz Berdan, her daughter, Beg Berdan, joined the company after graduating from the London College of Fashion in 2015.
DB Berdan is simultaneously snarky and boundary-pushing, mixing elements of streetwear and ubiquitous logos to create a larger message. After Pride was banned in Istanbul in 2019, the brand held its own parade on the runway.
"We always had this sarcastic vibe to the brand and had something to say each time," the pair told Camden Market. "That's how we can cope with injustices. We always have a story and a message to tell and the best way to tell it with is print."