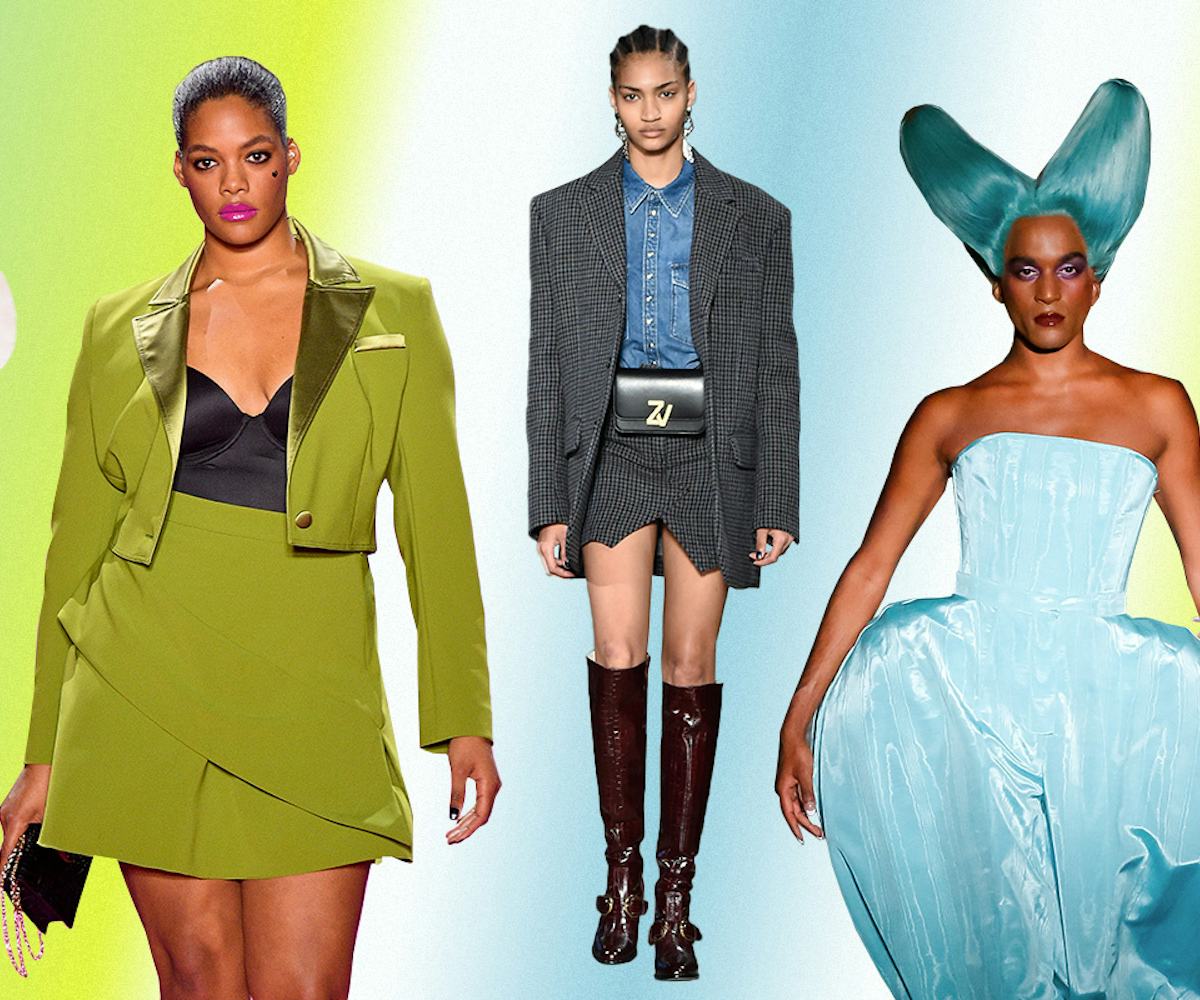 Photos Courtesy of Getty Images and the brands
The Best Fall 2020 Trends From New York Fashion Week
These are the ones we'll want to wear next season
Between all of the buzzy moments, best-dressed celebrities, and street style looks, it's time to dive into the nitty-gritty of New York Fashion Week: the Fall 2020 trends. We've scoured dozens of runway shows, scrolled through a handful of lookbooks, and kept notes and tallies all along the way. The end result, we hope, being that we catch onto the soon-to-be big style choices that are actually worth wearing next season.
From our observations, the power suiting trend from spring is trickling its way into fall, too. However, we're seeing blazers get revamped by being slashed (!) entirely in half. As for the tiny bag trend that felt like it would never go away, designers are making handbags fully functional again by keeping them hands-free and attached to a belt for easy access. Some other interesting sartorial takes that we're excited to try come fall also include material mix-ups (read: clashing prints and fabrics), sculptural eveningwear (the drama!), and cool, catchy cutouts (fashion DIY, anyone?).
Plus, not all of these trends require a major shopping trip. Ski-season-ready sweaters, blanket ponchos, and head-to-toe sparkling clothing can easily be found at your nearest thrift store. You gotta love the trend-heavy, cyclical world of fashion!
Check out the nine best trends to come from the New York Fashion Week Fall 2020 shows, below.
Belt Bag Basics
The clout pack isn't going away anytime soon, and designers were able to take this sporty, streetwear-adjacent accessory and bring it back to its basic, functional foundation: worn across the hips and attached to a belt. It also got a high-fashion upgrade, too, with gold logo hardware (Zadig & Voltiare) and sturdy top handles (Brandon Maxwell and Sally Lapointe).
From left to right: Rachel Comey, Brandon Maxwell, Sally Lapointe, Zadig & Voltaire, and Michael Kors Collection.
Cut-and-Cropped Blazers
Fashion's fascination with suiting continues, only this time blazers are getting the crop-top treatment. The jacket's silhouette (which can sometimes be slouchy, boxy, or both at the same time) has been cut in half by a number of designers for Fall 2020, including Eckhaus Latta, Alejandra Alonso Rojas, Christopher John Rogers, Christian Siriano, and Rachel Comey.
From left to right: Rachel Comey, Christian Siriano, Christopher John Rogers, Eckhaus Latta, and Alejandra Alonso Rojos.
Cool, Catchy Cutouts
Cutouts on clothing aren't exactly groundbreaking, but designers are creating cool takes on the fashion detail, like Dion Lee's trippy openings across the stomach. Meanwhile, Proenza Schouler slashed open its dress on one shoulder and halfway across the waist, and both Christian Cowan and Eckhaus Latta morphed their cutouts into rectangular and round shapes, respectively.
From left to right: Dion Lee, Camilla and Marc, Proenza Schouler, Christian Cowan, and Eckhaus Latta.
Material Mix-Up
Either designers were indecisive or this could very well be the next big trend for Fall 2020. We're betting on the latter. We saw plenty of garments made from at least two different prints, colors, or materials, giving off a mixed-up look that we can totally get behind. Some of our favorites include Kim Shui's coat with clashing prints, Sergio Hudson's crepe-meets-velvet gown, and Mara Hoffman's swirly black-and-white dress.
From left to right: Christopher John Rogers, Longchamp, Kim Shui, Mara Hoffman, and Sergio Hudson.
Little Black (Leather) Dress
The Little Black Dress will always be in style, but it seems like it's taking on a popular form for next fall: entirely made from (preferably faux) leather. While some designers kept the LBD fairly simple, like Sandy Liang's apron-esque look, others created more complex versions, such as allover pleating from Jonathan Simkhai and smocking details by Self-Portait.
From left to right: Sandy Liang, Adam Lippes, Self-Portrait, Jonathan Simkhai, and Proenza Schouler.
Security Blanket Ponchos
If only we could take our weighted blankets out in public — but these ponchos could do the trick for now. Designers opted for a breezy outerwear alternative to cover up their looks. Some brands preferred to wrap models up in literal swathes of cozy fabric, like Gabriela Hearst and Michael Kors, while others — Zimmermann, Rag & Bone, and Palm Angels — provided convenient openings for a wearer's arms and head.
From left to right: Rag & Bone, Palm Angels, Zimmermann, Gabriela Hearst, and Michael Kors Collection.
Ski Season Sweaters
A fall collection isn't complete without some knitwear, and it seems like the traditional Fair isle print was a top choice among designers. On the runway, we spotted remixes of the intricate motif on chunky turtlenecks from Monse and Prabal Gurung, a roomy sky blue pullover from Rachel Comey, a cropped hoodie by Rag & Bone, and a double-layered sweater concoction from Zadig & Voltaire.
From left to right: Rachel Comey, Monse, Rag & Bone, Zadig & Voltaire, and Prabal Gurung.
Head-to-Toe Sparkle
We love a sparkly fashion moment, but for next fall, designers are going all out with full-on, head-to-toe sequined garments. Marc Jacobs and Christopher John Rogers created dresses made from the shimmery embellishments, while Rodarte, Oscar de la Renta, and Aliétte covered separates in sequins for maximum outfit versatility.
From left to right: Christopher John Rogers, Oscar de la Renta, Rodarte, Aliétte, and Marc Jacobs.
Sculptural Eveningwear
With New York Fashion Week happening at the same as the Oscars this season, perhaps drama-heavy eveningwear was on a lot of designers' minds. The results aren't your typical red carpet-friendly gowns. Instead, the standout creations were almost sculptural — exaggerated, taking up space, and, more importantly, will look Very Good on Instagram.
From left to right: Beaufille, Area, Puppets and Puppets, Christian Siriano, and Christopher John Rogers.