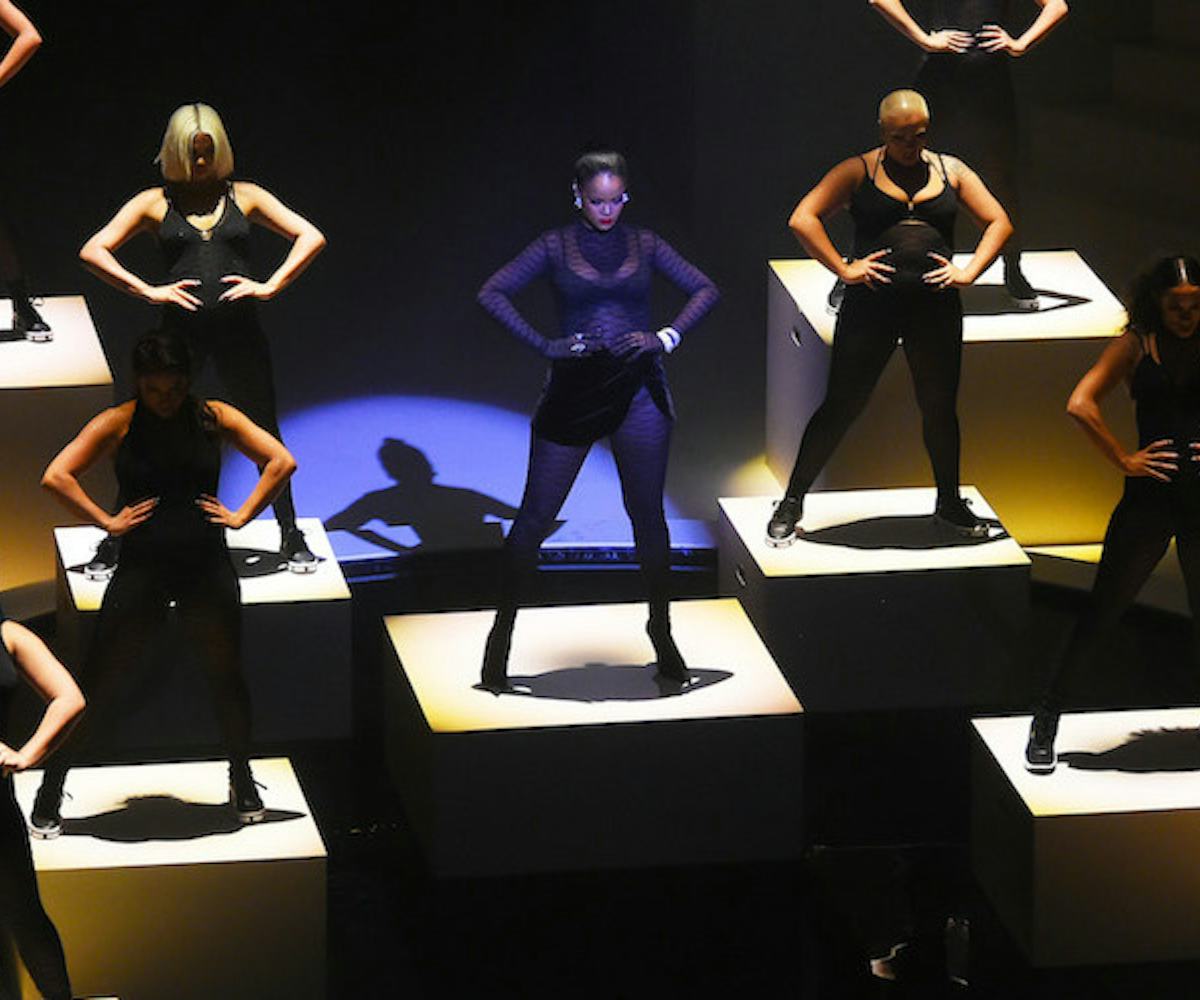 Photo by Getty Images for Savage X Fenty Show
The 9 Coolest Moments Of Spring 2020 NYFW
Now that New York Fashion Week's Spring 2020 season is behind us, it's time to look back at all the moments from the week that really stood out. Of course, there was plenty of good fashion to drool over, and with them, many exciting trends coming our way. But as you know, there's a lot more to Fashion Week than just the clothes.
This season had quite a few standout moments. It boasted some of the most innovative and interesting show formats and venues we've ever seen (a farmer's market! The Bowery JZ platform!), in addition to some powerful political statements (fuck Trump and Hudson Yards!) and sky-high levels of body positivity and inclusivity (we're looking at you, Rihanna!).
To ensure you're up to speed with all of the week's happenings, we rounded up the nine must-know moments of the Spring 2020 season, below.
Not one designer showed at Hudson Yards
Back in early August, it came to light that billionaire Stephen Ross, the founder of Related Companies, a real estate firm that has invested in fitness companies such as Equinox and SoulCycle, was holding a fundraiser supporting the re-election of Donald Trump. Naturally, it sparked outrage, and everyone from celebrities down to the general public began canceling their memberships to those fitness studios in flocks.
However, just a few days later, it came to light that Related Companies also had its hands in developing Hudson Yards, the shiny, new (and very expensive) real-estate development on NYC's West Side that includes a mega-mall, fine dining, a performing arts center, and more. And quite a few fashion labels were set to showcase their Spring 2020 collections within the space, which, obviously, caused an issue.
While the only brands confirmed to the public were Prabal Gurung and Rag & Bone, who both publicly announced pulling their shows from showing within Hudson Yards weeks before NYFW kicked off, we can confirm that no one else showed there this season, meaning that fashion has chosen not to support the racist, sexist, xenophobic, homophobic, and downright hateful views of our trash president, or those who choose to fund his cause. Prabal Gurung even went as far as using his runway presentation to make a very clear and very powerful pro-immigration statement.
The Blonds brought the runway to Broadway
Always one of the buzziest and most extravagant shows of the season, The Blonds turned it up to a whole new level for Spring 2020. Teaming up with the cast and creative team of Broadway's production of Moulin Rouge, the spectacle took place on the stage of Al Hirschfield theater, and featured performances by Moulin Rouge cast members, appearances by Halima Aden, Gigi Gorgeous, and Paris Hilton (riding an Eiffel Tower, of course), and show-stealing performance of "Lady Marmalade" by none other than Pose's Billy Porter.
Tom Ford literally showed his collection on a subway platform
Tom Ford's luxuriously chic designs aren't what you would typically associate with the dingy underground of the New York City subway system, yet—somehow—he made it happen.
For his Spring 2020 collection, Ford led his show-goers down a subway staircase to an abandoned platform within the Bowery J train station (which, as I know from daily commute experience, is one of the hottest and smelliest subway stations in all of New York). However, the once-forgotten train platform was completely transformed from its dirty, rat-infested existence with stage lights and music (and even air conditioning), while actual MTA employees patrolled the tracks and New Yorkers boarded and unboarded J and Z trains on the working platform of the station. Just another day of commuting in NYC!
Rico Nasty had a big week
Rico Nasty may have made her NYFW debut last season when she walked the Gypsy Sport show whilst smoking a blunt, but this week proved to be pretty major for the NYC-born rapper. Not only did she perform during both the Chromat and VFiles shows (which are, arguably, two of the most looked forward to shows of the season), but she's also been spotted sitting front row in some looks at shows like Telfar and Laurence & Chico.
The Savage X Fenty show won Fashion Week
As it was last September, the (rightfully) most anticipated event of New York Fashion Week was the Fenty x Savage show. This year, Rihanna and her inclusive lingerie label took over Barclays Center for an evening attendees won't ever forget. As every celebrity who was in attendance has stated (as well as all of us editors, who were dancing and weeping in the further back rows), it was simply iconic.
The show, which included a gaggle of talented dancers and models of all shapes, sizes, and colors, was more of an extravagant concert than a fashion show. In between mind-blowing dance routines, a slew of performances took place, from the likes of Halsey, Big Sean, Migos, and DJ Khaled. Lucky for Amazon Prime users, you'll be able to stream the magic for yourself on September 20.
Tommy X Zendaya had the most fashionable front row
There's no denying that Zendaya is a fashion icon in her own right, so it's only natural that the most stylish front row of all of NYFW would be at her Harlem fashion show for her collaborative collection with Tommy Hilfiger.
Not only did the event reunite the Euphoria cast, who all dazzled in their own right, but plenty of other celebrities showed up absolutely serving looks, decked out in the actor-singer-designer's '70s-inspired collection. From Janelle Monáe to the Hadids, take a closer look at everyone in attendance, here.
Choirs had a moment
This season, a handful of designers opted to nix the traditional runway soundtrack for live performances. While The Blonds turned to the stars of Broadway for its show, others opted for full-on choirs. The finale of the Pyer Moss show was soundtracked by The Pyer Moss Tabernacle Drip Choir Drenched in The Blood, the 65-person choir that sang everything from Megan Thee Stallion's "Big Ol' Freak" and Anita Baker's "Sweet Love," while Rag & Bone enlisted the Brooklyn Youth Chorus, along with a pair of drummers and modern dancers, to accompany the show.
A lot of people opted for outdoor venues
Much to everyone's delight, the weather this week was (for the most part) not sweltering. As early fall's cooler air began to roll in, bringing temperatures down to the low 70s and even the high 60s, it was a treat that so many designers decided to hold their presentations in parks and outdoor spaces around Manhattan, rather than keep show-goers cooped up inside of Spring Place. May we also mention, this tends to be a much more sustainable and less wasteful option, as intense lighting isn't needed.
Sustainable brand Collina Strada showed its collection outside of an East Village park, hosting a farmer's market where models indulged in fresh fruit and baguettes while strutting down the runway, allowing attendees to snatch up whatever was left over following the show. Newcomer Paris99 showed its collection in the yard of St. Marks Church-In-The-Bowery with a picnic-style presentation and even a bake sale that benefitted the Lower East Side Girls Club. Maryam Nassir Zadeh held her runway show at The Pit, a Lower East Side bike polo court, while Coach (casually) shut down part of The Highline to showcase its collection at elevated heights. Additionally, Lela Rose brought tables to Pier 64 at Hudson River Park, so that the attendees sitting on park benches could watch models strut down a petal-lined "runway" while snacking on bread and croissants.
Brands are continuing to launch menswear
Over the past few seasons, many a fashion label have decided to debut menswear—and this week was no different. Denim label Jordache, which relaunched with a killer premium collection for its 40th anniversary just shy of a year ago, has returned with new men's styles to add to the mix. Throwing it back to the classic '80s Jordache look, the styles consist of jeans and a denim button-down.
Additionally, while maybe not a menswear launch in the traditional sense, other labels showed their pieces (whether considered unisex or womenswear) on male-identifying models, a first for Chromat and Batsheva.