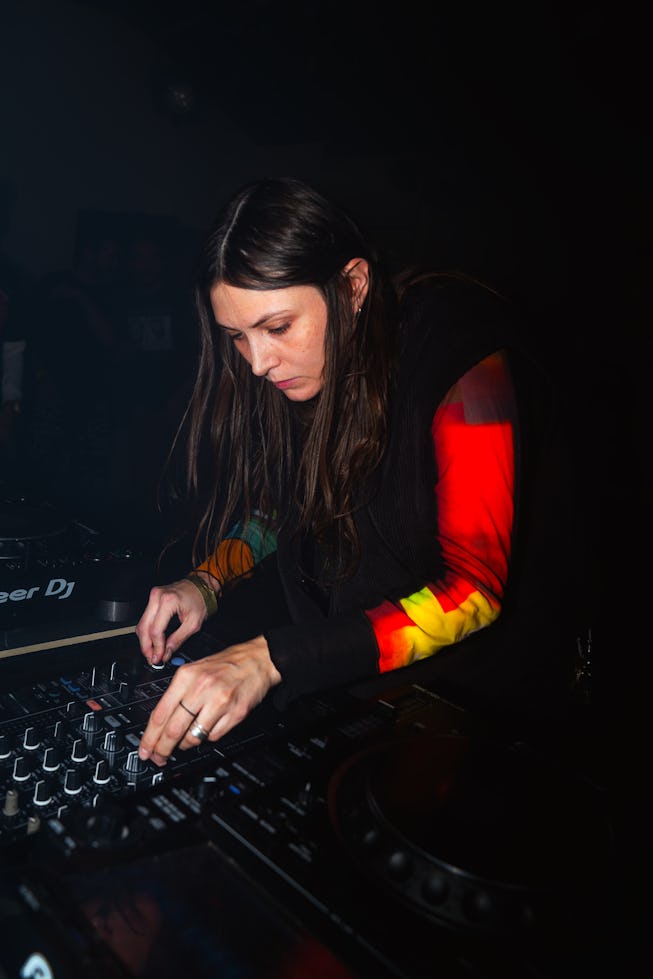 Behind The Decks With Doss
At a recent show at Paragon, one of NYC's most cultish DJs showed out.
Around midnight at the Bushwick club Paragon on a recent Friday, a dense layer of fog has formed its own atmospheric layer in the room. From the second floor landing next to the DJ booth, which hangs over the dance floor as an almighty king would, the haze is so thick you can barely make out the heads of the crowd below. Are they dancing, are they not? Who knows. That's how Doss likes it.
Standing between a sink and the coat racks in the venue's "green room," which is really just a tiny off-duty kitchen behind an "Employees Only" sign, Doss is waiting for her set to begin at 1 a.m. "If [the crowd] is not feeling a song, I'll have no idea," she says, taking a sip of her drink of choice tonight: Beefeater gin mixed with White Label Yerba Mate. "But I do like the idea of, Well, I'm just going to play stuff I like. And I hope that other people are having fun."
For Doss, tonight's show will be a brief reprieve of distanced DJing — a break from her usually frenzied outings. At a previous set for Boiler Room earlier this year, her deck was so mobbed by people she was practically invisible amid the thick huddle of bodies. But one supposes that's just the fate that awaits one of NYC's biggest cult DJs.
Doss is somewhat of a legend in NYC's club scene (though she'd never admit that). In 2014, the 30-something Texas native quietly dropped off a four-track self-titled EP filled with effervescent, glowing dance songs that slowly grew word-of-mouth into an if-you-know-you-know cult release. She didn't release anything after that for seven years until 2021, when she suddenly returned with yet another four new songs fittingly titled, 4 New Hit Songs. Tracks like "Strawberry" and "Puppy" were dynamic and bright, heart-racing and optimistic, the platonic ideal of what you'd want if you were having the most blissed out day of your life and you wanted the music you were dancing to to reflect it. They were, somehow, cute.
Meanwhile, we learned that Doss actually had been active during those seven years, largely working on music for and with other artists like Lady Gaga, Charli XCX, and the late PC Music visionary SOPHIE. Then, Doss started playing shows. She revealed her face in music videos and promotional images (previously, most people knew her as a smiling puppy avatar). And a few days from now, she'll play her first set at Berlin's storied club Berghain alongside a slamming lineup including Arca, Skrillex, Juliana Huxtable, and more. "It should be fun," she says modestly.
For a short while, Doss, who says she grew up "pretty introverted," was an enigma, partially because until very recently no one knew what she looked like or her real name, which was largely by design ("I just wanted to be anonymous," she says). Now, she's less concerned with people knowing her name — "I wouldn't mind" — but she's still conscious of how much of herself she's giving to outsiders.
In person, you get the sense she'd rather fade into the background. In the dim green room lighting, her stick-straight brunette hair falls in a way that hides part of her cherubic face, and a long, black leather coat covers the rest of her outfit, one that screams "quiet luxury" — or really, someone who just has good taste: vintage '90s Steve Madden boots, Eckhaus Latta pants and vest, an old marbled Cop Copine mesh top, a Prada sling bag, and a Diesel necklace. Every few minutes, she puffs on her JUUL.
Her sets, however, are anything but quiet. Energetic, maximalist, and designed to hit every pleasure-seeking point in the body, she pulls from a vast personal archive of archaic MySpace songs that "I downloaded when I was 14," and EDM "type stuff" with a twist: "I think what I try to do with that is also view it in a different light than something that's so hyper-masculine or gross or whatever. And I'm a girl. I'm flipping it on its head, and I'm being silly with it and leaning into, 'Yeah. I'm a slut,' or whatever. You know? Like, 'I'm a punk b*tch,'" she laughs, her voice sliding up an octave in imitation of the hyper-girlish vocal clips she mixes with EDM beats. They kind of act like the devilish side to her original music, which are filled with pensive lyrics of her crooning things like, "Tell me I'm the only one holding on," and "The clubs won't treat you like I do."
The clock strikes 1 a.m. and Doss and her posse (friends, managers, partner, and me) file out of the backrooms and march up the stairs. In the last hour, the room has filled wall-to-wall, everyone thoroughly appetized and ready for the main event. She's calm and methodical behind the decks, winding through house and techno and girlish angular pop. Midway through, she sheds her coat, throwing it on the floor. A crowd of VIPs encircle her. (Later, after her set, she'll complain about needing her space.)
Though she's far from the crowd, we can hear yelps and shouts drifting from the dance floor and up to the decks. On the mezzanines beside us, couples grind, kiss, and sway. So. There is still some feedback, a dialogue being sustained from party thrower to receiver. And I'm reminded by something she said about playing the club circuit even as an introvert.
"The way I write with Doss is more like, I'm a sad baby kind of thing. It's more inner music," she says. "And then this is always more outer. I want to be with people. I don't want to isolate myself. I want to be in a group of people and welcome people in and be welcomed into that, too."
NYLON: Tell me about your last big memorable night out.
DOSS: I got invited to this insane high production strip club in Miami called E11EVEN last year during Art Basel and it blew my head off. Every single second is part of an elaborately choreographed show — between dancers on 20 foot flexible poles, set changes, intricate lights, lasers, video, CO2 canons, and more — all to a DJ set from Duck Sauce. Seeing that really expanded my idea of what's possible for an immersive production experience.
I'm playing Berghain for the first time this weekend, which will definitely be a highlight of my year. Otherwise, the most memorable nights for me are usually when I get to see my friends play to a really enthusiastic crowd.
What's your drink of choice behind the decks?
Water, or an extra dirty martini. But it's usually a lot easier to get a gin and soda with lime.
What is one track that got popular that you can't stand?
"Drugs" by Doss.
What's your favorite song to end a set right now?
"Drugs" by Doss.
What's one club etiquette or rule that more people need to know or follow?
Don't stand still.
Photos by Sam Wachs.