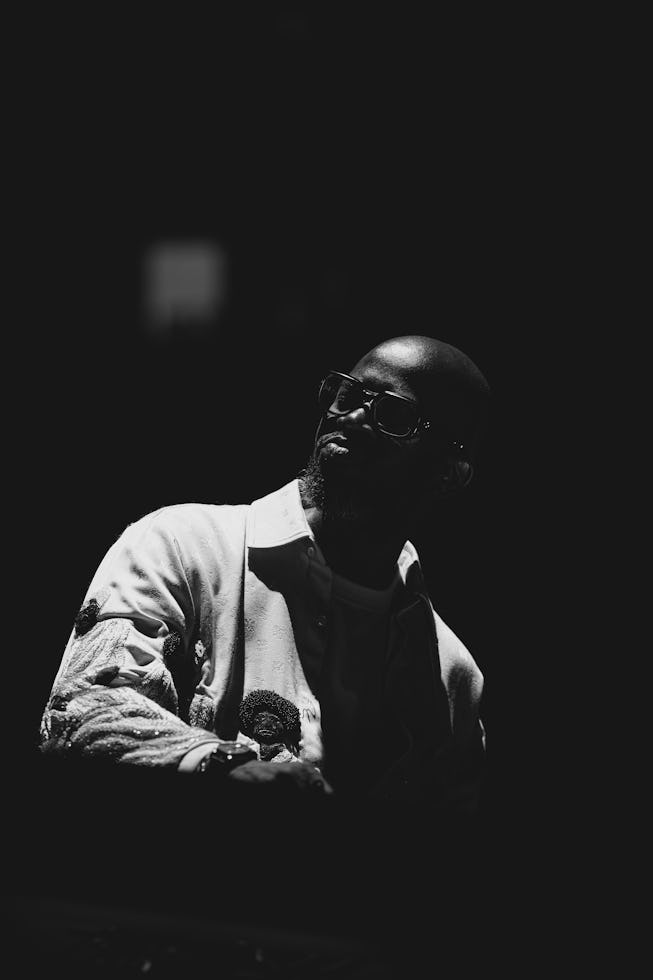 Black Coffee Is Still Here For South Africa
The Grammy-winning DJ is an ambassador to South Africa, a role he takes seriously now more than ever.
Black Coffee is not the star of his own show. At his headlining set at the famed Madison Square Garden last month, he stood in the center of the stage, the stark white pistil of an in-the-round set-up which bloomed outwards on the floor, but he was not the spotlight's focus. Instead, more often than not, he ceded that glow to someone else: a slew of colleagues, friends, collaborators, and guest artists which he brought with him that night, many of whom hailing from his home country of South Africa.
To a lot of people in the outside world, the 47-year-old Grammy-winning artist is the leading ambassador of the rich musical scene percolating in the country. On that Saturday night, he assumed and played that role well and effectively, for good reason: His headlining set was the first for any South African artist at MSG. To prepare for the historic evening, he assembled an ambitious live band and 12-piece orchestra, who sat scattered around the circular stage with him, and an ever-rotating roster of guest stars who brought life across the stage throughout the seamless two-hour stint. He walked on stage early, around 9:15 p.m., in a crisply ironed white-on-white uniform, his black-framed glasses perched on his face. By 9:20 p.m., the crowd was already up and dancing.
Actually — most people outside the electronic and dance world were likely introduced to Black Coffee via Drake and his song "Get It Together" with Jorja Smith off 2017's More Life — effectively ushering afro-beats to those who already weren't in the know (a lot of people). Since then, Black Coffee has been able to integrate himself deeper into the hip hop and pop space with collaborations with John Legend, Usher, David Guetta, and more. But that's arguably the least interesting part of his career. Black Coffee's journey goes way back, nearly two decades back, spanning years of grinding and parsing out a new language for South African house music.
At MSG, the fruits of this laborious path were on full display as his set burst to life with the shuffling, shaking tempo of "Rock My World," his hit with South African singer Soul Star who appeared on stage to silkily croon its hypnotic lyrics out into the arena. He was later replaced by the Swedish duo WhoMadeWho, who came out for a "Silence & Secrets" remix and were then swapped out for South Africa's Portia Monique, who offered a raucous performance of "Extra Time On You." That's how the night went: a new artist sliding in as his meditative beats shifted into new form and song. These guests did all the talking to the audience for him, thanking Black Coffee for an "amazing" opportunity many wouldn't have had otherwise. In the background, he played on with an easy coolness, slowly assembling the pieces of the stage for the next phase of the set. At points, he departed on adventurous detours into harder, more techno sounds, but all was maintained at the peace-inducing state of 120 bpms.
Maxine AshleyNoemad Reid/MSGE
Shoba.Noemad Reid/MSGE
Soul Star.
Mondli Ngcobo.
The crowd, a mix of Wall Street suits and Black and Brown attendees dressed for a comfortable club night out, animated the stands consistently enough for people on the floor to be continuously shooting video of the awe-inducing vantage point they were in. His community hasn't been diluted — only expanded.
It's clear several decades into his career Black Coffee's devotion to his home country, its industry, and the craft he came up on remains stronger than ever. Over an email to NYLON, he put that allegiance in so many words: "South Africa is at the core of my entire being."
His towering presence now merges with new sects of scenes and superstars from the country filtering into the West, like amapiano and gqom. And one gets the sense he's ready to make room for everyone. "Music and dance are a way of life for us," he says. "The talent you see is just a drop in a massive pool of present and future stars."
Where in the world are you right now, and what are you up to?
At the moment, I'm home in Johannesburg enjoying a brief moment of family time before I hit the road once more.
As the first South African solo artist to headline MSG, what does this accomplishment mean to you?
It's such an honor for me to be able to spread the love and joy of music to the whole world all while being able to carry my country's flag. South Africa is at the core of my entire being and so to be able to share that love makes my life's work so fulfilling and purposeful.
What was the biggest challenge of working with and incorporating an orchestra/live band into your show?
I'd say that the biggest challenge was time. For many of the artists and collaborators that performed, we only got a chance to connect and rehearse just two days ahead of the big show. It didn't matter though, the cohesion we all shared on stage was undeniable. I hope we can do it again sometime down the line.
"I embrace anything that makes people happy."
Do you still get nervous for shows? How do you get yourself in the right mindset before sets?
Yes, I do... all the time. I have to trust and believe in what I'm gonna deliver no matter how heavy the pressure is.
What do people get wrong about the South African music scene?
There needs to be more awareness of how much emerging and incredible talent there is flowing from the country and the African continent as a whole. Music and dance are a way of life for us. The talent you see is just a drop in a massive pool of present and future stars.
Tell me about your last big memorable night out.
I hardly go out, but whilst in New York, I went out to Gospel in Soho with my South African friends. As one of the investors in the place, I wanted to show them the place and have a few drinks. We only walked out at six in the morning.
What's your favorite moment in your set right now and why?
My entire set is... it's the whole experience for me. From the beginning taking risks, setting the tone of who I am sonically and what I'm about to present to the entire journey of the set.
What's one club/show etiquette or rule that more people need to know/follow?
As a DJ, you are there to work. Don't be a problem and if there's problems, deal with them respectfully and do the job.
What is one popular track or trend that you can't stand right now?
I embrace anything that makes people happy.