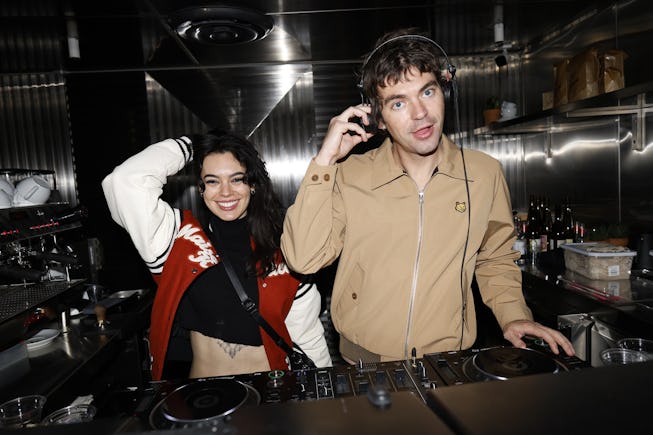 Mark Hunter/The Cobra Snake
Café Kitsuné Opens in Silver Lake With LA Bash
The two-night affair also celebrated a new collab with Beepy Bella.
Welcome to NYLON's Party Report Card, where we give you the Who, What, Where, Why, and When on this week's hottest parties — plus all the gossip you missed. It's the inside scoop you need to feel like you were on the invite list. Sorry in advance for the FOMO.
WHAT: Maison Kitsuné Celebrates the Opening of Café Kitsuné in Los Angeles, California
WHEN: Wednesday November 8 and Thursday, November 9
WHO: Isabella LaLonde, Olivia Sui, Hayes Bradley, Mark Hunter, Sean Levy, the Perfectly Imperfect team, Victoria Paris, and more.
WHERE: Dinner at a private residence, followed by a party at the new outpost the following night.
WHY: To celebrate the opening of the new Café Kitsuné location in Silver Lake, marking the brand's fourth café in North America (Manhattan, Brooklyn, Vancouver) and first Los Angeles location.
THE VIBE: What better way to celebrate the opening than a pair of truly quintessential Los Angeles parties? First up, a private dinner in the hills of Silver Lake at the home of Yola Mezcal co-founder Gina Correll Aglietti. The intimate meal was held al fresco under strings of lights, with a meal curated by Aglietti herself.
The following evening, the café took center stage as guests piled into the new location, an extension of the brand's Franco-Japanese DNA, and reinvention of the classic Parisian café and wine bar experience with a Japanese spin. Yet, the 700 foot space, decorated largely with art by Jeffrey Sincich, was not enough to contain the night's revelers, who spilled out into the sidewalk well into the night.
A common theme between both nights? Plenty of natural wine and mezcal to go around.