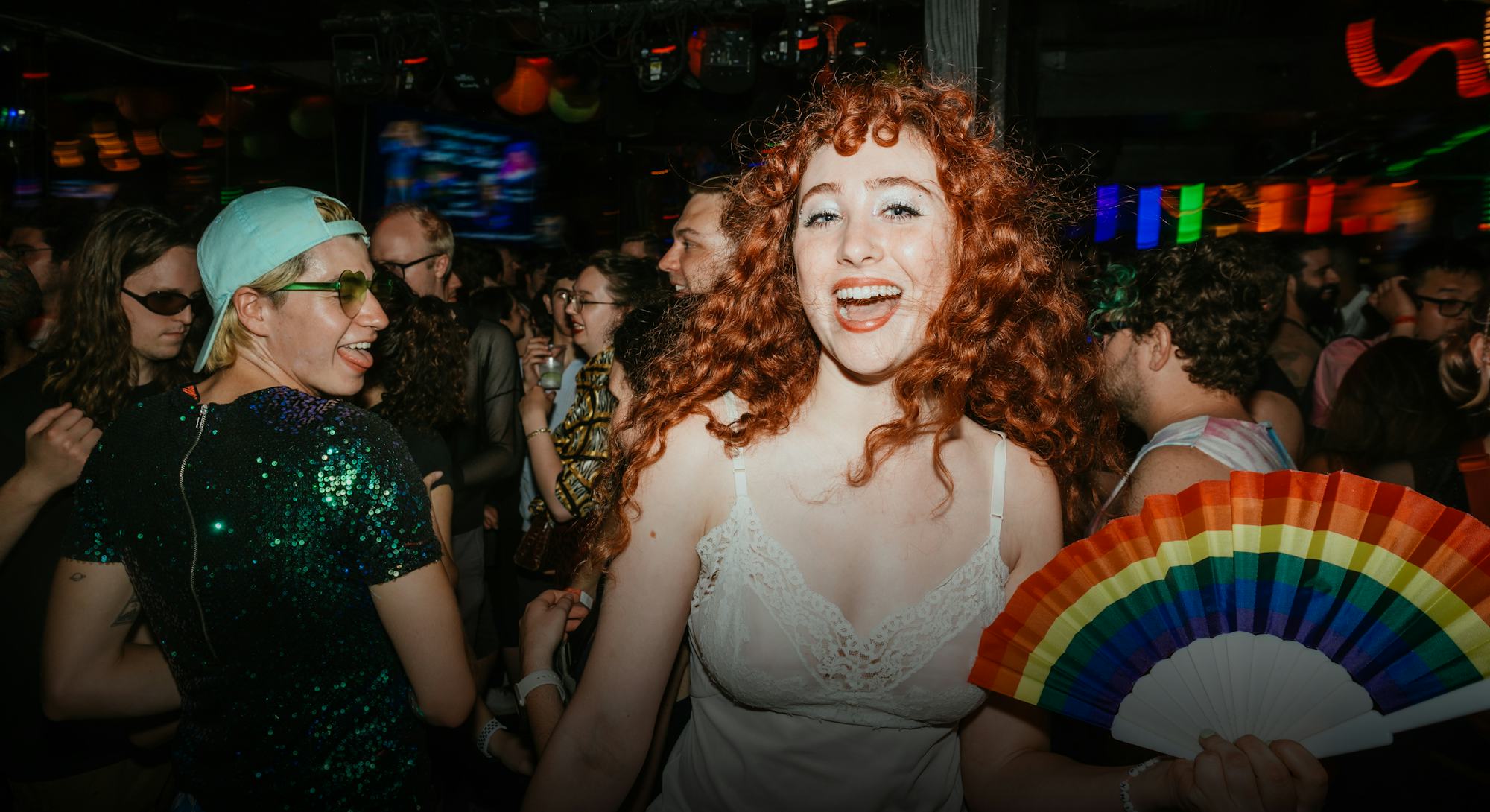 A Night Out With Chappell Roan
The Missouri-born, LA-based pop artist attends her first-ever New York Pride weekend.
Written by Avery Stone
Photographs by Jade Greene
It's Saturday night in the heart of New York's West Village, and Chappell Roan and I cannot get a table. Or, at least, not one that's quiet enough for an interview. The neighborhood, which is chronically a scene, is next-level alive tonight. Thumping beats drift out of bars; the people who dance to them spill out onto sidewalks and into the streets. The mood is electric. It's not just any Saturday night; it's the Saturday night of New York City Pride — a city mainstay for more than 50 years but Roan's first Pride weekend, ever.
Things could be worse. We eventually find solace in Amelie, a French wine bar a few blocks over. Roan — in a pearl-colored slip dress (thrifted, like much of her wardrobe) and patent black oxfords with white lace socks peeking out — tells me this isn't the first logistical snafu she's encountered since she arrived from her home in Los Angeles. The day before, during a Pride performance, she began singing without her in-ear monitors. She sprinted out through the crowd to retrieve them from the green room, then returned to the stage. She mimics her own frantic stride, her arms flailing. "I'm probably a meme already," she says.
When we're seated a few minutes later, she begins where we left off: the fact that her life, lately, has involved grappling with an upswing of success after years of hustling for it. Roan, who was born Kayleigh Rose Amstutz and is 25 years old, is hardly an industry newcomer. She's been in the pop game for going on a decade, signing her first major label deal with Atlantic Records in 2017. In 2020, the label dropped her. During the pandemic, she began releasing music as an independent artist, but this year, she signed with another major: Amusement Records/Island Records. (Amusement was founded by Dan Nigro, a Grammy-winning producer with whom Roan has collaborated for years and who is known for his work with artists like Olivia Rodrigo and Caroline Polachek; Roan spent months of last year opening for select gigs on Rodrigo's Sour tour, as well as Fletcher's Girl of My Dreams tour.)
The next several months will yield a new era for Roan. Her debut full-length album drops in September. That same month, right after the release, she'll head out on a headline tour, a 33-date run across the United States. TL;DR: It's all happening — which, for Roan, can feel like a double-edged sword.
"People always say, getting what you want doesn't always make you happy," she says. "I never really knew what that meant or felt like. I'm sad that I'm not bouncing off the walls about it all, because it's all working — everything that I've been working for my whole career. It's crazy. I have everything that I've ever wanted, and I am sad. Or, it's not sad, I just feel like…" she trails off, mulling whether or not to say the next thing.
"This is literally the most inappropriate metaphor ever," she continues. "But this is the only thing that I can compare it to. You know, whenever you come" — she giggles — "you're like, 'OK, don't touch me anymore, it's too much.' It feels so good, but it's too much… That's what [success] feels like."
Roan's momentum began in summer 2021, when "Pink Pony Club" — a gleaming, sweeping single about a small-town girl who leaves home to dance at a West Hollywood club inspired by The Abbey, the historic queer venue in the same neighborhood — went viral more than a year after it was released. As she gained traction, she sought advice from Rodrigo, who is a friend of hers and whose 2021 single "Drivers License" catapulted her into pop superstardom as a 17-year-old. "I [asked Rodridgo], 'When you were getting big, did you talk to Billie [Eilish]? What did you do?'" Roan says. "And she was like, 'I don't have the answers — I'm sorry. No one has the answers.'" (Roan has a lot of respect for how Rodrigo handled her own rise to fame: "She's so good at being a normal person when everything is abnormal around her," she says. "I don't feel like a normal person right now, and I'm not even near where she is.")
Roan has also surrounded herself with a strong circle to keep her positive; many of her teammates were personal friends of hers prior to working together. As we pay the bill and start making moves to head to our next stop of the night, Roan discovers that one of her team members — who, for the record, had no idea we were eating at Amelie — is there, too, on a date that is not going particularly well. Roan shuffles over to their table, presumably to rescue her colleague. When she returns, as we're leaving, she dissolves into laughter. "Avery, I'm so sorry," she says, grabbing my wrist. "I told her that I was in the middle of an interview and that you were making me uncomfortable and that I needed some help." (The guy didn't take the hint, but you have to give Roan points for creativity, there.)
Roan herself has just entered her first queer relationship — one she describes as happy and healthy as we make a pitstop at Van Leeuwen's for ice cream (Roan opted for chocolate fudge brownie, a classic). In ways, she explains, it was a long time coming; Roan has known she was queer since the seventh grade. "I was just like, girls are so pretty," she says of growing up. "I was always really obsessive over my girl best friends."
Although many of Roan's songs are rooted in her imagination, in a few cases, her art does imitate her life. Her latest single, the piano ballad "Kaleidoscope," is about a close female friend with whom Roan fell in love but who ultimately did not return her feelings. However, their friendship — including a kiss they shared at a club — was very formative. "We just started kissing on the dance floor," she says, "I was crying. It was the first time I'd ever kissed a girl. It confirmed it. I was like, I am queer. I actually am."
Roan's artist project has long been a love letter to the queer community, though, in terms of her lyrics (see: the certified bops "Red Wine Supernova" and "Naked in Manhattan"), her style (much of her makeup evokes drag culture), and even her live shows — on her last tour, she selected local drag queens to open for her set. "I just love drag queens," she says. "There's nothing more exciting than watching a drag queen. I think they're the prettiest." (She names Trixie Mattel — she's a Trixie and Katya stan, of course — as well as Sasha Colby, Mo Heart, and Crystal Methyd as her current favorites.)
Which is why, at 11 p.m., we find ourselves inside Pieces, one of New York's oldest gay bars. Inside, it's wall-to-wall packed. Within minutes of our arrival, three different men approach Roan — they tell her they recognize her, that they love her music, that she means a lot to them. She hugs each of them and snaps a selfie with one, grinning. When Tina Twirler, a Chicago-born queen, takes the stage, the crowd erupts. Roan cheers and thrusts her hand in the air, a dollar bill in her fist, waiting for Turner to sashay on over and take it. (And, of course, she does.)
An hour passes. In between drag performances, we dance to Kim Petras, whose new album had come out the previous day. Roan fans herself, and me, with a rainbow one I've lent her from the recesses of my bag, a relic of another Pride party. By 12:30 a.m., when it's time to call it a night, Roan and I hug goodbye. She looks exhilarated. Before Pieces, she'd seemed a little tired, but the show — the music, the performances, the crowd, the spectacle — has revived her. I think of something she told me earlier, at dinner, about the way that playing her own music live is her absolute favorite part of her job, and how excited she is for her first giant headline tour. "I'm on a bus for the first time — no more van," she said, lighting up. "It's a literal dream for me. I've been dreaming of this for so long."
Photographs by Jade Greene
Photo Director: Alex Pollack
SVP Creative: Karen Hibbert