A Night Out With Steve Aoki
The man at the center of the Venn diagram of dueling late-aughts subcultures talks spending 200 nights on the road each year for over a decade.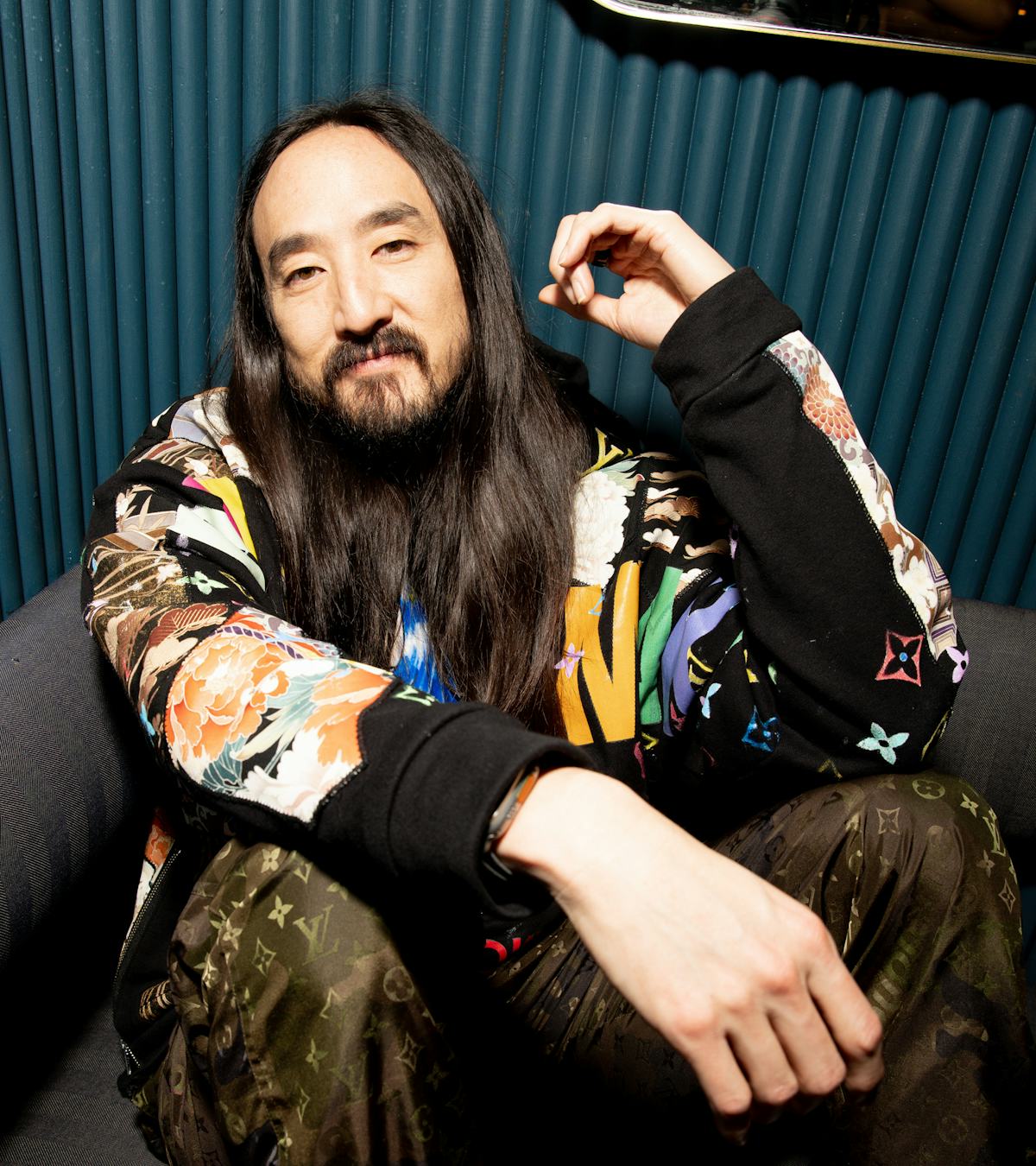 It's a Thursday afternoon at Dudley's on the Lower East Side and Steve Aoki is low on REM sleep.
The proof is in the numbers he shows me on his Apple Watch, Whoop, and Oura Ring, indiscernible stats that track his sleep patterns, his steps, his heart rate. This is the kind of minute wellness detail it makes sense to pay attention to when you're the 2012 Guinness World Record holder for being the most-traveled musician in a single year, playing 168 shows in 41 countries. (He also holds the records for Largest Scream by a Crowd, as well as The Most Amount of People Lighting a Glow Stick Simultaneously.)
Over the past decade, not much has changed. Aoki estimates he still spends about 200 nights on the road each year. That kind of travel is not easy on the body — and at 45, he's no longer the person he was when he first started touring in 2008. Certain life adaptations have had to be made. Aoki gave up drinking and drugs a long time ago. He's learned to sleep sitting upright. And it's safe to say he doesn't eat the sheet cakes he routinely throws into crowds.
"It's such a luxury to sleep horizontally. You don't realize until you're always sleeping in chairs," he tells me while sipping on an espresso at the counter of the health-conscious Australian restaurant he invested in years ago. (Restaurant entrepreneurship is something of a legacy for Aoki, whose father, Rocky Aoki, a former pro wrestler, founded Benihana.) "My back hurts right now. My lower back, I think it's going to get f*cked." It's not too surprising that Aoki's back hurts, literally and figuratively; resting on Aoki's sore shoulders is a position in culture that no other musician holds. Now, after nearly three decades in the business, he sits at the center of the Venn diagram of dueling subcultures of the late-aughts: EDM and indie sleaze, doing double duty as the godfather of both.
It's this kind of range that incites an excitement among friends and strangers alike when I mention my upcoming interview subject — yet it's hard to find anyone who can name five of his songs across his 13 albums and 239 singles (just on Spotify). But that fact is actually a marker of Aoki's talent. He's a DJ whose currency is electronic dance music; the beauty is that beats blend together, remixes get chopped and screwed. Maybe you don't remember the song, but you remember how it made you feel.
That, and Aoki's discography is bottomless — he's joined forces with everyone from Kid Cudi to Backstreet Boys, Zooey Deschanel to J.J. Abrams to Los Angeles Mayor Eric Garcetti. He's worked with Fall Out Boy, BTS, Daddy Yankee, MGMT, Blink-182, and Iggy Azalea, just to scratch the surface. He's dropped "Older," a single with Dixie D'Amelio and Jimmie Allen, on April 7. He is the invisible hand pulling elements of culture together to coalesce into new ones. His work is the kind that's like oxygen; you may not be able to see it, but if it was gone, you'd certainly notice.
"There's no language barrier," Aoki says of his music. "[There's] a melody, a great melody, and thumping kick that just drives you. I don't care how old you are, you're going to feel that. And it just never gets old. I think that's the beautiful thing that I could tour around the world, too. My music translates to every language, every culture. It's allowed me to be a global artist, which has opened the doors of me touring at this endless rate. That's why I do 200 shows still."
Aoki is perhaps most famous for creating Dim Mak Tuesdays at Cinespace in Los Angeles, which ran from the aughts to early 2010s. It's at this party where Mark Hunter, aka the Cobrasnake, became famous for posting flash-heavy photos of young people online; where artists like Lady Gaga, Kesha, MIA, and Thomas Bangalter of Daft Punk (sans mask) would call Aoki, asking to perform. Aoki's Dim Mak Records also produced artists like Bloc Party and Pretty Girls Make Graves.
"I remember when Lady Gaga first performed in LA, their management was hitting me up constantly to have her perform, and she did it for free," he says. "You don't see it in the moment. In the moment you're like, 'Oh, it's a new artist coming through: Lady Gaga. It's really cool.' But you don't think, 'Are we actually making an impact on culture?' Of course we want to. Whether it's like Wolfmother or Kid Cudi rolling through, Skrillex or LMFAO's first shows, whatever it is. MIA. That was our world."
All of this ushered in what is now Aoki's bread and butter: the post-'90s rave EDM wave, a hedonistic, post-recession, pyrotechnic party characterized by everything from inflatable pool toys and magnum-sized bottles of sparkling wine to body paint getting thrown into crowds — along with, of course, Aoki's famous sheet cakes, which he started throwing at people in May 2011 after the music video for Autoerotique's song "Turn up the Volume" (which was out on Dim Mak Records) went viral, featuring videos of cakes exploding in people's faces after blowing out candles. Aoki figured he could re-create the moment in his live show, so he had a baker make a cake that said "Turn Up the Volume Autoerotique" in red cursive frosting and threw the first cake at some drunk guy whose birthday it was. Everyone freaked out. "I was like, 'Yo this is a moment,'" he told Etalk in an interview last month.
EDM is best enjoyed not in your headphones but with other people — which explains Aoki's steadfast obsession for touring at a frequency as high as EDM itself, an endless party soundtracked by music with no language barrier; by the universal appeal of a thumping kick and a beat drop, in songs like Aoki's remix of Kid Cudi's "Pursuit of Happiness," "Rage the Night Away" featuring Waka Flocka, or "Boneless" with Chris Lakeand and Tujamo.
But still. Does it ever get old?
"The shows are just f*cking everything. There's always a few fans that show their feelings and their emotions extremely while I'm playing their favorite song. I will never not play the hits because I know some of these songs have such a moment for them, and I want to feel that with them. I get to be there so they can experience that," he says "I f*cking love it. But for as obsessive as Aoki is, he's also expansive. The handshake between EDM and indie sleaze is probably best exemplified in the Steve Aoki song most people can name: "Pursuit of Happiness," the 2009 Kid Cudi remix featuring MGMT and Ratatat, which was most famously used for the trailer of Project X.
Because for all the cakes Aoki throws, he was also at the forefront of indie sleaze, more well known in many circles not for his proximity to someone like Avicii, but The Kills. Indie sleaze has been enjoying a resurgence over the past year — from the return of the Cobrasnake snapping photos of the electroclash scene in downtown New York City, to the fact that fishnets are back, to the Instagram account @indiesleaze, full stop. Aoki is blissfully unaware. "Who is indie sleaze?" Aoki asks, non-existentially and fully serious. "Do you know who it is?"
As Aoki digs into his grain bowl, I explain and ask him what he thinks of all of this.
"I would say that culture can't be replicated, because one of the main things that was happening then will never happen again. And that is, there was no social media," he says. "For all these different big hubs, these cities, they always had one way to document it. Everyone's like, 'F*ck, I have to be there.' People come to LA, like fly in just to come to this small Dim Mak party… People don't really do that anymore as much, because you see it everywhere. Social media makes everything available, accessible to everyone at all times."
It's easier for people to be flakier now, to experience something just by watching their friends' Instagram stories. But Aoki held Dim Mak parties every Tuesday for years before it caught on.
"It wasn't like one sound," he says. "But a concept of breaking parts of all culture; hip-hop, pop, electronic, indie. That's what we did."
Hours later, Aoki is welcoming a sold-out crowd into his world at Terminal 5.
"Steve Aoki will be throwing cakes into the audience from the stage. If you do not want to be hit with a cake, stay away from the floor," a sign reads on the door to the venue.
At 1 a.m., Aoki stands at the DJ booth, shirtless, muscular, his arms outstretched like a certain famed messiah. My friend and I down some Red Bull and vodka; "Pursuit of Happiness" starts playing and suddenly I am having a flashback to descending the steps of a basement fraternity. The beat drops and it's impossible to not feel something; our inner 19-year-olds being healed by pulsing thuds and clashes. He palms several Costco sheet cakes the size of small terriers with the words "Dim Mak" written on them to a crowd losing their minds. Someone is holding a sign that says "CAKE US."
Thirty minutes later, people stumble out of the venue covered in frosting, beaming. One guy is on crutches. I think about what Aoki told me earlier that day, about how important it is for him to see his fans' reactions to his music, to see up close how much it means to them.
"You have to constantly find that magic in what you do, which is the exciting part of it all," Aoki says. "As an artist, you want to innovate and keep making great songs that will be the soundtrack of people's lives."
Tonight, Terminal 5 was a solar system orbiting around Aoki's sun. Soon, that gravitational pull may be all the more powerful. A few years ago, Aoki, along with a hundred million other people, applied for a trip to space hosted by Japanese billionaire Yusaku Maezawa. Now, he and seven other artists will be going to space, where he'll bring his headphones and computer so he can do one thing he hasn't done: make music in another stratosphere.
"As far as I know, there's never been a musician in space that's made music," Aoki says. "I mean, I've been cheering about going to space since I was a child, since I was probably 8 or 9 years old. I always wanted to be in space. I always wanted to be an astronaut. So it's pretty wild that the invitation is real."
And why not? He's been everywhere else.
Photographs by Kai Tsehay.