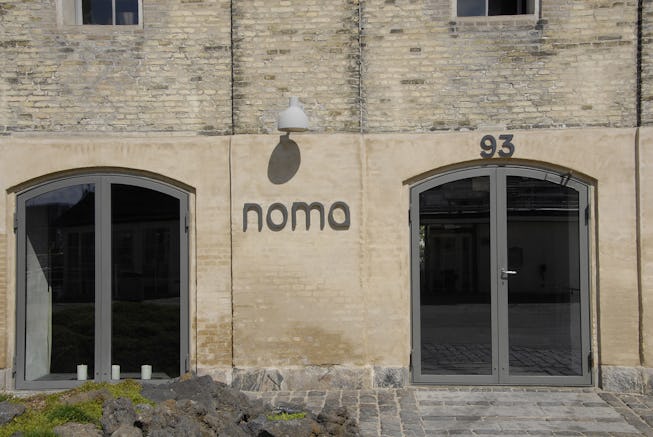 Francis Dean/Corbis News/Getty Images
Noma, Hailed as the World's Greatest Restaurant, Is Closing
Guess a lot of people watched The Menu this weekend?
Noma, which opened in 2003, was widely known as the best restaurant in the world — helping to define what we think of fine dining today: high-concepts, tiny portions, foraged ingredients, herbs placed with a surgeon's precision with tweezers, and a painstaking, irreplaceable attention to detail.
Now, the Copenhagen restaurant famous for mind-bogglingly complex dishes like the Moldy Egg Tart or Reindeer Heart Tartare, is closing.
"To continue being noma, we must change," reads a statement on the restaurant's website. "Winter 2024 will be the last season of noma as we know it. We are beginning a new chapter; noma 3.0. In 2025, our restaurant is transforming into a giant lab — a pioneering test kitchen dedicated to the work of food innovation and the development of new flavors, one that will share the fruits of our efforts more widely than ever before."
The restaurant, like many a fine dining restaurant, has long been plagued with controversy around how its employees are treated. In 2015, head chef René Redzepi wrote an essay for Lucky Peach admitting to subjecting his staff to physical abuse and verbal bullying. The New York Times and Financial Times reported on the absurdly difficult working conditions and long hours for its unpaid interns, which included performing only tasks like producing 120 perfect fruit-leather beetles for the duration of their time at the restaurant, or being made to pluck feathers off of ducks outside in the freezing rain. Another intern said she was forbidden to laugh.
The quality of the food combined with the amount of work it requires to prepare no longer makes sense to Redzepi.
"It's unsustainable," he told The New York Times. "Financially and emotionally, as an employer and as a human being, it just doesn't work."
It's this environment that helped spawned the inspiration for the restaurant in The Menu, the horror satire starring Anya Taylor-Joy that follows a murderous chef and his followers on the brink of mental and physical collapse, and one that was part of the psychological fabric of Carmy, the fine dining chef who has to take over his late brother's Chicago sandwich shop, in FX's The Bear.
Noma will continue sell direct to consumer food products on an e-commerce platform — which may actually make them for accessible for a broader swatch of hungry people, and occasionally may open up as a pop up restaurant.
"Serving guests will still be a part of who we are," the site reads. "But being a restaurant will no longer define us."