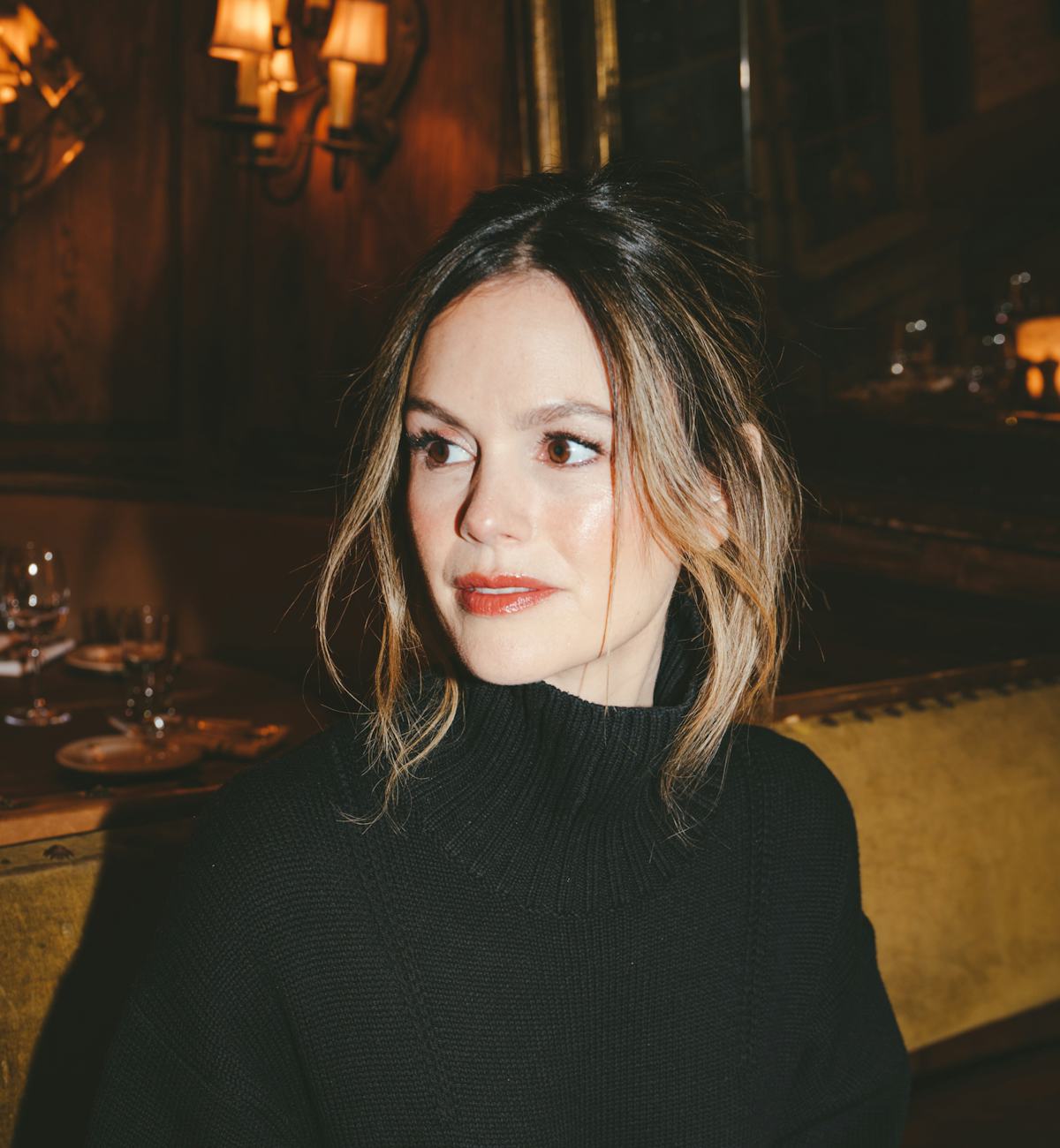 A Night Out With Rachel Bilson
The actor talks returning to TV with Fox's Accused and how she's still learning from Summer Roberts.
Photographs by Jade Greene
These days, Rachel Bilson's typical night revolves around watching cartoons. If she's particularly lucky, she might tune into a baking competition instead. "Right now, [my daughter is] watching Bake Squad on Netflix. She'll watch a whole series and then be done. I'll tune in and out. But certain ones, like Bake Squad, I'm down," Bilson says. "Then she falls asleep, and then I'm out immediately, too. It's a real rager."
Bilson arrives for drinks at the Bowery Hotel's Gemma on a recent Wednesday at 5:30 p.m., her preferred dinner time — "5 p.m. if we're really getting crazy," she adds. Dressed in thigh-high gold boots, despite the blustery January night, she looks every bit the celebrity part — less Paddington Bear, more Paris Fashion Week. Then she starts tugging at her turtleneck. "Sorry, it looks nerdy, but I need to roll it down," she says, adjusting the fashionably oversize neck. "I don't feel like I'm pulling it off. Turtlenecks are not my thing usually."
There's a reason for all the glam, and for her trip to New York, her first since before the pandemic: a packed 48 hours of press for her latest project, a one-off episode of Fox's new anthology series, Accused, which premiered to huge numbers earlier this month. Bilson's episode airs Jan. 31, and in preparation, she's making the rounds for the first time in several years. Earlier in the day, she'd appeared on Live With Kelly and Ryan. "They reminded me that the last time I was there, it was, like, 2018," she recalls. "I couldn't believe it. That was five years ago. They were like, 'Yeah, your daughter was 3.' She's 8 now. She's a full-blown human with a lot of opinions."
Accused is a drama series based on a British show of the same name, developed for the United States by writer and producer Howard Gordon, whose past projects include 24 and Homeland. Each week, a new case is examined through the eyes of the defendant. In Bilson's episode, the defendant is a young boy whose mother is dying from cancer; Bilson plays his mother's nurse who becomes the target of his grief. In addition to loving the script, the episode shot in Toronto, where Bilson and her daughter, Briar Rose, were already set to spend the summer visiting her father. "It was right place, right time," she says. "Everything kind of just fit perfectly, and I loved the role. It was the dream."
The show marks Bilson's return to TV after a few years away. In the meantime, she's been doing something that former teen stars rarely do: celebrating the role that made her famous by way of Welcome to The O.C., B*tches! a re-watch podcast, co-hosted with former The O.C. co-star Melina Clarke. (Bilson also co-hosts Broad Ideas alongside her best friend Olivia Allen, where topics range from ghosts to mental health.) In a world where most actors would like the public to forget their first gig, Bilson is embracing hers on a weekly basis. "You know what? I'm so grateful for the show," Bilson says. "Josh Schwartz is literally family to me; we're so close. And he knows, to this day, it gave me everything. I've never lost sight of that. It's just been a blessing. I love Summer. You know what I mean? Watching her grow throughout the series, I'm proud of her."
Now 41, Bilson was 21 when she starred as Summer Roberts, the confident and wildly passionate popular girl with a heart of gold. While an entire generation of young women grew up idolizing Summer, for Bilson, who never watched the show the first time around, it's an eye-opening journey. "She's taught me things in watching her," she admits. "She's always true to herself. I need to channel that a little bit more in my life."
In August, the show will turn 20 years old. By some miracle — or unfortunate twist of fate, depending on how you look at it — The O.C. is one of the only beloved teen hits that has not been rebooted, remade, or reunion-ized (save for guest appearances by the likes of Adam Brody and Mischa Barton on the podcast). Bilson says that while there's been "loose conversations" on what that possibility could look like, it seems unlikely. "I'm not sure how it would work, unless we have kids and they're in high school, you know? I think it's like we've come this far without it. I feel like people are still discovering it for the first time, too." Though still years from high school, her daughter is not that far off from the age when many pre-teens, now in their 30s, started devouring the show way back in 2003. Bilson shudders at the thought. "Oh, she's not watching The O.C. until she's 35," she says. "She's not watching anything. Maybe Hart of Dixie… that's pretty sweet and wholesome and a good time. I mean, mom has to make out sometimes and she doesn't need to see that [right now]. But maybe eventually…"
By now, it's 6:15 p.m., meaning it's already turning into a late night for Bilson. There's talk of going to Mr. Chow for dinner with her stylist. Bilson says she's down for anything, having hit her favorite New York hotspot the night before. I press for details, hoping to get some inside scoop on some top-secret celeb favorite. Bilson refers me to Il Tinello, a midtown restaurant described by Google as a "tranquil old-school Italian spot with black-tie waiters, favored by regulars for special occasions." "Oh, it's super grandpa vibes," Bilson confirms. "Regis [Philbin] used to frequent it. We saw him there once. I mean, I really am 80 at heart. Like, Golden Girls is my life."
Photographs by Jade Green.