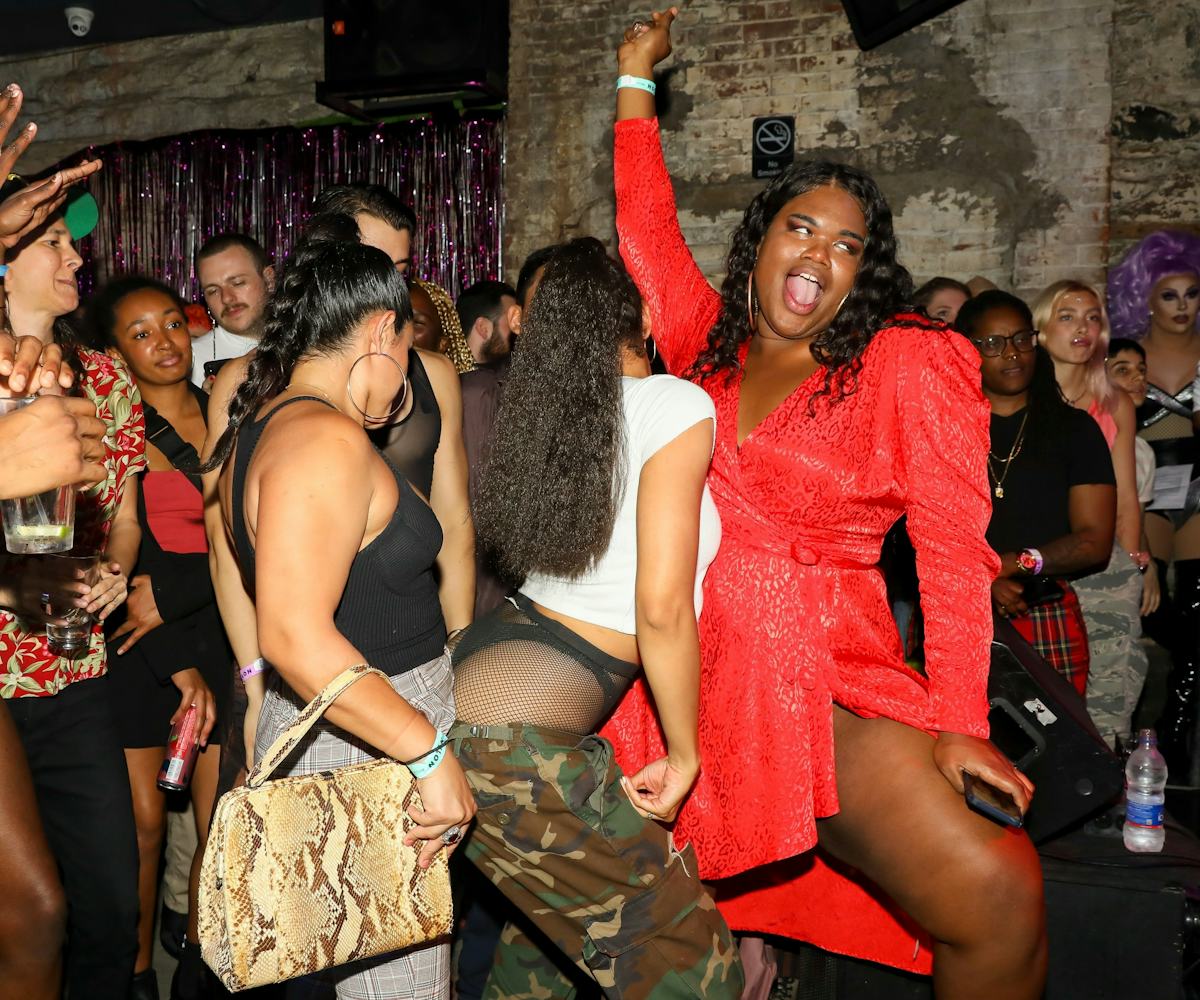 Photo by Sansho Scott/BFA.com
Now This Is How You Throw A Pride Party
Our third annual NYLON Pride Party was probably the most fun event we'll attend this month—or this year, honestly. The two-part event consisting of a panel and an all-night party gave us just the right mix of discourse and dancing. We're looking forward to next year already.
We started things off with a panel at The Phluid Project, where our senior entertainment editor Sesali Bowen led a powerful discussion with Kimberly Drew, Jari Jones, Ericka Hart, NNEKA, and Twiggy. They spoke about queer Black visibility and how they make their mark on the world with their own careers. Then, once we were properly inspired by them, we transported to the Bowery Electric to dance the night away.
It didn't matter that it was a weeknight—everyone turned out for a night of drag performances, dancing, and twerk-worthy music courtesy of Big Freedia. The icon shocked us all with a surprise set at the bar—it was totally life-changing. Then, the Dance Cartel, clad in gender-neutral and size-inclusive 'fits from our event sponsor TomboyX, showed us a lesson in dancing. With drinks flowing courtesy of Bud Light,Smirnoff,Milagro Tequila,Ritas, and Nomadica, we were bouncing all night.
Below, find a recap of our favorite night this year.
A quick shot of our panel before they started inspiring us. Moderated by our own senior entertainment editor Sesali Bowen (far left), we queered the culture with (from left to right) Kimberly Drew, Jari Jones, Ericka Hart, NNEKA, and Twiggy.
Orange Is the New Black's Vicci Martinez and Emily Tarver blessed our panel.
The Dance Cartel, clad in TomboyX and showing us how to dance like them.
Serena Tea brought the yeehaw.
Take in the vibe.
Adam Eli and Raquel Willis got the ball rolling.
JSYK, everyone was just as hyped as Jordan Reeves and Adam Falkner are here.
Our editor-in-chief Gabrielle Korn and her girlfriend Wallace May are my favorite couple.
Charlene Incarnate, Kandy Muse, and Rify Royalty look good dressed and undressed, apparently!
My lesbian queen!!!
Quiana Parks brought the music.
Consider the culture queered.
Jari Jones kills a photo opp.
The Dance Cartel's founder Ani Taj had the best outfit of all,TBH.
Big! Freedia!
Big Freedia is my whole life, thanks for asking.
Eddie Jarel Jonesx had the right idea when Big Freedia started her set.
When she said "Bounce," you better believe we were bouncing.
Jan Sport bringing us otherworldly realness.
I would also feel this confident if I was wearing all matching TomboyX.
I'm living!
I need every piece from each of these outfits, but especially that Poké Ball bag.
Twiggy and their posse are perfectly coordinating, and I'm here for it.
West Dakota in the middle of a Beyoncé song is intensely relatable.
Charlene Incarnate, very serious about her lip synching.