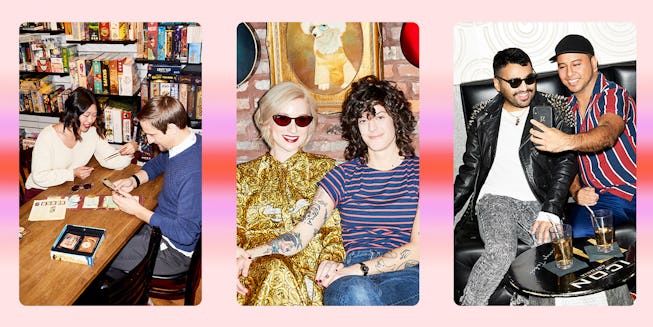 Photos by Lauren Perlstein
Three NYLON Staffers Tell Us About Their Chosen Families
And what they mean to them
Our friends, our partners, and our chosen communities reflect our most authentic selves, so, of course, we're proud of them. They build us up and make us stronger, and they should be celebrated.
In that vein, we asked three of NYLON staffers to tell us about their chosen families, and how they've given us the strength to believe in ourselves, express who we are, and achieve our dreams.
Read what they said, below.
Gabrielle Korn, our Editor-in-Chief, with her girlfriend, Wallace.
Gabrielle and Wallace are real forces in their respective industries: As our EIC, Gabrielle is the face of NYLON, the driving force behind our publication (we wouldn't have it any other way). Wallace is the bass player in her band, Big Bliss, so listen for her when you bump Big Bliss on Spotify. But the best thing about them as a couple is the way both Gabrielle and Wallace take true pleasure in the other's creativity and ambition.
"It's really fulfilling to be in a relationship with someone who is driven by creativity; she has total respect for my work, as do I for hers," says Gabrielle of Wallace. "I think we both really like creating things separately—her music and art, my writing—and then showing them to each other. Her opinion means more to me than anyone else's."
They're also proud members of a strong community of women who've succeeded in industries that used to be closed off to them. So, of course, they support each other! It's how it should be. They're the new kind of power players, and we love it.
Gabrielle looks as powerful as she really is in Ray-Ban's Nina sunnies. You wouldn't expect the head of a fashion publication to wear boring frames, would you?
Javy Rodriguez, our Associate Social Media Editor, with his best friend, Joseph.
Javy and his best friend Joseph are proud Latinx members of the LGBTQ community, and Javy says he and Joseph are the Latinx version of Will and Jack from the show Will and Grace: "opposites yet completely the same." He says that Joseph is "the serious one who doesn't take my shenanigans, and he'll bring me back to the ground when my head is going to the clouds." We all need a friend who balances us out, but who appreciates the differences as unique, and that's exactly what Javy found in Joseph.
When trying to think of how he would describe how he feels about his best friend, Javy says, "I always go back to that viral clip of Oprah talking about Gayle, where she says, fighting back tears, 'She is the mother I never had, she is the sister everybody would want. She is the friend that everybody deserves.'" We're not crying, you are.
Javy brings his own shade in with Ray-Ban's Meteor Striped Havanas, and yes, he'll wear them in the club too, thank you very much.
Alexandra Hsie, our Line Producer, with her boyfriend, Peter.
Alex told me that her relationship with Peter has made her more confident in being her best, nerdiest self. "Before we started dating, Peter was already a part of my chosen community," she says. "We were and are rock-climbing partners, running partners, and friends who gamed together. While it's super-cool to rock-climb and kind of cool to be a runner, I was NOT comfortable being a board game geek."
She says that she's both highly competitive and slow to learn new things, so playing board games with a bunch of mansplainers turned her off, initially. With Peter, though, she learned that there are "several types of games that range in strategy, competitiveness, and storytelling," and the pair found options she actually wanted to play.
"Through Peter, I learned to embrace my geekiness and be open about what my nerd-dom is," she says. "I now fly that geek flag so high that my dad and my motorcycle group want to play, separate, Dungeons and Dragons campaigns!"
Alex is an undercover nerd in Ray-Ban's sleek Meteor Evolve frames.