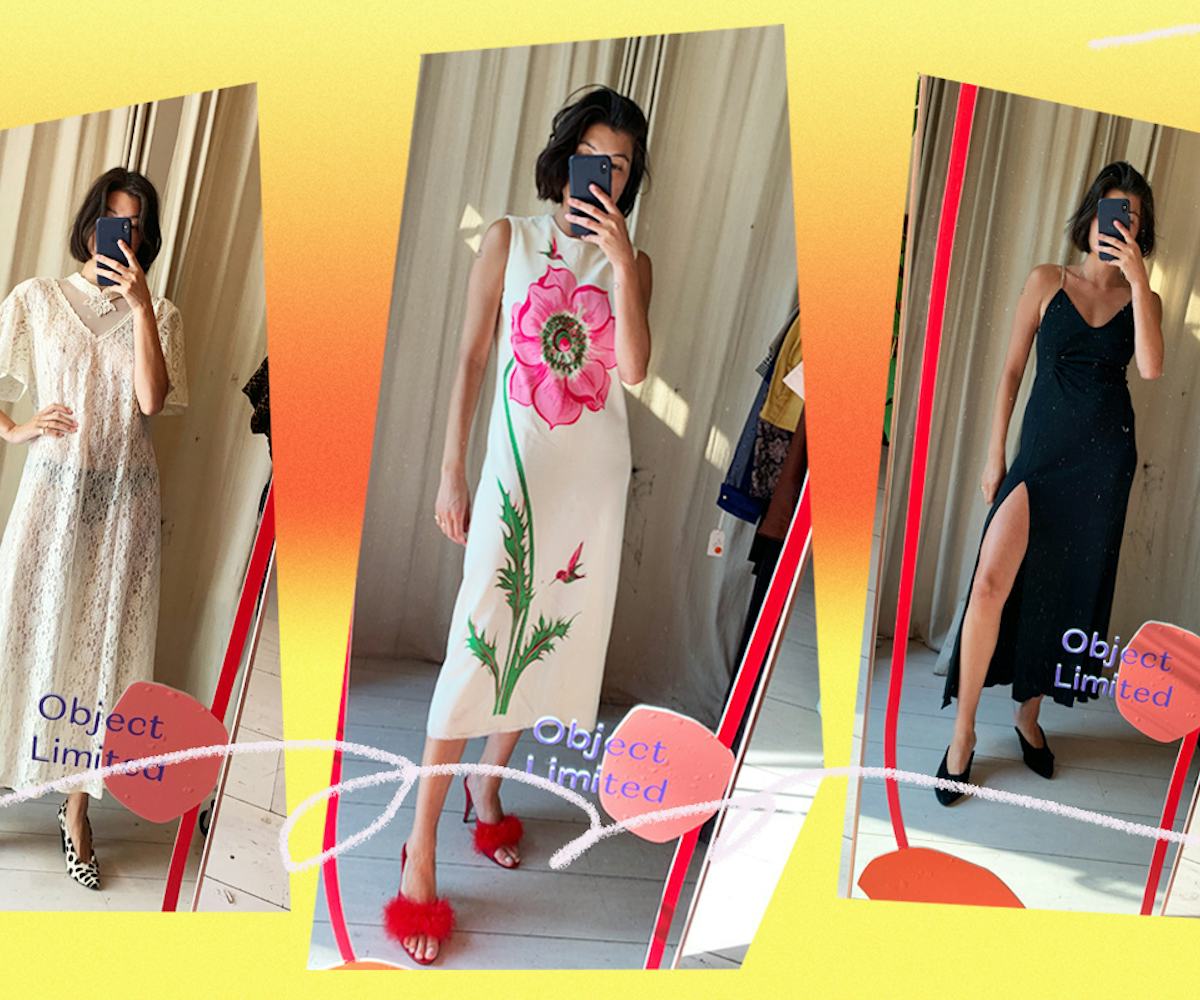 Photo courtesy of Object Limited
Object Limited Wants To Change The Way You Shop For Vintage
Expert curation and an easy-to use app is key
Welcome to The Green Scene. Every week, we're highlighting the designers and brands working to make the world of fashion and beauty a greener, more sustainable place. The brands to support are the ones making a difference; check back every Tuesday to meet your new favorites.
Anna Gray was frustrated with the fashion industry. After working for it in multiple capacities for 11 years, from modeling to PR to styling, she found herself unnerved by just how wasteful it can be, especially the fast fashion giants pumping out low quality, cheaply made pieces that end up in landfills after just a few uses.
This ultimately led her to co-found and, now, creative direct Object Limited, a new (and much less overwhelming) way to shop vintage. Object Limited is a two-part retailer, boasting physical bazaars in major cities like New York, but also a digital market place, allowing people from all over to shop the goods of multiple vendors at once. "I love how unique and transcendent vintage can be, and I'm fascinated by the cycle of trends that come back after 10, 20, 30 years," she says. "We wanted to create a platform that made secondhand shopping fun, easy, and at-your-fingertips."
It all began when Gray went on a two-week cross-country road trip treasure hunt. After finding so many vintage gems on her New York-to-Arizona route, including a mix of clothing and home goods, she felt that it would be "ludicrous" to not help these objects find their loving, forever homes. "Everything aesthetically beautiful that everyone wants can be purchased secondhand," says Gray. "And since the internet is a messy and confusing place, we're building curated platform to find said beautiful, well-made, existing things."
Sure, vintage markets have been around for some time now, and the same goes for online vintage destinations. What sets Object Limited apart from the others is the expert curation and the highly desirable vendors. "Sifting through everything the internet has to offer is exhausting," says Gray. "Our expertise is curation and community. We bring together our favorite friends and vendors and put them in the same room, literally and online. The closets everyone wishes they could peek into are for sale, like Leandra Medine, Ruby Aldridge, Brianna Lance, and Harley Newton, as well as great stores from all over like Love Signs Vintage, Screaming Mimi's, Iridium Interiors, and Vaux Vintage."
The brand's longest-running physical bazaar, Object Studio, opened last month in New York, acting as both a content and photo studio for the vendors selling their goods online, allowing for all to have consistent photos and videos, while also opening to the public every Wednesday through Saturday (from 1:30pm to 7:30pm), so that vintage lovers and vintage curious can shop in-person. "It's a chance for us to host more vendors in our tactile IRL shopping experience, and a chance for us to shoot/upload looks in our style aesthetic to the app," explains Gray. It will remain open through August 17, and is located at 116 Forsyth Street.
While the brand has maintained a balance between IRL shopping experiences and its digital platform, the newly relaunched app has also revolutionized how to shop for vintage and secondhand in the digital space. The app features first-of-its-kind video shopping–you know, so you can actually see what a piece looks like, how it fits, and how it moves, rather than try to decipher based off one artfully positioned and carefully cropped photograph, something that often plagues the Etsy or Instagram shopper. Better yet? Customers can instantly re-list the item in the app once they're ready to re-sell them, or "release them back into the shoppable ecosystem," as Gray describes it. "Like a little well-loved fish."
Shopping vintage or secondhand is inherently a more sustainable option, as it eliminates the need for creating something new. "The less we demand new things, the less companies will be inclined to produce," says Gray. "I am an optimist, but hey, gotta start somewhere. We want to perpetuate the idea that buying secondhand is better made, better for the planet, and can be as easy or fun as shopping all the usual contemporary brand stores."
Gray believes that the world is collectively becoming more conscientious of their purchases, which is contributing to the demand for platforms like Object Limited to exist. Not everyone has the time to "dig," whether it's physically through racks or scrolling through pages and pages of poorly photographed items for sale online. They want to shop responsibly, but also want it to be easy. "The growing awareness of our planet's environmental decline means conscious consumerism is growing," she says. "If every time we needed a new dress, pant, shoe, or side table and we thought to purchase it secondhand first, then we're doing a good job. Object is an accessible, fun alternative to fast fashion and furniture."