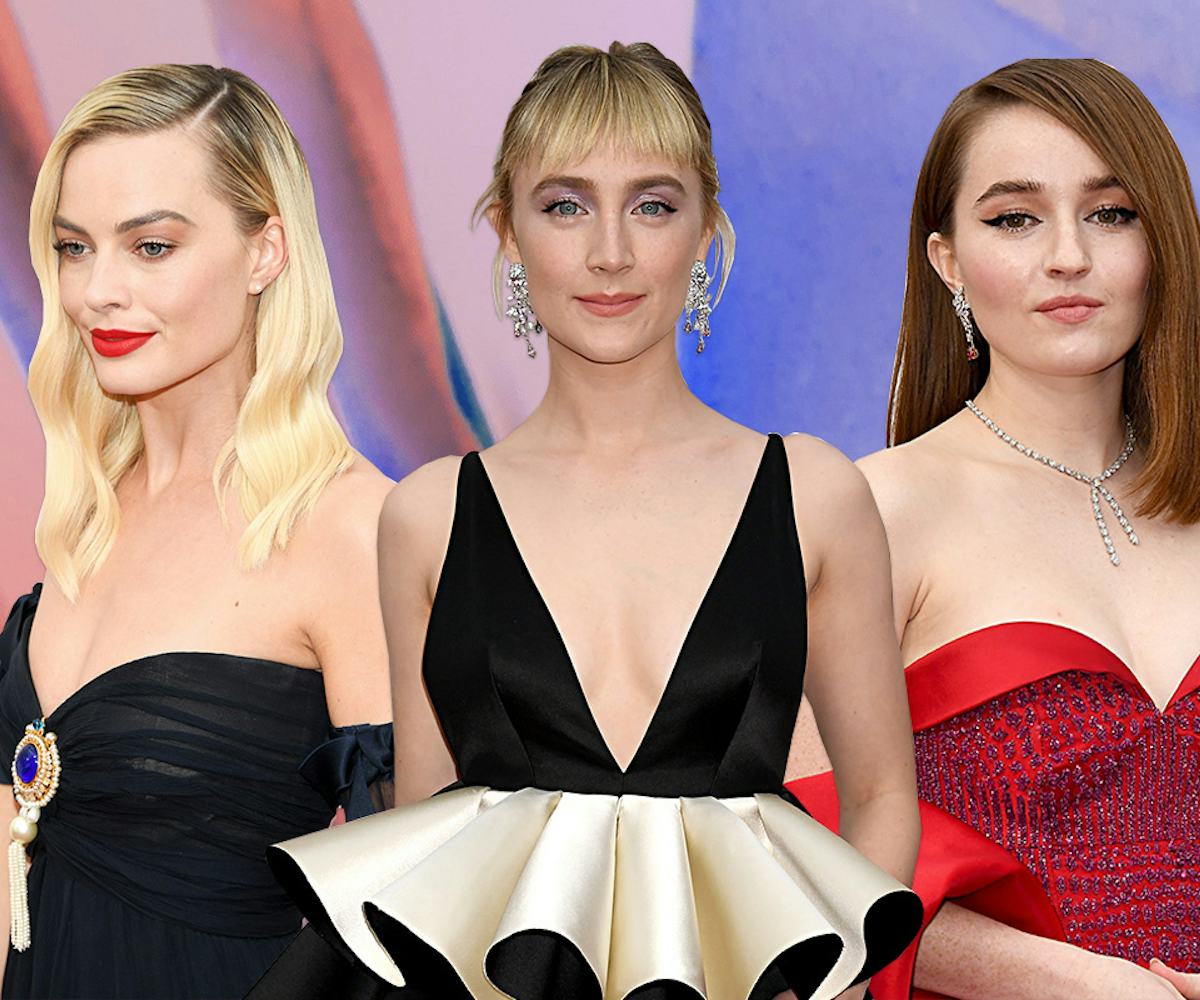 Photos by Jeff Kravitz/Getty Images & Kevin Mazur/Getty Images
Sustainability Was A Red Carpet Trend At The 2020 Oscars
From Margot Robbie's vintage Chanel couture to Joaquin Phoenix's go-to tux during all of awards season
If there was one thing that stood out most during this year's awards season when it came to fashion, it's that sustainability was a trend on the red carpet — and the Oscars on Sunday night were no exception.
Joaquin Phoenix set the tone for the season, as he pledged to wear the same tuxedo (by longtime ethical fashion advocate Stella McCartney) throughout his entire awards show circuit. And while the BAFTAs encouraged more sustainable red carpet choices earlier in February, the efforts went mostly unnoticed among the attendees. (Duchess of Cambridge and avid re-wearer Kate Middleton, however, made sure to put on an Alexander McQueen that she previously wore in 2012.) Luckily, the Oscars — the final awards ceremony — boasted sustainability as one of its main red carpet trends.
In addition to Phoenix, Kaitlyn Dever collaborated with Red Carpet Green Dress for her outfit and opted for a Louis Vuitton gown made from ethically sourced and sustainable materials. "Supporting sustainable clothing is really important," said Dever during a red carpet interview with E! The Booksmart actress wasn't the only one wearing an eco-friendly ensemble from the French fashion house. French actress Léa Seydoux was seen in a white gown made from certified ivory silk, as well as a new wood fiber textile developed by "eco-couture fabric" Tencel Luxe that will be available on the market this May, according to WWD.
Chanel dressed two of its A-list celebrity clients in vintage designs for the Oscars. Margot Robbie, who was up for Best Actress in a Supporting Role for her role in Bombshell, wore a haute couture gown from 1994, while Penelope Cruz, who presented this year's Best International Feature Film award, wore a vintage dress from 1995.
Olivia Colman was dressed in a look from Stella McCartney, which included a cape made from sustainable viscose, and though Timothée Chalamet's outfit set off a ton of memes across the internet, his Prada jacket and matching trousers were made from the Italian luxury brand's Re-Nylon range, which uses regenerated nylon or Econyl. The most interesting sustainable take on the red carpet, however, goes to Little Women's Saoirse Ronan, whose Gucci gown included black fabric that was upcycled from her dress at the BAFTAs.
The choice to dress in something more sustainable was practiced after the Oscars, too: At the Vanity Fair Oscar Party, Elizabeth Banks arrived on the red carpet wearing a Badgley Mischka dress that she wore to the very same event back in 2004.
With award shows bringing together some of the most talked-about celebrities in one room, it's the perfect platform to help promote more conscious consumerism to help better the planet. And, though the official awards season may be over for 2020, we're hoping that sustainability stays at the top of stylists' and celebrities' minds during upcoming premieres, events, and major red carpet appearances for the remainder of the year. Hopefully, these small changes will serve as a catalyst for even bigger messages (and outfits) focused on better habits.
See all of the sustainable red carpet looks from the 2020 Oscars, below.