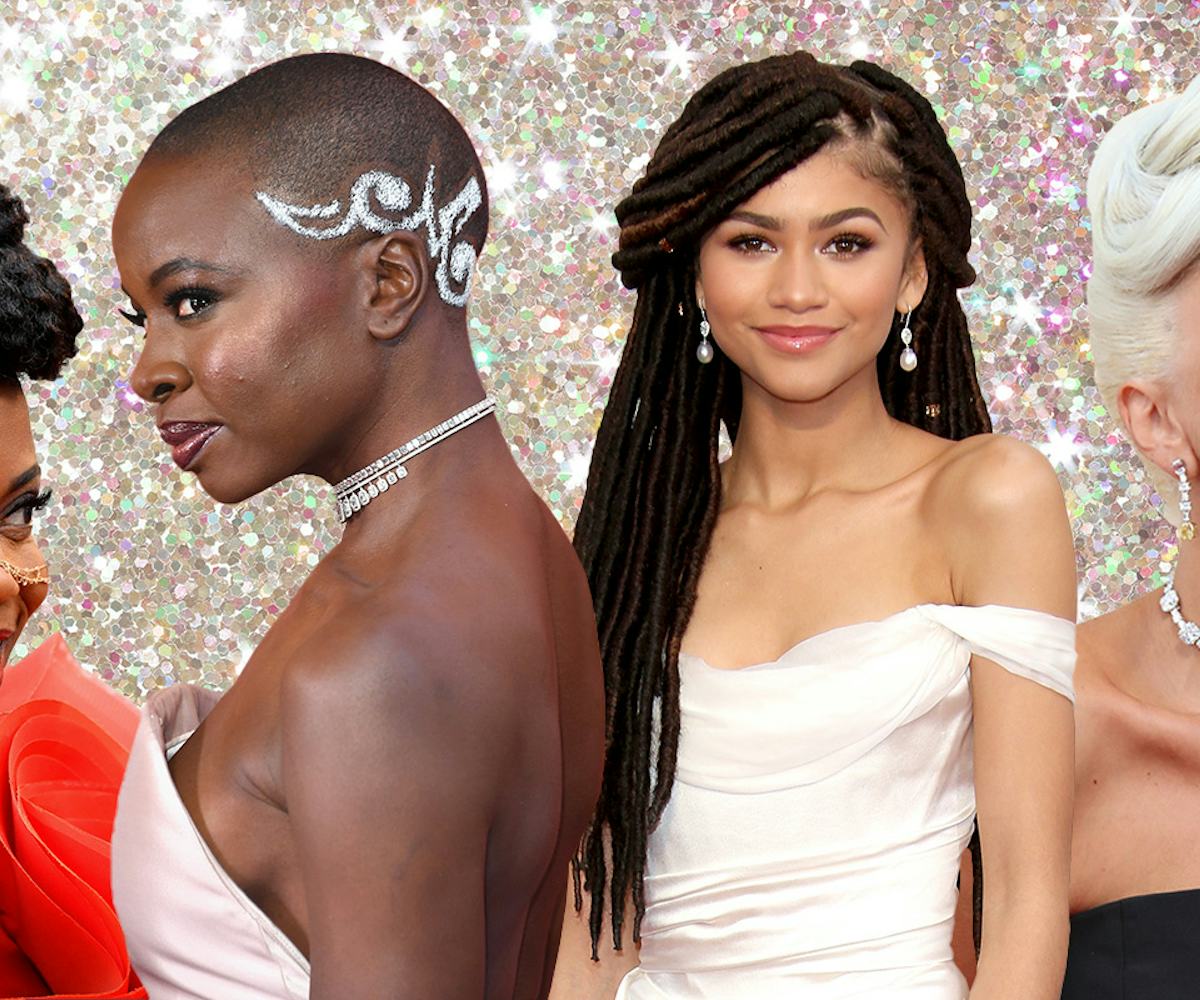 Images courtesy of Photo by Frazer Harrison, Neilson Barnard, and Dan MacMedan via Getty Images
The 10 Most Memorable Oscars Beauty Looks Of The 2010s
From Zendaya's faux locs to Jennifer Lawrence's '90s supermodel glam
When it comes to the film world, the Oscars are the final boss — with the toughest critics and the highest stakes. It's also the last hurrah for the awards season circuit, falling after Golden Globes, the Grammys, and everything in between each year. Naturally, the stars have historically gone all out for the occasion, making the Oscars beauty looks some of the best any red carpet has ever seen.
The iconic looks have been a routine part of the event since its very first ceremony in 1929, but the sentiment rang especially true throughout the 2010s. The beginning of the decade saw the rise of some of today's most powerful, recognizable stars — from Jennifer Lawrence's Academy Awards debut in 2011 to Lupita Nyong'o lighting up the red carpet when she came on the scene in 2014 — who have since become beauty icons in their own right. Some of the best beauty from the Oscars has even come from stars better known for their musical ability than their onscreen work, including the likes of Lady Gaga (who proved she can do literally anything after her performance in 2018's A Star Is Born), and Kacey Musgraves, who graced the 2019 Oscars in an all-over pink glam look.
Whether they'll be remembered for their sculptural updos, their daring makeup looks, or, in one particular case, face jewelry, the list below looks back at 10 of the most memorable Oscars beauty looks from the 2010s.
Jennifer Lawrence, 2011
This was J-Law's first big red carpet appearance as a household name, and she made it count with bronzed skin, soft glam, and a layered, supermodel blowout.
Rooney Mara, 2012
These blunt baby bangs and sleek bun on Rooney Mara might be one of the most memorable looks of all time.
Lupita Nyong'o, 2104
Lupita's glow was undeniable at the 2014 Oscars, with her natural hair brushed up and pushed back in a dainty gold headband.
Zendaya, 2015
The Euphoria star has long loved switching up her hairstyles, and she used the Oscars red carpet in 2015 to try out faux locs. More than just looking great, though, her red carpet glam will forever be memorable for the conversations it sparked about Black hair, following insensitive comments from E! News correspondent Giuliana Rancic, who, when working the red carpet, said Zendaya's hair must have smelled like "patchouli" and "weed."
Emma Roberts, 2017
Emma Roberts' red hair couldn't have worked out any more in her favor — the bold red lips and brushed brows were the perfect accomplices.
Danai Gurira, 2018
The Black Panther star skipped hair accessories for buzzed graphic design right on her scalp, filled with shining white paint.
Andra Day, 2018
Andra Day called on the spring season with a beautiful, voluminous ponytail adorned with florals.
Kacey Musgraves, 2019
Fresh off her big Grammy win, Kacey Musgraves walked the Oscars red carpet committed to pale pink — from her dress to her makeup. To balance out the volume of her outfit, the singer wore her hair in a low, sleek ponytail.
Lady Gaga, 2019
Lady Gaga is always someone to watch on the red carpet, and her look for the 2019 show — where she took home her first-ever Oscar — is no exception. The multi-hyphenate wore soft, fresh makeup, with smudged gray eyeliner and brushed brows, and hair in a sculptural updo that gave off major Audrey Hepburn in Breakfast at Tiffany's vibes.
Hannah Beachler, 2019
Hannah Beachler offered a strong, stunning look with her hair gathered in a faux mohawk and her face draped in dainty gold chains in lieu of dramatic makeup.