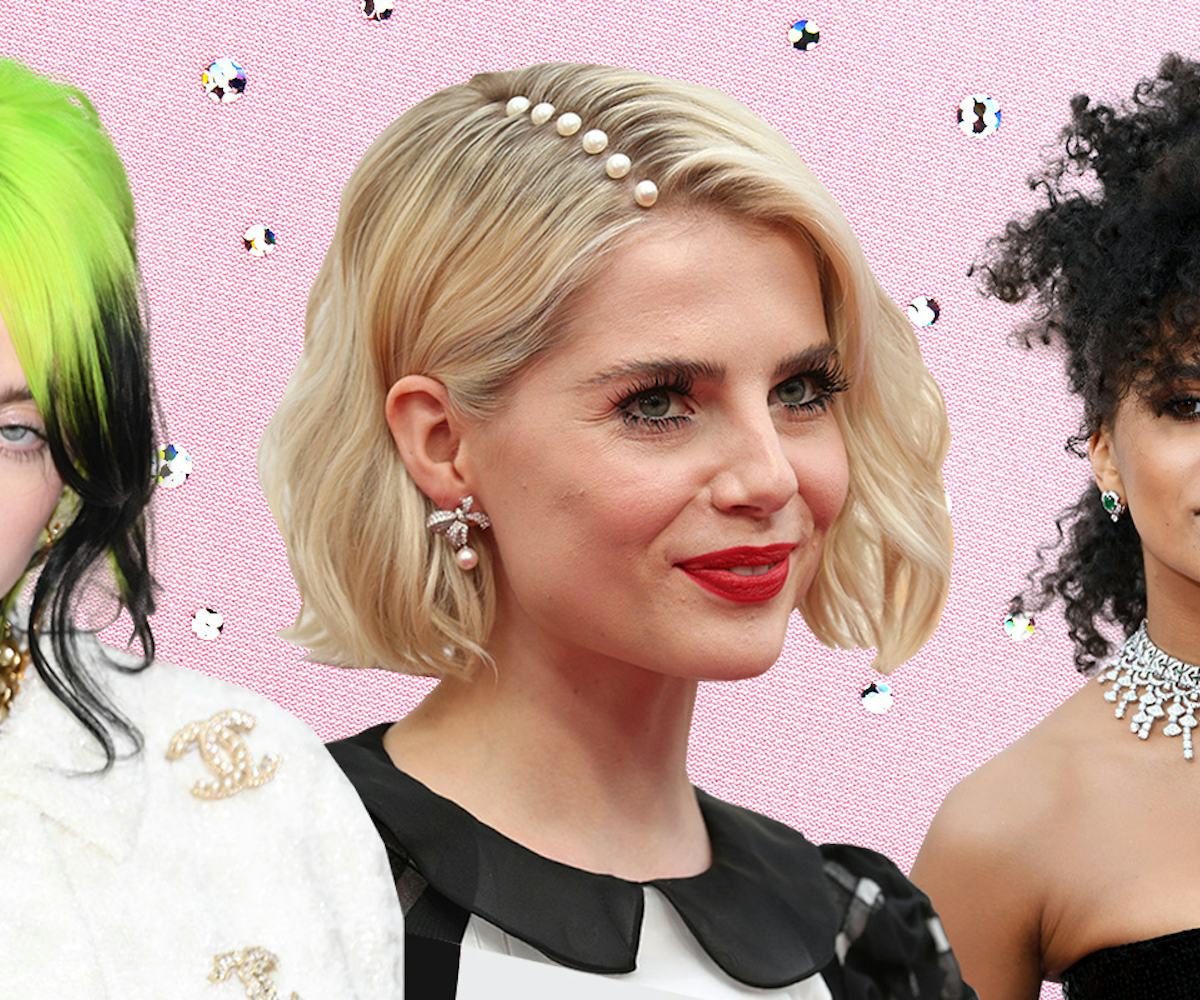 Photos by Kevin Mazur/Getty Image & John Salangsang/BEI/Shutterstock
The Best Beauty Looks From the 2020 Oscars
Zazie's hair! Billie's nails! Beanie's cat eye!
After months of red carpet glamour that truly inspired us, awards season has officially reached its grand finale. And in true Hollywood fashion, the best of the year was saved for last. The 2020 Oscars have arrived, and if some of the best Oscars beauty looks of the past were any indication, it was obvious we were in for memorable for yet another evening before it even started.
Before tonight's red carpet was even laid out, the Oscars had the world hooked with news of musical performances from Billie Eilish and Janelle Monáe, and presentation appearances from stars including Little Women'sTimothée Chalamet, and Joker's Zazie Beetz — all actors who keep us on our toes on-and-off screen. The list of nominees is equally stacked with not only masters of their craft, but beauty stars in their own right, from Little Women star Florence Pugh — who is attending as an Oscar nominee for the very first time — co-star Saoirse Ronan, Harriet's Cynthia Erivo, and Academy veteran Scarlett Johansson, who is nominated for leading role in 2019's Marriage Story. Unsurprisingly, those stars and more did not disappoint, bringing some of the best beauty to the red carpet in the form of billowing natural hair, blunt bobs, pearl-adorned side-parts, and yes — Billie Eilish's extremely long nails.
Check out the best red carpet beauty moments from the 2020 Oscars, below.
Zazie Beetz
Joker star Zazie Beetz looked divine, pairing a nude pink lip with a towering updo, featuring her amazing curls.
Lily Aldridge 
Lily Aldridge chose a bold statement lip for her Oscars 2020 beauty routine. The bright red color perfectly matched her diamond earrings, and she added an additional touch of sparkle via her eyeshadow.
Julia Butters 
10 year old Julia Butter's made a big statement on the red carpet, with her hair in a classic updo and just a few loose ringlets framing her face.
Billie Eilish 
Fresh off her historic Grammys weekend, Billie Eilish took the Grammys with her cool, two-toned hair in a low bun, and her go-to long, square acrylics, each decorated with a single crystal.
Janelle Monáe
Janelle Monáe quite literally sparkled, wearing a sequined hood that covered her hair. The choice of look allowed for her makeup to take the focus, with a bright lip and voluminous lashes.
Beanie Feldstein
For one brief moment at the Oscars, Beanie Feldstein took everyone back to old Hollywood. Thanks to celeb stylist Bobby Eliot, on behalf of Suave Professionals, the Booksmart star went totally 1950s, wearing soft ringlets and a striking, soft cat eye.
Maya Rudolph
Maya Rudolph looked chic in a sleek bob that hit just above her chin. The former Saturday Night Live cast member also added just a hint of color to her makeup via purple eyeshadow.
Margaret Qualley
Margaret Qualley looked royal with her Oscars braid crown. In keeping with the romantic styling choice, she wore just a hint of gloss on her lips, and a spot of color on her eyelids.
Natalie Portman
Natalie Portman also embraced the bob, but wore her style with a touch of waves. A sparkly and smoky eye completed the look.
Saoirse Ronan
Wearing a sweet updo, Saoirse Ronan put the focus on her Oscars makeup. Her eyes were swathed in soft nude shades, which were accented with just a hint of an eye wing.
Florence Pugh
Florence Pugh was giving us major Dua Lipa vibes with her Oscars look. She wore her hair in an intricately braided updo, and chose a rose-pink shade for her lips.
Cynthia Erivo
Cynthia Erivo went with all-white everything for her Oscars glam — including her manicure. While one hand had a white manicure with hints of sparkle, the other hand had blue tips with swirls of white.
Lucy Boynton 
The Politician star always makes for a fun red carpet moment, and the Oscars were no exception. Boynton wore a classic red lip, brushed-up natural brow, and big, spidery lashes, with a line of pearls placed along her hair part.