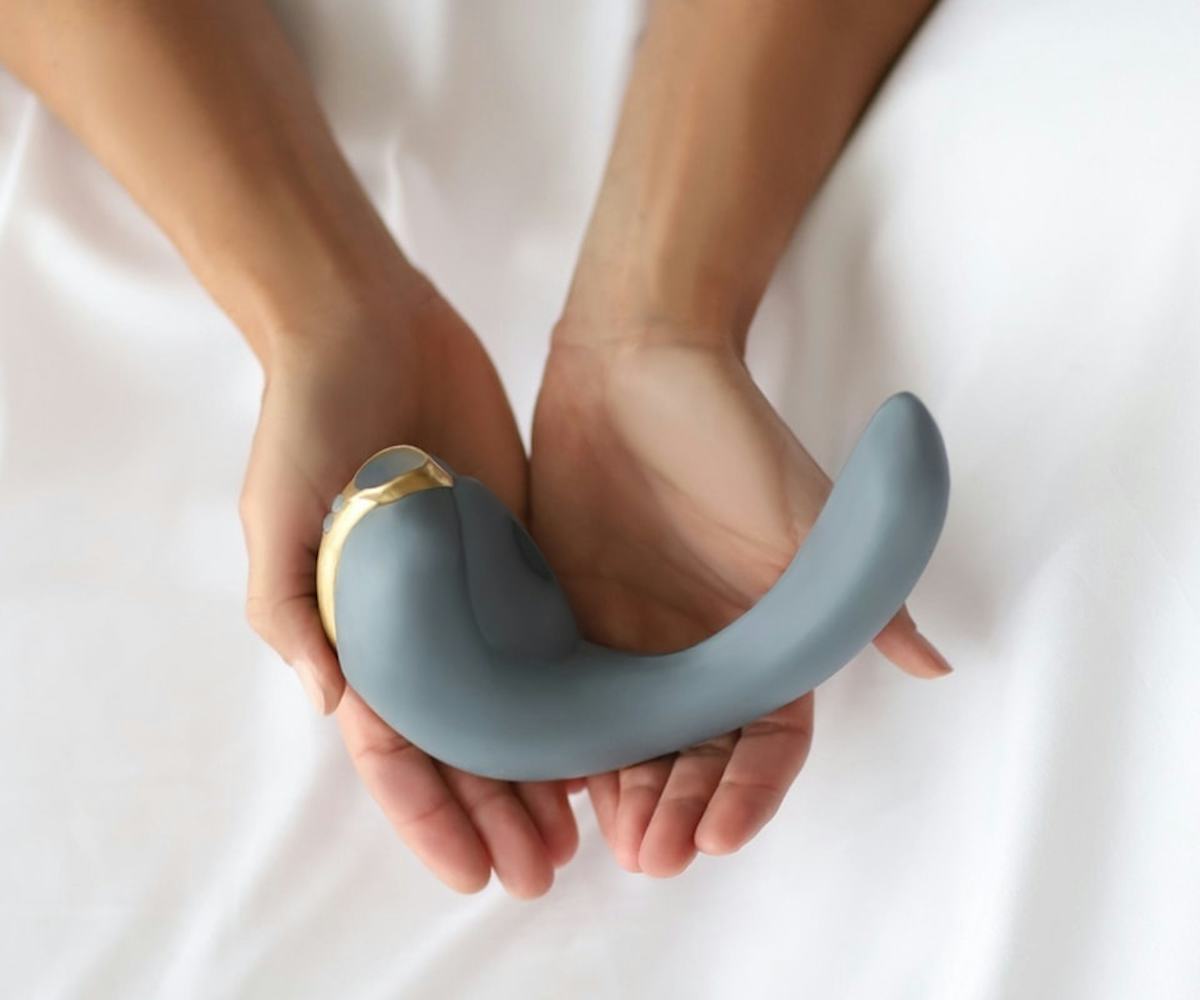 Photo Courtesy of Lora DiCarlo
Why This Woman-Created Sex Toy Is Causing So Much Controversy
Who's afraid of the female orgasm?
By now you may have heard the drama surrounding the robot that is supposedly ushering in the future of female sexual health and pleasure. Called Osé and created by the woman-founded company Lora DiCarlo, the technologically advanced personal massager was bestowed the prestigious CES Innovation Award by the Consumer Technology Association (CTA, which owns and produces CES) last October. Less than a month later, that award was taken away.
But, no matter, because the excitement that Osé is building goes far beyond any misstep by a mainstream consumer electronics show with a history of casual gender bias. This micro-robotic sex toy promises a hands-free blended orgasm, one that stimulates both the clitoris and the G-spot (basically where the part of the clitoris that is inside the body connects to the vaginal wall). Claiming to mimic the motions a partner might make, this toy never tires and could very well replace every vibrator in your closet.
When I asked Lora DiCarlo CEO Lora Haddock why she wanted to create Osé, she replied, "When I was 28, I experienced my first blended orgasm—and it literally put me on the floor, it was so good. The only thing that was going through my head at that point was: How do I do that again?" Haddock pointed out that "blended orgasms are essentially the holy grail of orgasms, and they can be extremely difficult to reach without juggling the perfect combination of toys or a really talented partner—and neither of those is easy to come by." So, she explained, "Osé grew out of the desire to make a product that could give all people with vaginas that experience—whether they have a partner or not."
So what does a team of engineers and entrepreneurs know about sexual pleasure? Quite a lot. I sat down with (now former) technical director and Oregon State University mechanical engineering Ph.D. candidate Lola Vars to talk about how she got involved with the project and why Osé is such a mechanical marvel.
"I was on a project that lost its funding," Vars began, "and one of my professors told me there was a project I would be great for and was I interested in continuing to work with him. He told me it would be a perfect use of my skill set. So I showed up for a meeting with him and another co-advisor, and he [in a dramatic gesture] handed us a paper and told us to turn it over. When I did, I saw the mission statement and was shocked. I was not prepared to have a conversation that included the word 'clitoris' with my Ph.D. advisor that day."
As Vars continued to learn more, she had to acknowledge how well vetted the project was. Even though Haddock did not come from an engineering background, she had a list of 52 engineering requirements for the project, exactly the type of challenge that students in OSU's Mechanical, Industrial, and Manufacturing Engineering (MIME) program want to solve.
"We have a great relationship with OSU," Vars was sure to emphasize to me. Haddock presented her case to the university's prototype development lab with as much or more scientific research than any other project that gains funding through the distinguished MIME department.
"We have taken extremely detailed designs around human erogenous physiology and married them with advanced micro-robotics," Haddock explains. "It's revolutionary because we are miniaturizing a robot to mimic the sensations of a human being. That has so many applications outside of pleasure and sexual wellness."
In addition to her engineering savvy, Haddock had a background in health care from her time in the Navy. She became especially invested in women's anatomy due to what she perceived as a lack of quality care of female bodies in the health care industry. So when she set out to design the Osé, she came prepared with a survey recording over 200 measurements she had asked various assigned-female-at-birth individuals to report to her. Osé adapts to each individual's physical proportions, making it the perfect fit to reach all the right spots no matter their size or shape.
"The idea is that the G-spot, the vaginal opening, and the clitoris are essentially a triangle," Vars continued, "but the ways that the vertices form that triangle are very different. As an engineer, I saw that as an opportunity to make something that has a variable fit. Our toy actually has a hinge so that you can adjust for [varied] distances. It changes the angle at which our toy will be activated."
"Blended orgasms are essentially the holy grail of orgasms, and they can be extremely difficult to reach without juggling the perfect combination of toys or a really talented partner—and neither of those is easy to come by."
As someone who has researched and sampled a fair amount of sexual health products, I cannot think of any other that has this level of science or thought to female anatomy as the basis of its design. We, as a society, have gotten so used to casual misogyny in health and medicine that basic R&D in this realm really does sound astonishing. Haddock's strong research also helps justify the hefty $250-300 price point the Osé is set to debut in the third quarter of this year.
"We only use the highest grade medical silicone. It's approved for implants," Vars continued. "There's actually no legal assignment for what kinds of materials you can use for sex toys, no FDA approval, so we do our own due diligence. We do all of our design validation in house."
Osé is not merely a vibrator. It is a robot that is dedicated to the health and pleasure of female-assigned bodies in a way that no other product can claim to be, which is why it is exceptionally frustrating for CES to prevaricate over its acceptance. Not only did they give and then take back the CES Innovation Award, but were also cagey about whether they would let Lora DiCarlo exhibit on the floor. Both were eventually denied with explanations that kept changing. Initially, the reason that the CTA gave for rescinding the prize was that any entry CTA deems to be "immoral, obscene, indecent, profane, or not in keeping with CTA's image" would be disqualified.
Whether or not one agrees that female orgasms are immoral, there have been several other sexual products that were displayed at CES. In 2018, there was the Abyss Creation Solana sexbot, an unrealistically proportioned artificial female aimed at men's sexual gratification; there was also VR porn from Naughty America, with three featured scenes consisting of "...POV heterosexual scenes from a male's perspective." In 2016, the Little Bird smart vibrator by B.Sensory won this same innovation award as Osé, in the wearable technology category.
More baffling is that a follow-up explanation by Gary Shapiro, CTA president claimed that "...the Lora DiCarlo product does not fit into any of our existing product categories and should not have been accepted for the Innovation Awards Program," despite having been voted on by independent experts in the field of robotics and drones.
"Other sex toys have exhibited at CES and some have even won awards, but apparently there is something different, something threatening about Osé, a product created by women to empower women," Haddock said in an open letter she released during the convention in January. "CES and the CTA have a long, documented history of gender bias, sexism, misogyny, and double standards—much like the tech industry as a whole. From the exclusion of female founders and executives to the lack of female-focused products allowed to exhibit on the floor—there are demonstrable issues with diversity." Shapiro did not respond to NYLON's request for comment.
Lora DiCarlo, as a business, practices what they preach. Not only is the company headed by a woman, but the whole team is quite diverse. "I'm not the only queer person on the team," former technical director Lola Vars, said. "It's really important that our products represent the people who are making them." These people come from gender identities and sexualities across the spectrum, and Osé aims to be relevant to anyone for whom the device's " air flow, thumping, and come hither motions" will give satisfaction, regardless of how they identify.
It's a refreshing take on the making of sex toys and a revolution in female-centered pleasure. And while disappointment in losing the CES award was palpable in my interview with the team, it has also served to elevate the product's profile in a way that has garnered attention and investors. Consumers are interested in constructing multi-gendered sexual pleasure, and they're willing to spend money on it.
"We're all sick and tired of [gender bias at CES and in tech and sexual health in general]," Haddock reiterated. "It's not just about our product. It's about something bigger. It's about really embracing an understanding of human sexuality, of recognizing innovation. When you call something obscene just because it has to do with a vagina, technology as an industry starts to lose out."