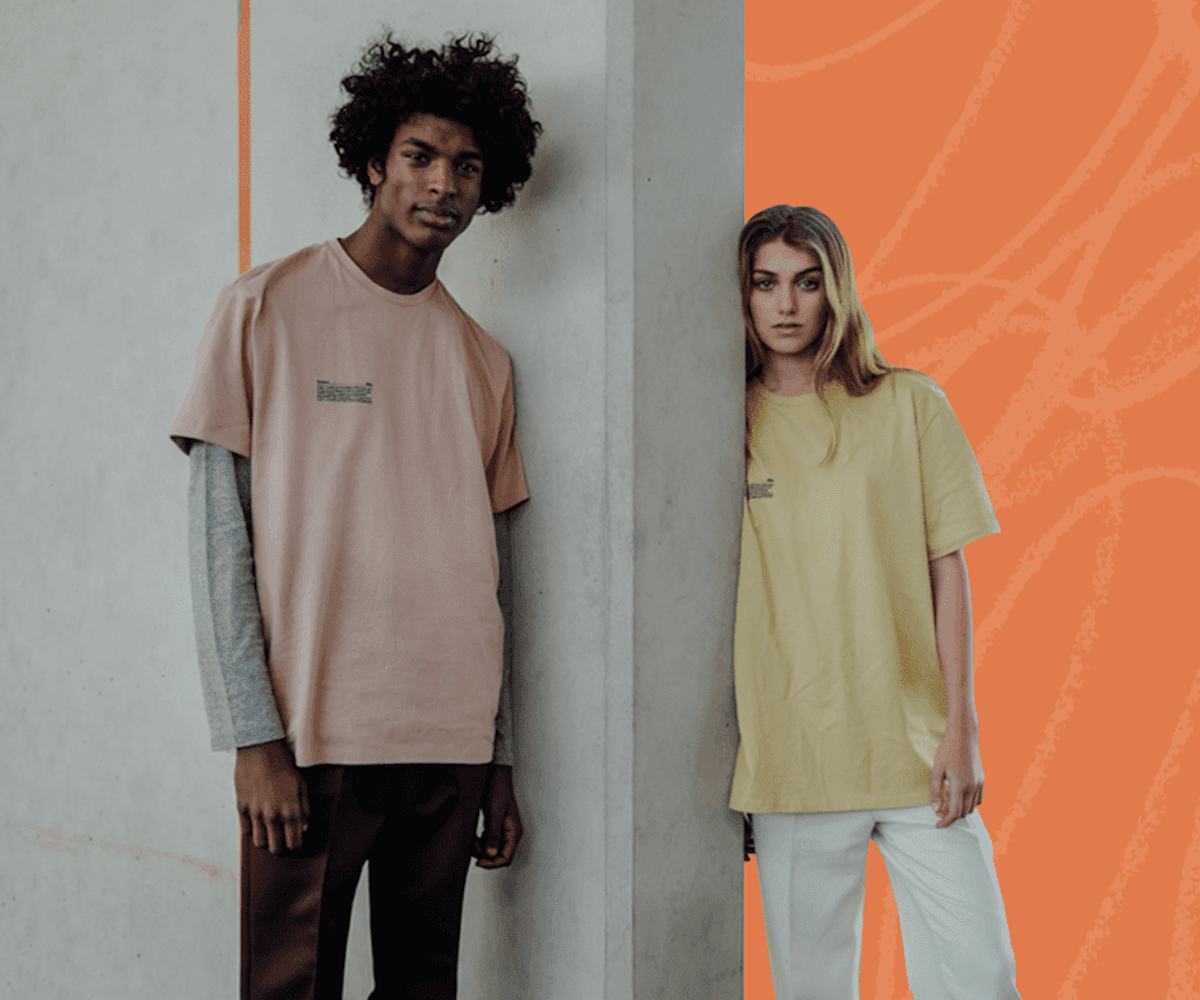 Photo courtesy of Pangaia
This Sustainable Streetwear Label Produces Tees Made Of Seaweed
Get to know PANGAIA, an anonymous collective of designers, artists, scientists, and technologists creating truly innovative and sustainable wardrobe basics
Welcome to The Green Scene. Twice a week during the month of April, we're highlighting the designers and brands working to make the world of fashion and beauty a greener, more sustainable place. The brands to support are the ones making a difference; check back every Tuesday and Thursday to meet your new favorites.
Emerging label PANGAIA wants to make sustainable fashion the norm. A global collective of artists, designers, and technologists with one single mission—to accelerate the world's transition to responsible production and consumption within the fashion industry, one of the most polluting industries on the planet—the direct-to-consumer brand first launched its unisex streetwear-inspired collection of basics—tees, hoodies, and sweatpants—this past December, with major plans for growth in terms of sustainable advancements and products over time.
The members of the collective remain anonymous, allowing for attention to be brought to what's most important—the fact that they are working together to create some of the most sustainable clothing on the planet, fusing design with renewable and alternative resources.
Each of PANGAIA's pieces is created using the latest innovations in materials and technology. "We use seaweed fiber and organic cotton for our T-shirts, 100 percent post-consumer recycled garment waste and discarded plastic for our hoodie and track pants, natural treatments and dyes created from food waste, plants, fruits and vegetables, and treat our T-shirts with peppermint oil to decrease the amount of washes, helping you save water," says the collective. The brand previously released a "flower down" jacket, a puffer created from post-consumer recycled materials such as plastic bottles and filled with 100 percent cruelty-free and vegan wildflower down, a result of 10 years worth of scientific research by members of the collective.
Additionally, trims, labels, threads and zippers used are either recycled or responsibly sourced. Packaging is just as responsible, using a bio-based, fully compostable plastic that will completely break down in a compost bin in 24 weeks.
The brand also works with only the most ethical factories in the garment manufacturing industry—which also happen to be the ones that are "brave enough" to take on the challenge to work with the new bio- and lab-grown materials the brand developed. They're also committed to a zero-waste, circular system, joining forces with The Renewal Workshop to ensure that each PANGAIA piece produced is able to "live on," whether being repaired, upcycled, or recycled on behalf of the customer.
Philanthropy is another important aspect of ethical and sustainable practices for the collective. For the brand's first year, its focus relies heavily on the global issue of ocean plastic pollution, donating 1 percent of proceeds from every PANGAIA product sold to 5Gyres, a nonprofit that uses science, art, education, and adventure to take action against the plastic pollution crisis.
While the PANGAIA Collective could have chosen to launch just another streetwear label, they felt that sustainability had to be at its core. "Over 100 billion clothing items are produced each year," says the collective. "Half of that goes to the landfill, and only 1 percent of textiles are recycled, with $100 billion worth of materials lost every year. Those numbers are staggering. We felt there was a need to introduce innovations through our own products to start a movement for a world of responsible consumption and production."
PANGAIA has decided not to follow the traditional fashion calendar of dropping several seasonal collections a year. Rather, the brand focuses on introducing groundbreaking sustainable materials, treatments, and dyes through its core offering of basics. "We also believe these hero products create the perfect platform through which to launch new materials and showcase true innovation," says the collective. For example? Later this spring, look out for new botanical dye T-shirts, some colored with pomegranate.
Below, take a closer look at PANGAIA's latest offering, and head on over to ThePANGAIA.com to shop.