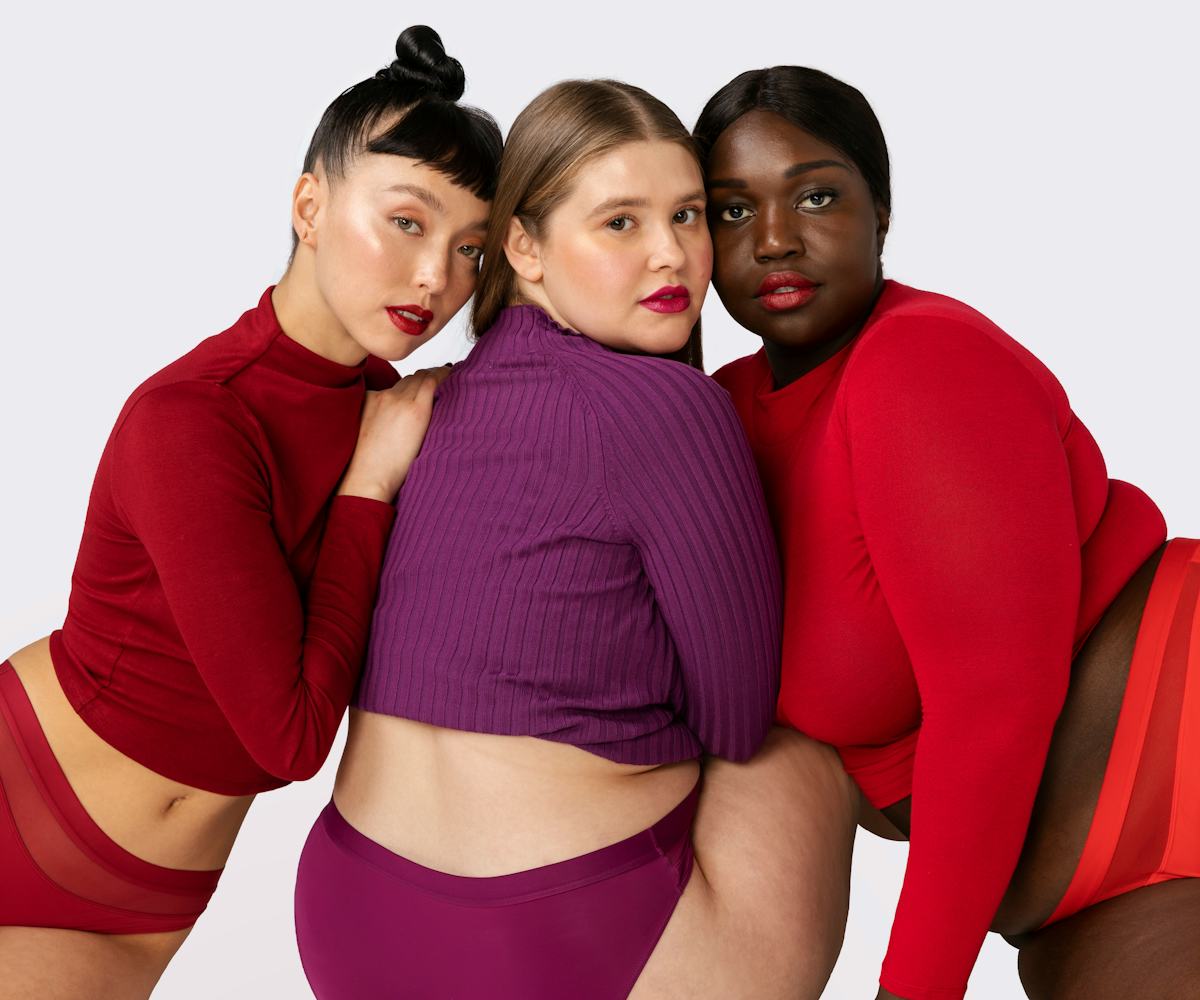 Image courtesy of Parade
Parade, Gen-Z's Favorite Underwear Brand, Launches First Beauty Collaboration
It's available in sizes XS-3X
If you're still racking your brain for the perfect Valentine's Day gift for your loved ones (or for yourself), look no further. Just in time for the cheeky holiday, Gen-Z's favorite underwear brand Parade has partnered with Bite Beauty for its first-ever beauty collaboration — offering up the not-so-obvious albeit perfect pairing of lipstick and underwear. According to both brands, the special collaboration is driven by their "shared commitment to radical expression."
The launch, available only at Parade, includes three exclusive Parade x Bite Beauty lipstick-and-underwear duos, available in size XS through 3X. Based on already existing shades of the beauty brand's vegan Power Move Creamy Matte Lip Crayon formula, each set will come complete with a matching pair of underwear and lipstick, including Parade's classic red Balloon Thong, and introducing two new colors, the Cherrybomb Thong and the Bite Brief. The limited edition sets are $32 — a good deal considering just one of Bite's lipsticks are $24 on their own.
"We always look for brands that share our same values," Parade's co-founder and CEO, Cami Téllez, tells NYLON, noting that both brands think critically about ethical manufacturing and sustainability. "Bite is at the forefront of the beauty industry with high-performing, clean, vegan, cruelty-free, and frankly really beautiful makeup. We looked far and wide for the right beauty partner, and Bite stands for everything Parade believes in."
Since Parade's launch at the end of October, the brand has been a glimmering example of how to market a company today — with inclusivity, community, and sustainability authentically ingrained into its DNA, not sprinkled on as afterthoughts. With nearly 30k Instagram followers, Parade can also thank its refreshing branding strategy for its success in the crowded intimates industry, one that has leaned on collaboration since its very start.
In November, Parade partnered with influencer and graphic designer Barbara Malewicz on a technicolor Instagram face filter, followed by its first-ever product collaboration with Swarovski in December.
"Parade is a brand that's ultimately about self-expression, our vision for the brand is far more ambitious than just underwear," Téllez tells NYLON. "Our customer is incredibly creative, and for us to keep going where she is, we have to mirror that creativity by expanding the world which underwear can go."
See more images from Parade x Bite Beauty campaign, below.