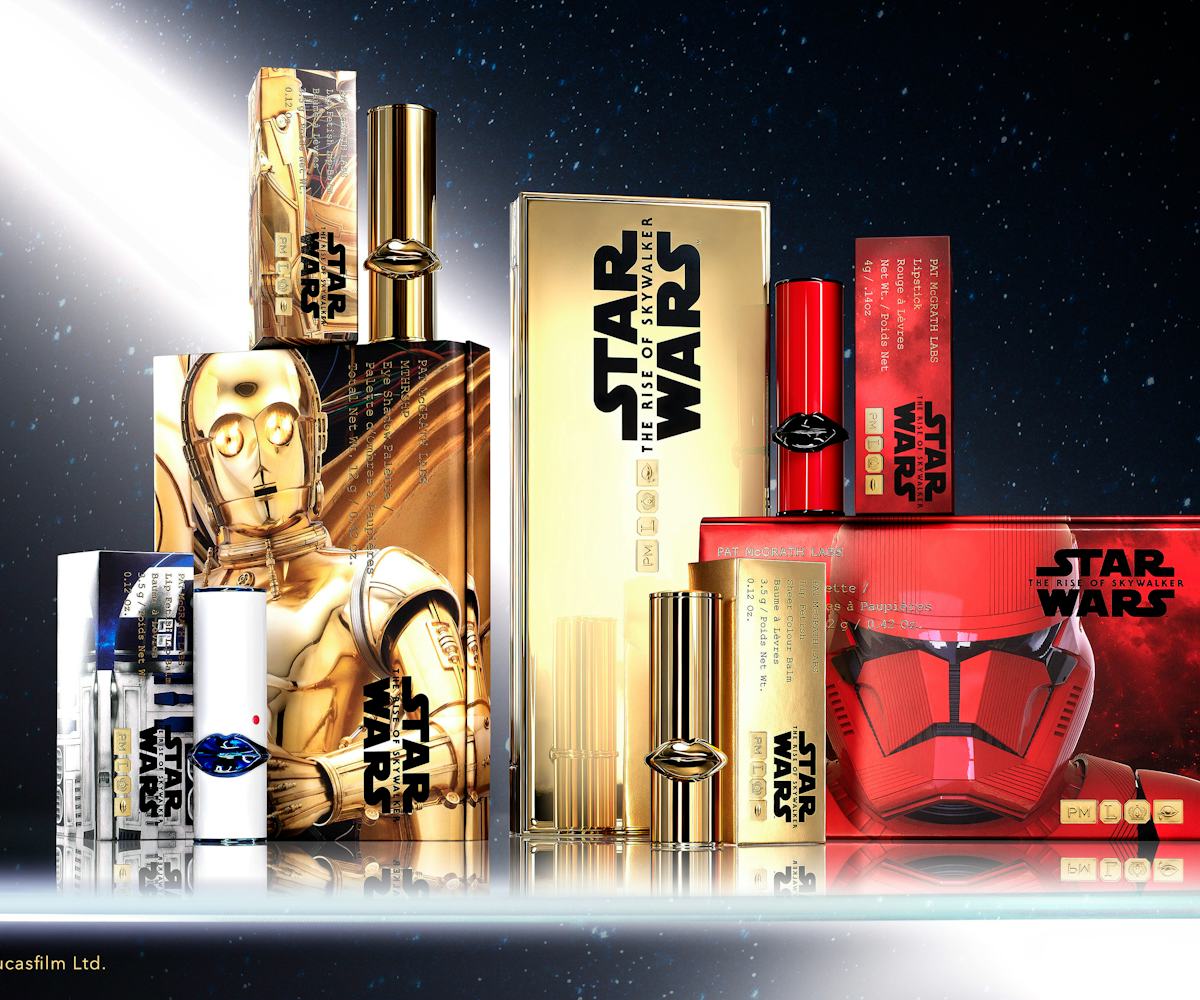 Photo courtesy of brand
Pat McGrath Announced An Out-Of-This-World 'Star Wars' Collection
Featuring the return of the sold-out Mothership IV: Decadence Eye Palette
There are few words that describe the legend that is Pat McGrath better than "otherworldly" — making her newly announced collaboration with Disney's Star Wars: The Rise of Skywalker a serious no-brainer. The limited-edition collection, which celebrates the upcoming (and final) episode of the Skywalker saga, consists of four existing lip products and three eyeshadow palettes, including the highly-anticipated return of the sold-out Mothership IV: Decadence Eye Palette. What's more? Each product comes decked out in stunning Star Wars-inspiredcollectible packaging, in iconic shades of red, gilded gold, and Stormtrooper white.
"We are so excited to work with Disney on this brilliant collaboration celebrating the intergalactic beauty of Star Wars: The Rise of Skywalker," McGrath shared in a press release. "The Star Wars characters have become integrated into our culture in such a MAJOR way that it's hard to imagine a world without them! Anyone who follows me on Social Media knows I am obsessed with Star Wars. From the rebellious beauty of Princess Leia to the gilded glamour of C-3PO."
In addition to the Decadence Eye Palette, the release includes two other palettes housing a range of ultra-pigmented, molten metallics and shimmery shades inspired by the franchise's costumes and intergalactic landscapes. The Galactic Gold palette features gold, bronze, and violet shimmers, while the Dark Galaxy palette offers a darker selection of sultry crimsons and amethyst shades. On the lip front, the release consists of four iterations of Lip Fetish Balm in Flesh 3, Nude Astral, Gold Astral, and Clear.
While the collection is technically a U.K. launch, available only at Selfridges, there will be a limited run available for international shipping in mid-December on PatMcGrath.com, just in time for your holiday party looks. Whether you're a hard-core Star Wars fan or literally only know of Baby Yoda, you're going to want your hands on one (if not all) of these products. And according to McGrath herself in the collection's press release, you should move fast: "I suggest all my fellow beauty-loving Star Wars fans snatch theirs quick before they are forever gone to a galaxy far far away."
Scope out the entire collection (and its iconic packaging), below.
Pat McGrath Labs MTHRSHP: Dark Galaxy Palette $65, available at PatMcGrath.com on December 13th
Pat McGrath Labs MTHRSHP: Galactic Gold Palette $65, available at PatMcGrath.com on December 13th
Pat McGrath Labs Lip Fetish Lip Balm in 'Gold Astral', $40, available at PatMcGrath.com on December 13th
Pat McGrath Labs Lip Fetish Lip Balm in 'Nude Astral', $40, available at PatMcGrath.com on December 13th
Pat McGrath Labs Lip Fetish Lip Balm in 'Clear', $40, available at PatMcGrath.com on December 13th
Pat McGrath Labs Mothership IV Decadence Palette $65, available at PatMcGrath.com on December 26th
Pat McGrath Labs Lip Fetish Sheer Color Balm in 'Flesh 3', $40, available at PatMcGrath.com on December 26th