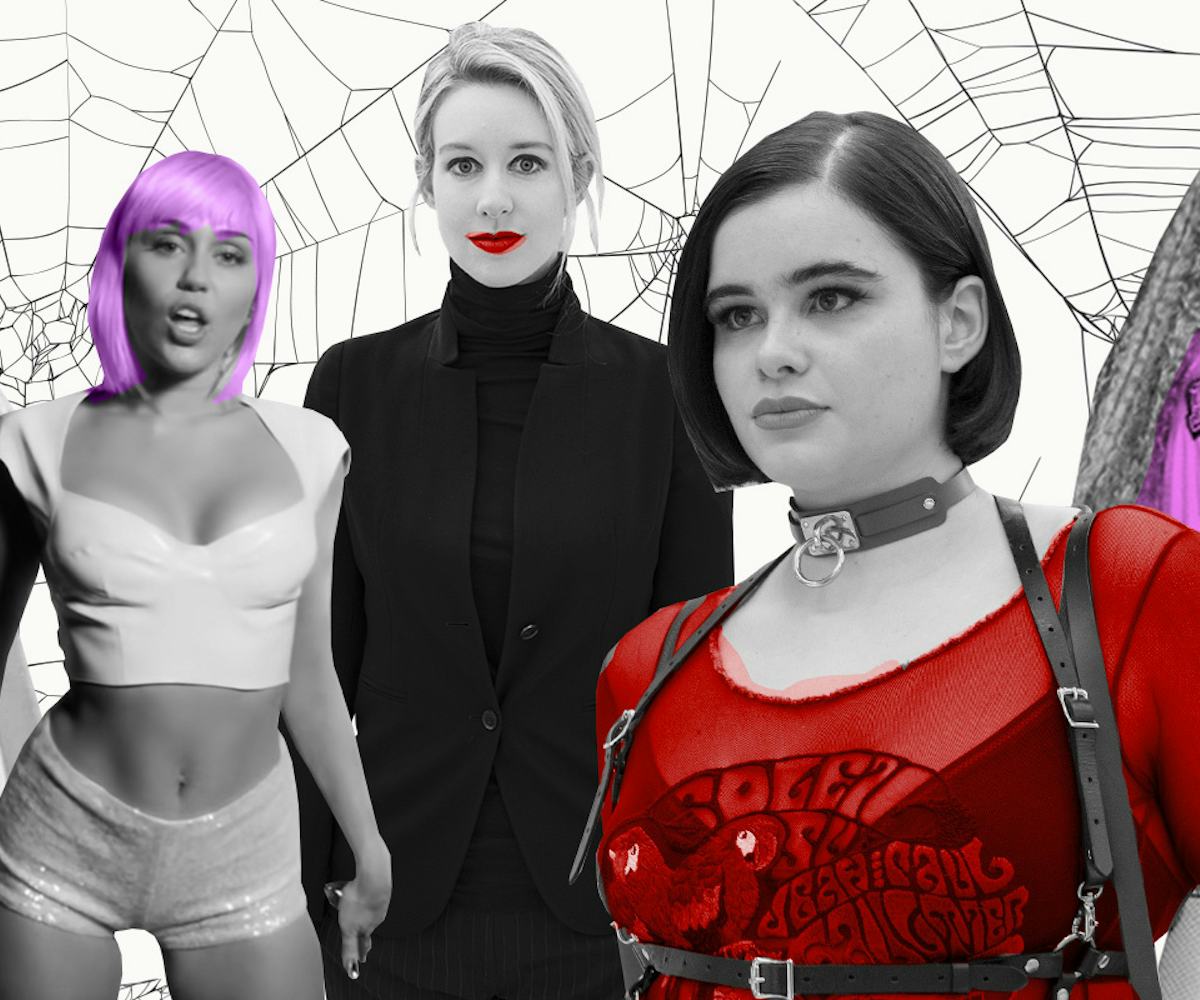 The 22 Best Pop Culture-Inspired Halloween Costumes
Including memes, movies, and music videos
From memes to music videos, television shows, and films, there have been no shortage of pop culture moments that captivated the internet this year. Whether it was Jennifer Lopez's career-defining role in Hustlers or Lil Nas X's viral hit, these highlights continue to be on everyone's minds as the year comes to an end, guaranteeing that some of these will make an appearance this Halloween.
Ahead, see what we're predicting will be some of 2019's most popular Halloween costumes, and how you can easily recreate them.
Jennifer Lopez in 'Hustlers'
There were a lot of good '00s fashion looks in the Hustlers. The one that embodied the fashion of that era the best though? Jennifer Lopez in a black Juicy Couture tracksuit and white Giuseppe Zanotti wedge sneakers. For this look, make sure to get some (faux) cash so you can dramatically throw it in the air like Lopez did in the scene when she was arrested.
Get the look: Juicy Couture, Velour Hooded Jacket, $54, and Velour Midrise Bootcut Pants, $50, both available at Kohl's; ShoeDazzle, Shanta Platform Wedge Sneaker, $44.07, available at ShoeDazzle.com.
The Tethered in 'Us'
The most memorable look from Jordan Peele's Us—the red jumpsuit worn by the Tethered, the film's eerie dopplegängers—is also the easiest to recreate this Halloween. For an extra fear factor, wear one fingerless driving glove and carry a pair of (blunt) scissors.
Get the look: Nasty Gal, Zip It Through Denim Boilersuit, $60, available at Nasty Gal; Evaliana, Fingerless Driving Gloves, $12.98, available at Amazon; Anthropologie, Rose Scissors, $16, available at Anthropologie.
Taylor Swift in the Video for "Me"
For an easy group costume, look no further than Taylor Swift's "Me" video, featuring coordinating pastel suits.
Get the look: BCBGMAXAZRIA, Pleated Blazer, $99.99, and Cropped Pant, $69.99, both available at Gilt; The Tie Bar, Blush Pink Tie, $22, available at The Tie Bar.
Elizabeth Holmes
From her black turtleneck uniform to her smeared eyeliner and deep voice, Elizabeth Holmes, the disgraced Theranos founder and the subject of HBO's The Inventor: Out for Blood in Silicon Valley documentary, was the subject of much fascination and impersonation this year.
Get the look: Uniqlo, Heattech Turtleneck, $19.90, available at Uniqlo; Kat Von D, Tattoo Liner, $20, available at Sephora; Sephora Collection, #Lipstories lipstick, $8, available at Sephora.
Daenerys Targaryen (with a Starbucks Cup)
Given the ending of Game of Thrones this year, any character's look would be appropriate for this year's Halloween party. Our favorite though? The Queen of Dragons casually sipping on a cup of Starbucks post-Battle of Winterfell.
Get the look: Komikcon, Daenerys Targaryen Costume, $59.99; Probeauty, Braid Curly Blonde Wig, $21.99; Starbucks, Reusable Plastic Cups, $16.35, all available at Amazon.
'Midsommar' May Queen
Even if you haven't seen Ari Aster's Midsommar, you've likely heard of the horror film whose goriest moments happen in broad daylight set amongst a commune of people dressed in white prairie dresses and flower crowns. For an authentic flair, A24, the studio behind the film, is selling a bear in a cage toy as part of the film's merch.
Get the look: ASOS Design, Embroidered Sleeves Lace Insert Midi Dress, $43.50, available at ASOS; VividSun, Flower Headpiece, $13.99, available at Amazon; A24, Bear in a Cage Toy, $42, available at A24.
Fleabag and the (Hot) Priest from 'Fleabag'
If someone told me a year ago that I would become deeply invested in the onscreen romance between Phoebe Waller-Bridge's titular Fleabag character and a hot priest, I wouldn't have believed it. Yet, here I am, and not only still deeply invested but also looking forward to someone recreating this iconic duo for Halloween.
Get the look: Zara, Midi Pinafore Dress with Buttons, $49.90, available at Zara; Everlane, The Cotton V-Neck, $20, available at Everlane; Blessume, Church Chasuble Embroidered Vestments, $52.99, available at Amazon.
Anna Delvey in Court
When Anna Delvey (real name Anna Sorokin), accused of stealing $275,000 from friends, banks, and businesses by pretending to be a German heiress, appeared in court in March, all eyes were on her fashion. In place of clothing and accessories from brands like Alexander Wang, Balenciaga, and Celine, which she was known to sport during her scamming heyday, was a v-neck pencil dress paired with... a choker.
Get the look: MICHAEL Michael Kors, Midi V-Neck Knit Dress, $175, available at Saks Fifth Avenue; RareLove, Classic Velvet Choker Necklace, $6.99, available at Amazon; EyeBuyDirect, Claudia Rectangle Black Eyeglasses, $23.40, available at EyeBuyDirect.
'Stranger Things' Scoops Ahoy Employees
One of the highlights of Stranger Things Season 3 was the friendship formed between Steve and Robin, who worked the counter of the nautical-themed ice cream parlor Scoops Ahoy in Starcourt Mall, the main location for much of the season's supernatural action. For a couples-turned-group costume, enlist two more people to dress up as Dustin and one-liner queen Erica.
Get the look: J.Crew, Striped Ruffle-Sleeve T-shirt, $39.50, available at J.Crew; J.Crew Factory, Frankie Bermuda Chino Shorts, 24.99, available at J. Crew Factory; Cosfunmax, Nautical Sailor Cap, $19.99, available at Amazon.
"And I Oop" Meme
Arguably the best meme of the year, "And I Oop," that has come to be used to express surprise or embarrassment, came courtesy of RuPaul's Drag Race star Jasmine Masters. Bonus: You get to wear a robe all night.
Get the look: J.Crew, Crystal Cluster Chandelier Earrings, $44.99, available at J.Crew; In Bloom by Jonquil, Lace-Trim Wrap Robe, $60, available at Bloomingdale's; AGPTEK, Short Bob Hair Wig with Bangs, $10.99, available at Amazon.
Miley Cyrus in 'Black Mirror'
Prior to news about her split from Liam Hemsworth taking over the internet, there were headlines celebrating Miley Cyrus' starring role in dystopian sci-fi anthology series Black Mirror. Playing pop star Ashley O, Cyrus donned a lavender wig and a series of sparkly two-piece sets in an episode that aptly tackled the perils of fame.
Get the look: LPA, Terina Top, $84, Thadeo Shorts, $84, both available at Revolve; eNilecor, Short Bob Hair Wig with Bangs, $16.49, available at Amazon.
'Euphoria'
From street style to fashion shows, the effect of Euphoria's makeup has been profoundly felt since the HBO show aired this summer. Expect this to continue through Halloween, with people donning bold eyeshadow and face-glitter in place of elaborate wardrobes. If you're looking to go in full makeup and clothing though, may we suggest channeling Kat and her epic harness looks?
Get the look: Anastasia Beverly Hills, Norvina Pro Pigment Palette Volume 2, $60, available at Sephora; TecUnite, 2,000-piece gem set with tweezers and pen, $7.59, available at Amazon; ASOS Design, Strap Harness with Hanging Chain Detail, $32, available at ASOS.
Brad Pitt and Leonardo DiCaprio in 'Once Upon a Time in Hollywood'
Four words: Brad Pitt in Minnetonkas. Yes, the actor truly wore the moccasin boots while portraying impulsive stuntman Cliff Booth in Open Upon a Time in Hollywood, pairing the look with a vintage T-shirt and a Hawaiian shirt. For ones who take their fashion more seriously, there is Leonardo DiCaprio's (sometimes) more polished character's look.
Get the look: American Eagle, Short Sleeve Hawaiian Button-Up Shirt, $29.99, available at American Eagle; Minnetonka, Two Button Hardsole Boot in Brown, $69.95, available at Minnetonka; Soul Star, Punched Faux Leather Zip Through Jacket, $36, available at ASOS.
Beyoncé in 'Homecoming'
Following the sometimes grueling making of Beyoncé's historic 2018 Coachella set, Homecoming showed the performer at her most vulnerable. It also reminded us of the iconic look she wore during her set dedicated to Historically Black Colleges and Universities.
Get the look: Beyoncé, B∆K Patch Pullover Hoodie, $115, available at Shop.Beyoncé.com; Forever21, Distressed Acid Wash Denim, $25, available at Forever21; Pleaser, Funky Faux Fur Yeti Boot Sleeves, $22.75, available at Walmart.
'Little Women'
One of the most anticipated movies of the year, Greta Gerwig's Little Women—starring Saoirse Ronan, Emma Watson, Florence Pugh, and Eliza Scanlen as the March Sisters—is another strong contender for the most popular group costume.
Get the look: Batsheva, Ruffled Floral Print Cotton Midi Dress, $471, available at Matches; ASOS Design, Natural Straw Easy Boater Hat, $19, available at ASOS; California Picnic, Picnic Basket, $29.99, available at Amazon.
Ariana Grande in the Video for "thank u, next"
Leave it to Ariana Grande to make beloved early-aughts films like Mean Girls, Legally Blonde, 13 Going On 30, and Bring It On relevant in 2019 with her "thank u, next" music video. There's a lot of good looks to pull from, though we personally love a mash-up between Bring It On and Mean Girls.
Get the look: Urban Outfitters, Teen Spirit Cheerleader Halloween Costume, $69, available at Urban Outfitters; Insert Name Here, "Hi, I'm: Miya" 30-second dream pony, $45, available at INH; Miss R. George, Burn Book Lined Journal, $10.43, available at Amazon.
Instagram Egg
The start of this year had us all asking one very important question: Why is the world obsessed with eggs right now? And that obsession started when Instagram set out to break Kylie Jenner's record for most-liked photo with one of a brown egg.
Get the look: Eggcellent Halloween Costume, $17.99, available at Amazon.
Meryl Streep in 'Big Little Lies'
The most buzzed-about addition to Big Little Lies Season 2, Meryl Streep (and her fake teeth) did not disappoint as Perry's grief-stricken mother Mary Louise. Equip yourself with enough cough drops to offset all the screaming that you will inevitably do.
Get the look: Gap, Longline Open-Front Pointelle Cardigan in Light Blue Heather, $79.95, available at Gap; EyeBuyDirect, Star Cat Eye Rose Gold Glasses, $39, available at EyeBuyDirect; Ricola, Cough Drops, $3.89, available at Target.
VSCO Girl
If you've taken BuzzFeed's "Are You A Soft Girl, E-Girl, Or VSCO Girl?" quiz and found yourself to be the latter, you probably already have all the essentials—wire hair elastics, a shell necklace, Hydro Flask. Now is just the season to really embrace it.
Get the look: Chloven, Velvet Hair Scrunchies, $9.99, Hydro Flask, Water Bottle, from $29.95, VEHHE, Stainless Steel Straws, from $3.99, all available on Amazon.
E-Girl
On the other hand, if you found out that deep down inside (and in the deepest corners of TikTok) you're an e-girl, get ready to hit Sephora for some vibrantly colored hair dye (think: slime green, pink), eyeliner, and Milk's face stamps.
Get the look: Good Dye Young, Poser Paste Temporary Hair Makeup, $18, Milk Makeup, Tattoo Stamp, $12, both available at Sephora; Tbdress, Stripe Print Long Sleeve Double Layer T-shirt, $7.99, available at Tbdress.
"Old Town Road" Video
Lil Nas X's viral hit "Old Town Road" got severalvideos and remixes over the course of the summer, and we're still not over them all. After stocking up on some embellished Western-inspired wear, get creative with the props, which could include a toy horse, a money bag, or, you know, an alien.
Get the look: Rockmount, Vintage Western Embroidered Shirt, $98, Super Z Outlet, Large Canvas Natural Money Bag Pouch, $5.99, both available at Amazon; Peter Grimm, Wesley Banded Cowboy Hat, $24.97, available at Nordstrom Rack.
Tessa Thompson and Chris Hemsworth in 'Men in Black: International'
Tessa Thompson in a suit may be the only reason worth seeing Men in Black: International. (Well that, and Les Twins as shapeshifting entities who pursue Thompson and Chris Hemsworth over the course of the film.) Grab your second half and suit up for this easy last-minute look.
Get the look: SuiStudio, Cameron Black Double Shawl Tux, $699, available at SuiStudio; SuitSupply, Sienna Black Suit, $639, available at SuitSupply; Warby Parker, Fletcher Black Matte Eclipse Sunglasses with Olive Green Lenses, $95, available at Warby Parker.
NYLON uses affiliate links and may earn a commission if you purchase something through those links, but every product chosen is selected independently.