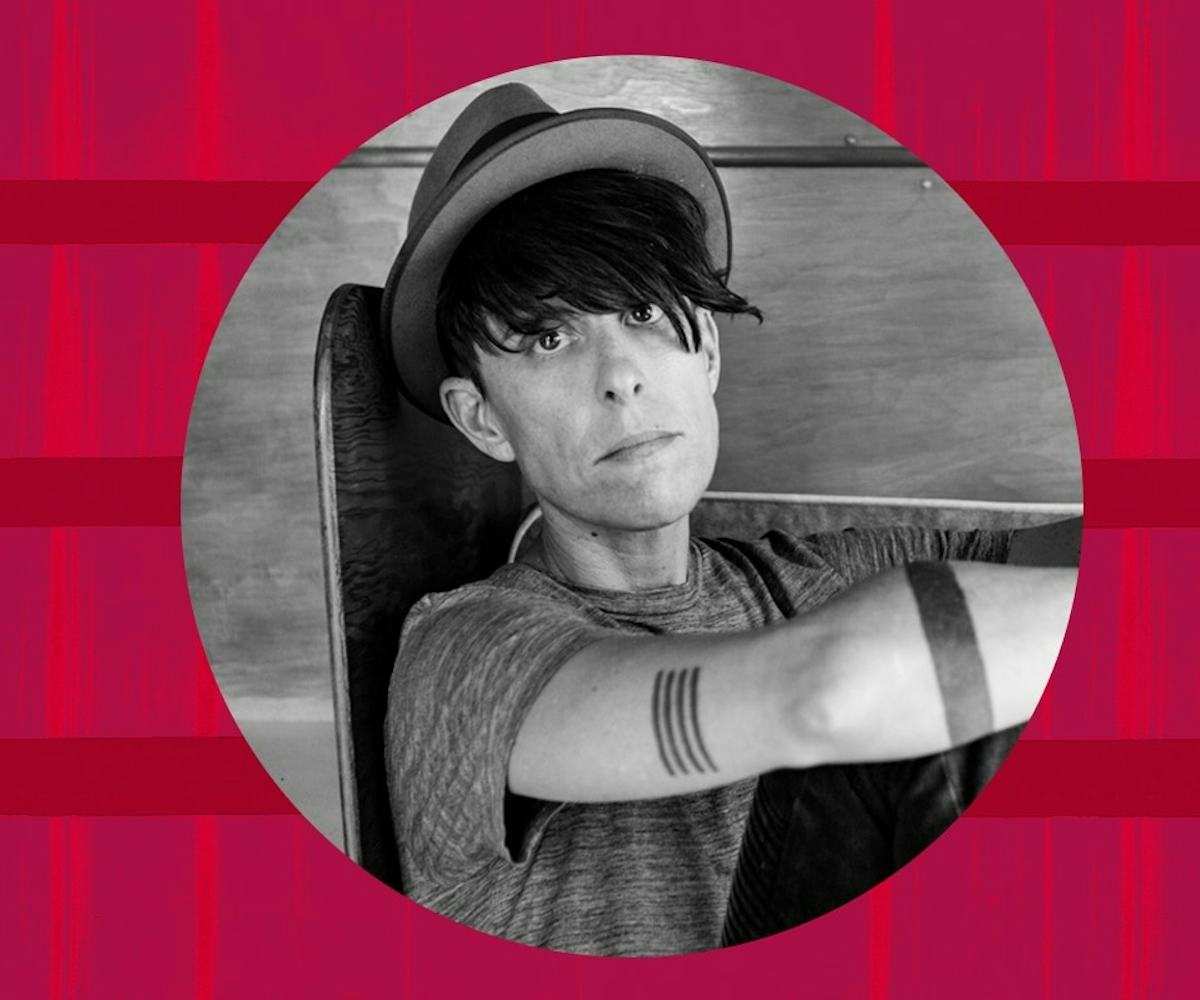 Photo by Coco Aramaki
Activist and Poet Andrea Gibson Performs Through Their Fear
On stage fright, giving up, and intergenerational LGBTQ learning
Andrea Gibson's poetry surges on a wave of perseverance. Even as their poems reckon with depression and political turmoil, there's a thread of possibility and hope within them—it may be unraveling, but it's there, and Gibson wants you to take note.
After all, they tell me: Hopelessness and quitting are both okay; "you give up today, and I'll give up tomorrow—then we'll both come back around."
These threads of hope amidst hopelessness run through both their latest poetry collection, Lord of the Butterflies, and their prose book, How Poetry Can Change Your Heart, which was co-authored with partner Megan Falley.
"When I'm writing a book of poetry, there's so much—for lack of a better word—darkness throughout," Gibson says. "To write How Poetry Can Change Your Heart was celebrating something that has been life-saving to me for a couple of decades now. The book is all uplifting, and that was good for my spirit, good for my mindset, especially during the time of Trump—and it was nice to just focus on beauty for a while."
Gibson has been performing spoken word poetry for nearly two decades, during which they've been a four-time Denver Grand Slam Champion as well as the first poet to win the Women of the World Poetry Slam, among other honors. They've also published a number of books, released four spoken-word albums, performed for Button Poetry, and are known for their activism, especially pertaining to gender norms and political issues.
But Gibson's extensive resume does not create a barrier between them and their often young, queer fans—in fact, Gibson mentions that it's the youngest fans who are often a source of education.
"If somebody's going to wake me up to a problem in something that I've written, or if something I've written has been hurtful—which happens all the time, I think, for most artists—it's very commonly someone who may even be a generation younger than me, and I love that," Gibson says. "I love that some of my favorite poets are 17 years old. I think that that is a wonderful part of queerness, that there is a lot of intergenerational learning from all ends."
While Gibson says that poetry has always been a fairly welcoming space for queer people, they add that there were far fewer visibly queer people in the community when they first started. Now, slams are welcoming spaces: "If I'm wanting to be held and celebrated in my queerness, that's where I'd go: towards poetry."
But what's a comfort can also be emotional labor. Gibson says that on their current tour, for the first time, they've found themselves crying in the middle of a performance and unable to stop.
"Spoken word, specifically, is a really vulnerable art form where you're in many ways being constantly asked to expose yourself," Gibson says. "I do spoken word because I just fell so madly in love with the art form, in watching it, listening to it—but it has not stopped terrifying me."
Gibson grapples with stage fright—they don't usually read from their book on stage, so the audience won't see their hands shake. Not that you'd know from their performance, where lines are treasured and paced with tremendous care. It's paradoxical; they fear performing but it nourishes them. The true relief, though, comes when they step off stage after the performance is over.
And they won't let their fear be a hindrance. Gibson says that what we "don't like" is often something we actually fear, and that fear keeps us from new experiences. So whatever Gibson fears, they intend to tackle head-on. That might be a screenplay, a memoir, a musical, or any number of collaborations—all of which Gibson mentions are currently in the works (though none have a promised completion date).
"Ever since I was a little kid, I remember just feeling like my safety came from expression—the more people knew about me, the safer I felt," Gibson says.
But while they're very open in their work about politics, trauma, and loss, the one thing they don't want to write about? Hopelessness. Gibson says hopelessness is momentary, and it's not where they want to focus—it's the one feeling they might obscure in poems.
"I don't like writing it into my work because I want to always tap into possibility," Gibson says. "I want to tap into a lens that believes in what we can create for the better."
NYLON uses affiliate links and may earn a commission if you purchase something through those links, but every product chosen is selected independently.