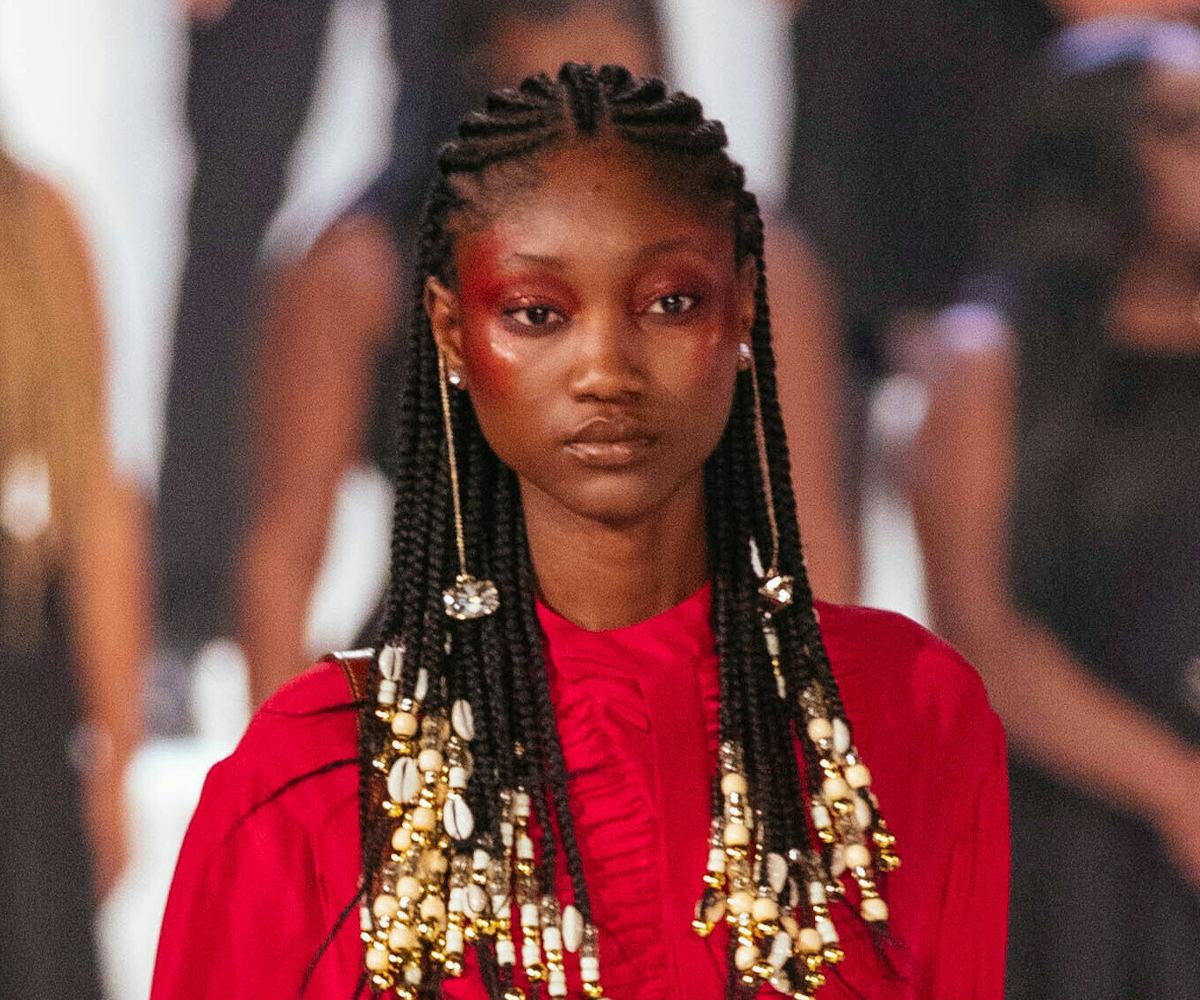 Image by Kevin Hagen/AP/Shutterstock
Pyer Moss Has Set Us Free
It was the most important show of the season
"Every time you say your name I can't hear you over the sound," a woman told me as we perched on stools backstage in the King's Theatre, trying to make ourselves small in the cramped hallway. We were making conversation as we waited. Showtime was soon, but in true Black fashion, we didn't know exactly when it would actually start. Sean Paul's "Gimme the Light" was playing out loud on a phone one room away, filling in the din of conversation between models and stylists and crew. Backstage was packed to the brim, teeming with melanated skin in various stages of their show-ready form.
The hair room was a yellow-hued haze, evoking the familiar scents and sounds and movements of the Black salon. Beads were hand-applied, locs were retwisted, and braids freshened up. Fros were picked apart and lacefronts were laid. "We looked at hair through the ages," hair lead Jon Reyman explained of the various coifs and curls. "It was all about Black rock and roll hair." The show featured five hair looks total—ranging from wigs in slightly fuzzy pin sets to box braids embellished with thick gold jewels that bore the faces of women whom designer Kerby Jean-Raymond views as direct musical descendants of Rosetta Tharpe, the inventor of rock and roll's sound. "You have everyone from Lil' Kim to Beyoncé and Missy—Whitney Houston, and Anita Baker. We covered a lot of people," Jean-Raymond said. The jewelry feels like phase two of Jean-Raymond's injection of blackness into wearable art, following the iconic buttons he and Lena Waithe wore at this year's Met Gala.
One room over, models faces were painted to evoke a '70s rock and roll feel, sporting blown-out blush that doubled as eyeshadow. Glitter and rhinestone appliqués were added to take the looks to the next level. Some wore red, others were dusted in gold, each option operating in concert with the clothes. "We wanted a '70s vibe, but also acknowledging how rock and roll has been whitewashed in history and reclaiming that it actually started in the Black community," the lead makeup artist Daniel Sollstrom shared of the look. The makeup artists used Uoma Beauty, a Black woman-owned beauty brand with an "Afropolitan" vision. The intention there is latent, both Jean-Raymond and brand founder Sharon Chuter have set out to use their gifts in the same way: to celebrate culture in a way that's authentic, innovative, and deeply reverential.
In the mix of movement Jean-Raymond appeared for a fleeting moment. The space quieted as he headed directly to the hair room, his mission unknown. Maybe he was there to check on something, or maybe he wanted to just sit in it—that moment before the work is on display—and enjoy that what he'd created would both live there and here, equally significant moments of celebration. Although the final product is what many came for, and will be discussed for months and years to come, the prep work, where Black hands are entrenched in Black hair, and Black beauty editors tuck in for a group photo in a cramped doorway, is yet another performance—one that is transformative and special in an industry that is still working to understand the need for moments and spaces like these.
It stood in stark contrast to other Fashion Week shows, which profit off Blackness without understanding or caring about the culture and tradition and people. Jean-Raymond answers the question of what happens when Black people, unafraid of their Blackness, speak to other Black people from a celebratory place—and have the money to do it. It's sermon and testimony as art, and served as an opportunity for Jean-Raymond's community to take part in a space that has never been for them, but has taken from them in innumerable ways. "I think [fashion shows] are an elitist thing, and don't welcome people in," said Jean-Raymond. "All of this crude, racist language in our politics. It's some shit that can make me as an American—born in Downstate Hospital—feel like an immigrant. A lot of us don't feel American because of obstacles built up against us, and it can cause you to feel like you're worthless, like you always have to flee or you're never at home."
For the final part of "American, Also;"—Pyer Moss' meditation on Black Americans' contributions to pop culture and society—Moss chose to celebrate Black women. It's a reclaiming, renaming, and restructuring of a history, with a look toward what's to come. "This one is called Sister, and focuses on the contribution of Black women in popular American music," he told me. "The concept came from the birth of rock and roll and the Black woman who invented it, Sister Rosetta Tharpe—a black queer woman who created the sound in church. The credit is often given to Chuck Barry, Elvis, different people, but it's actually her. I feel like Black women are often erased from things and I wanted to do this specifically for Black women."
"What we do is we take things that are typically white and American and prove how it's Black," Jean-Raymond shared following the show. The first show in the series, Cowboy, paid homage to Black labor hands and slaves—the original cowboys—and Bill Pickett, the Black man who invented the rodeo. The second part, entitled Normal, dove into the Black family structure in a way that Jean-Raymond says "wasn't stereotypical, wasn't statistical," and is how "black people view other people versus how we often look at each other through a white lens." It was a celebration of the normalcy and the mundanity of Black family life, separated from the false narratives of The Moynihan Report and judgments from white America. Normal took place in Weeksville, Brooklyn, one of the country's first free Black communities, and offered up a singular view into the Black interpretation of home. For the finale, Jean-Raymond chose to bring the show to his origin point, East Flatbush, Brooklyn. "I grew up here. This is my zone school area. I worked across the street for three years at a sneaker store. I think the success of it is bringing people closer to me rather than trying to assimilate into whatever else people are doing." The Kings Theatre—one of the five original "Loew's Wonder Theatres"— is a recently restored movie "palace" turned venue, with ornate detailing and ceilings so high it feels larger than life. It sits smack dab in East Flatbush, down the street from Cookie's, and kitty corner to a giant Sears store that's monumental in stature. The gold inlay, plush red theater seats, and thick carpeting provided the perfect backdrop for the series' finale, a celebration of Blackness through rock and roll.
American, Also; Lesson 3 opened with Brent Faiyaz crooning to the sound of a piano before opening up to the tale of Fannie Moore's mother of North Carolina, told by author Casey Gerald. Moore's mother was accosted in the field by Master Jim for singing and he threatened to lash her for "carrying on." She was supposed to be working, because they brought us here to work, after all. "Well tonight we're here to sing." Gerald asserted, everyone mm'ing and ahhing like a proper captivated congregation. "And we're never going to be slaves in body or in mind no more." The crowd sat captivated as he led us through the lineage of American, Also;—from the field, to the house, and now the stage. He then turned to another story, one that I'd read and heard and internalized a hundred times over as a child in my own East Flatbush apartment a few blocks away. He told the story of The People Who Could Fly, a folktale immortalized in Virginia Hamilton's book of the same name, about a time when Black people—before yesterday was born—knew how to fly away. "They knew that no matter how their slave master treated them, no matter how the world treated them, that they had a freedom the world didn't give them and that the world can't take away. Tonight we're here to reclaim our wings."
The Pyer Moss Tabernacle Drip Choir Drenched in The Blood came next—and, yes, you have to say the whole name—soundtracking the models path across the stage. They sang everything from Megan thee Stallion's "Big Ol' Freak," to Anita Baker's "Sweet Love," the crowd joining in. The choir is integral to Jean-Raymond's series, and has been something he's been building for four years. What started with 16 people in 2015 has since grown to 65—it would have been 120 but Jean-Raymond said the stage couldn't hold their swag—and will continue to be integral to his work.
The looks themselves were breathtaking—an array of silks, structured pieces and activewear, the latter patterned with Sankofa birds in various sizes and shades. Jean-Raymond also collaborated with Sean John, an American designer who went largely unrecognized outside the Black community. It all made sense then, the jewels, the hair, the nails, the references. It came together on that stark white stage, the celestial, sacred energy present in the tears rolling down our faces and that full feeling in our hearts. We had borne witness to the intersection of Black possibility, potential and accomplishment—and there was Hennessy to celebrate.
As the choir belted out the final notes of Tonéx's "Make Me Over Again," and the theatre shook with applause with everyone on their feet, it became clear that Jean-Raymond had found freedom, and that we can too.
NYLON uses affiliate links and may earn a commission if you purchase something through those links, but every product chosen is selected independently.