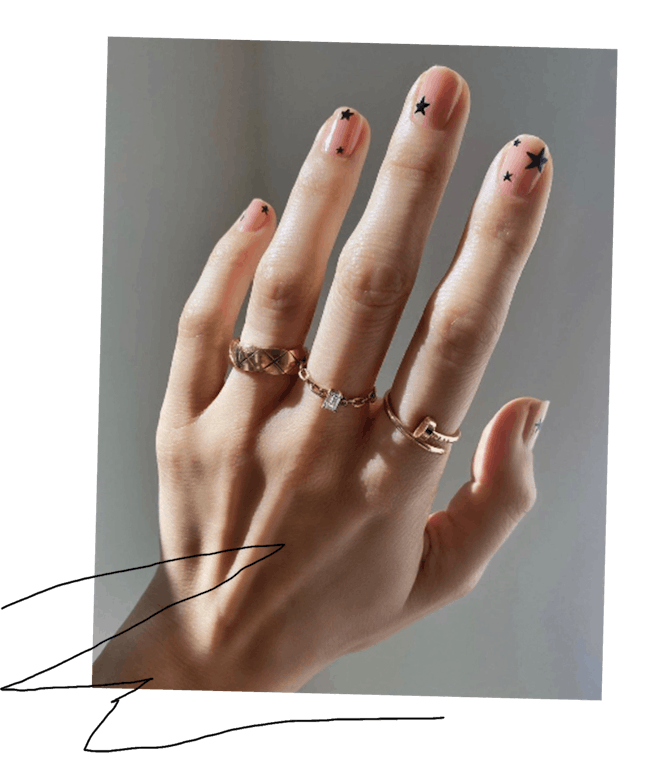 11 Museum-Worthy Manicures, Courtesy Of Nail Artists In Quarantine
Let these expert designs brighten your day.
In the midst of an ongoing pandemic, it's not exactly easy to secure a slot at your favorite nail salon. As so many continue to adapt to a life centered around social distancing, a few at-home artists found a way to brighten Instagram feeds everywhere with quarantine nails. For this latest social media trend, users are doing their best DIY manicures, and as the results have demonstrated, there are some truly talented aspiring artists out there.
Just because you're currently stuck at home doesn't mean you can't rock your best manicure ever. If your previously applied gel or dip powder polish is in dire need of removal, you need to start there first, but after that, quarantine nails are a great and stylish way to pass the time.
Instagram nail artists have long provided us with looks that are easy to recreate at home, but quarantine nails are brighter, bolder, and invoke a sense of happiness in an otherwise uncertain time. Take a scroll through the corresponding hashtag and you'll find that many are using this time at home to try out new looks, including one that's even inspired by an animated superhero.
Since so many of these were created at home, you can likely achieve similar results with your current stash of polish and products. Below, give a scroll through some of the cutest quarantine nails.
Crystals, Cacti, And Planet Nails
See the world through the eyes of your manicure. This colorful look combines glitter, crystals, cacti, and a bunch of fun, colorful elements. If you're not exactly up to the task of painting your own planets, you can always add some nail stickers.
Bold Contrast Nails
Nail artist Jessica Washick offered an unlikely color pairing for a bold, contrasting manicure.
Raindrop Nails
Raindrops, broken glass — either way, these 3D nails by Barcelona nail artist Violetta are a work of art.
Animal Crossing Nails
Animal Crossing: New Horizons is quite literally everywhere now, including on nails — referencing cute characters and its sunny color scheme.
Blue Skies Ahead
This manicure was approved by Miley Cyrus, who guided viewers through a DIY cloud nail art tutorial on a recent episode of her talk show.
Delicate Dotted Line Nails
Turn an otherwise ordinary manicure into something sleek with the addition of dotted lines. You can choose a neutral colored palette like the one used in this Instagram photo, or mix it up and go with something bold.
Sailor Moon Nails
Use stickers to create a manicure that pays homage to one of your favorite animated characters. For this manicure, moons, roses, and crystals became the perfect mani tribute to Sailor Moon.
Tie-Dye Nails
If your current nail polish stash includes a lot of colors, you may want to make your own tie-dye pattern.
PSA NAILS
Nail artist Mei Kawajiri has decided to let her nails talk for her to promote the ongoing efforts of social distancing.
Seeing Stars
Los Angeles-based celebrity nail artist Betina Goldstein took cues from the night sky for a minimal manicure — and shared a detailed (and visual) how-to on her IG TV.
'70s Swirl Nails
A mesmerizing design and color palette to feast your eyes on.