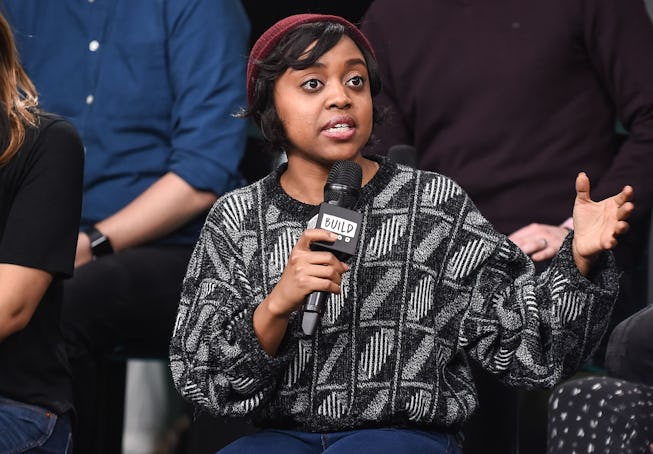 Daniel Zuchnik/WireImage/Getty Images
Quinta Brunson Also Wishes 'A Black Lady Sketch Show' Was Longer
30 minutes just isn't enough for a show that does so much
For those of us who can't muster up enough energy to hang out on Friday nights after a long day of work, A Black Lady Sketch Show has quickly become the entertainment we most look forward to.
Exhausted as I might be after a long week, even questioning my ability to keep my eyes open ahead of the show's 11pm air time, once that Megan Thee Stallion intro music hits, I'm jolted awake by the hilarious shorts written, directed, and performed by Black women. Then, just as quickly as it came, it's over. The cruel sacrifice we've had to make in exchange for having a premium cable series that showcases the comedic range of Black women is that it's only 30 minutes long. I hate it, and so does one of its stars, Quinta Brunson. "I wish it were longer, too," she admitted when we spoke at the NYLON offices.
"People get to see these four different women doing sketch comedy, and doing this together," Brunson said, explaining the show's appeal. "Even when I watch the show sometimes, I'm like, 'I have never seen this before.'" As fun as A Black Lady Sketch Show is, it's also super important. Created by Robin Thede and Issa Rae, it's the first-ever sketch comedy show produced, directed by, and starring Black women. But if Brunson has her way, this will no longer be an anomaly. "My hope is that even though it's on HBO, younger women are watching who are somewhere thinking, I don't know if I can do comedy. I don't know if I fit in any of the boxes. We'd like to make it so there is no box anymore," she said.
Brunson understands the need for this representation because she spent some of her early adulthood denying her desire to do comedy professionally. In high school, Brunson says she was "obsessed" with comedies; as a student at Temple University in her hometown of Philadelphia, Brunson studied advertising and communication, learning the business of television and film. "Really, I was avoiding my true passion, which was to work in comedy," she said. It wasn't until she took an improv class at Chicago's legendary Second City that Brunson saw the possibility of a future in comedy.
Quite a future was ahead of her. Brunson garnered national recognition when her "The Girl Who's Never Been on a Nice Date" Instagram series went viral. She says that whenever she goes to a movie and hits the candy stand, employees will unload Brunson's infamous line: "He got moneeeeyyy." (If you've ever seen it, you'll know why it's really hard to blame them for not resisting the urge.) Following her social media success, Brunson joined BuzzFeed as a video producer, where she sold two pilots as one of their development partners. She's moved on to snag TV roles in iZombie, Lazor Wulf, and an upcoming series called Quinta & Jermaine, where she faces an unplanned pregnancy alongside Jermaine Fowler.
Then there's A Black Lady Sketch Show, which has found its magic in Black girls, obviously, and an interesting blend of talent. "My favorite part has been seeing people come [who] want to be funny and they've never been asked to be funny before," Brunson said. She's speaking of legendary actors like Angela Bassett, who plays the group leader in a Bad Bitch Support Group. Just hearing Queen Angie utter the words "bad bitch" sent me reeling. But Brunson insists the only thing keeping icons like Bassett, Loretta Devine, and even Patti LaBelle from "letting their hair down" more is that no one has given them the opportunity before. Now, thanks to A Black Lady Sketch Show, they have the chance to do just that.
So, while the show's 30-minute runtime might not be enough to hold us over for a week, it's opening doors for veteran actors, comedic innovators, and Black girls who never thought they had a chance at comedy, which is more than any other half-hour comedy has done in history.