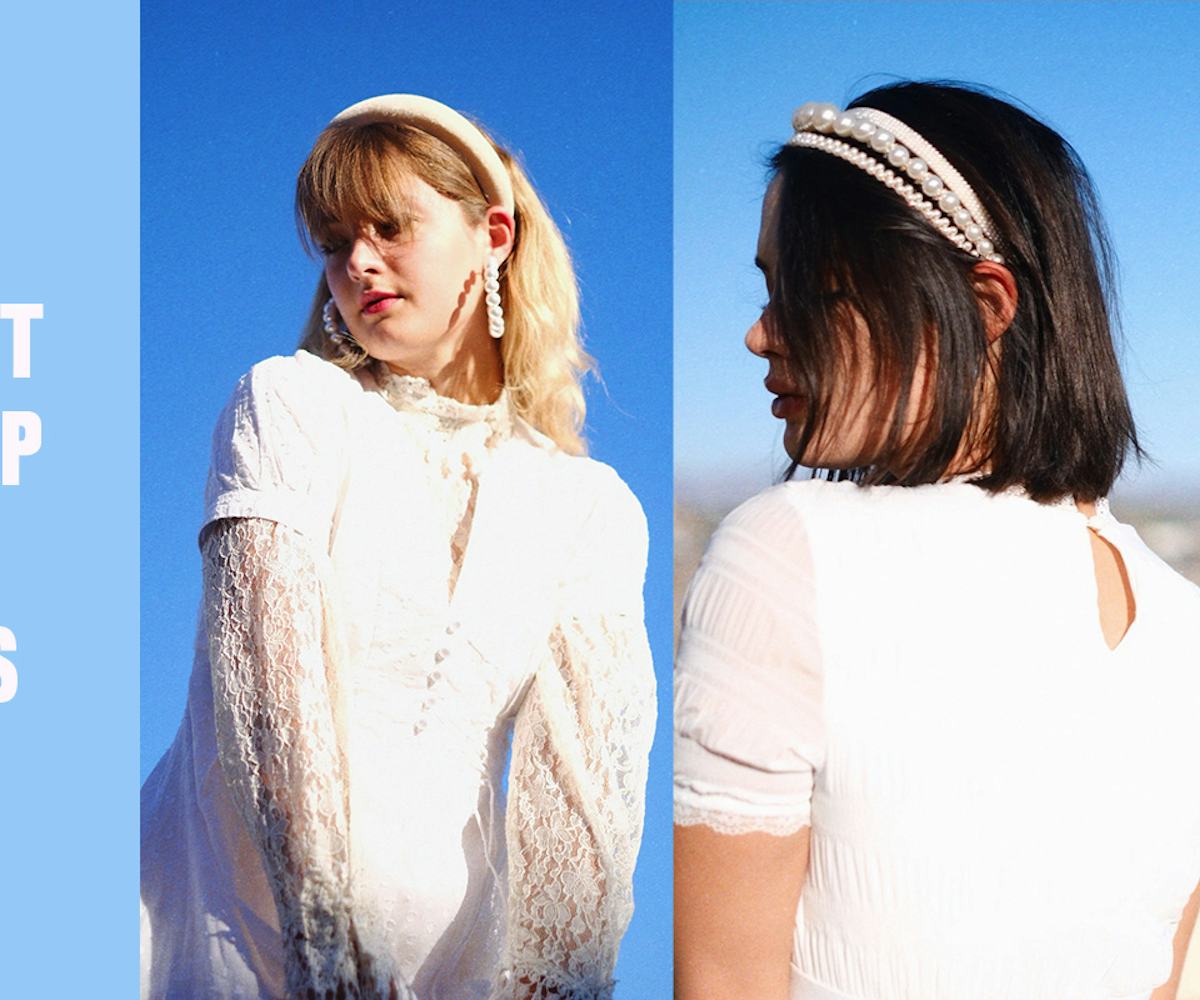 Photos by Kaity and Kasey Widmyer
Meet The New Accessories Line For The Untraditional Bride
Rainbow Unicorn Birthday Surprise has expanded its adorably quirky offerings into bridal
Friends don't let friends miss out on all the cool, under-the-radar things they know about, like which little-known beauty brand is low-key making the best highlighter around. And because we consider our readers to be like friends, we gather together all our best finds in our Don't Sleep On Thisseries. Check in every week to see what things we can't wait to share with you.
If you're not already familiar with accessories label Rainbow Unicorn Birthday Surprise, believe us, you're going to want to be. The label, often referred to as simply "R.U.B.S.," offers of a huge variety of cutesy jewelry and accessories, from fruit-shaped handbags to fuzzy animal print barrettes, to all of the puffy, padded headbands of our dreams.
It's essentially a wonderland for the accessories aficionado—especially considering that nothing retails over $50, and most of the goodies hit that $15-to-$25 sweet spot. It also happens to be the brand behind all of Madelaine Petsch's gorgeous hair clips in our August cover story, just in case you needed any more convincing.
Now, the line is expanding its offering of quirky-cute accessories into a new category—bridal—and being that it's R.U.B.S. were talking about here, it's obviously here to cater to brides of all kinds. This, of course, includes the traditional bride planning a classic wedding reception, but, to be honest, it's more so aimed at the nontraditional kind of gal. (Um, hi.)
Whether she's eloping and planning something spontaneous, on a tight budget, or just wants to keep things simple at the courthouse (or, all of the above), R.U.B.S.' Bridal Surprise collection is a must for the unconventional bride-to-be.
The initial offering includes an assortment of hairpieces, veils, jewelry, and bags, like pearl barrettes, gem-encrusted puffy headbands, and glitzy heart-shaped earrings. In the future, you can expect the line to expand to include full sets for bridesmaids, bridal party gifts, and possibly even bridal socks—because the coolest unconventional brides can be seen sporting sneakers, or even Tevas, at the altar.
What makes this line so special is its accessibility. Even though all of its pieces are hyper trend-focused and new pieces are constantly being added to the site, everything ranges in price from $15 to $80, making it easy to save for more important things, like the honeymoon. And let's face it, many of the other bridal accessories out there can be on the cheesy, overpriced side (especially when it comes to hair accessories).
Lucky for me, I got to take some of these pieces for a test drive for my own non-traditional wedding, in which I also wasn't trying to, you know, spend a billion dollars. I snagged two of the pearl Edith hairclips for a mere $10 a pop, and they were the perfect addition to my semi-casual dress for my courthouse-to-house party wedding day. And the best part of all? I still wear them all the time—to brunch or the office—justifying my $20 even more.
You can shop R.U.B.S.' Bridal Surprise collection new offering at RainbowUnicornBirthdaySurprise.com.