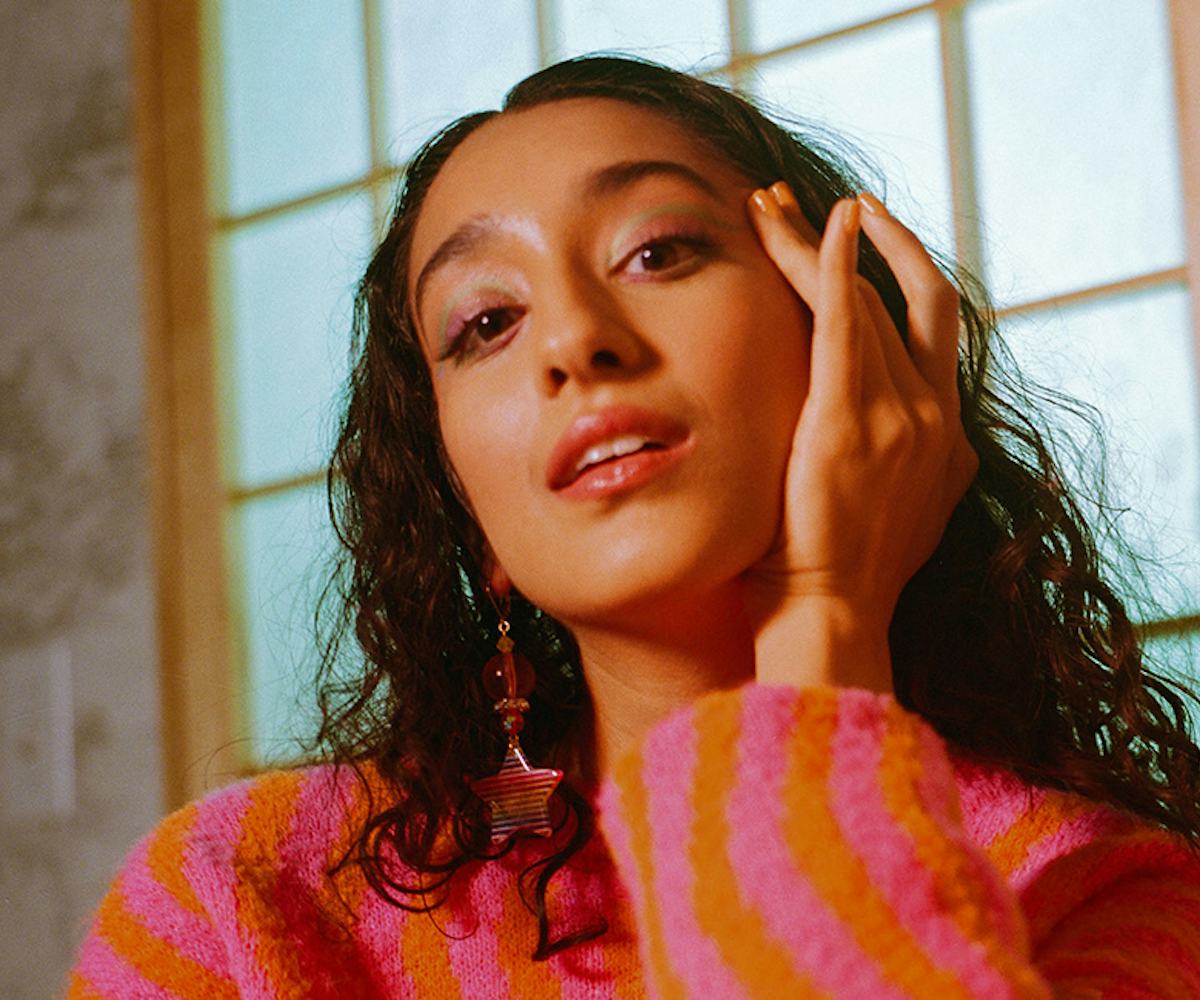 Photo by Kanya Iwana
Raveena Moves Into The Light
Her debut LP, 'Lucid,' is out now
Nature has conspired against all three of my encounters with Raveena. Both times we met in New York have been on cold, rainy afternoons, and when I saw her perform at L.A.'s Camp Flog Gnaw in 2018, the city was being besieged by wildfires. It's a cruel bit of irony for an artist who says she often writes her best music in nature, and frequently punctuates songs with the sound of birds trilling, but it's also a testament to the radiance and serenity the 25-year-old singer possesses, both of which seem perpetually unshaken by elemental factors.
"When I was five or six, we moved from Queens, New York, to Connecticut and into a house that was completely in the woods. That was when I started talking to trees, pretending I was Pocahontas," she recalls. "That was the beginning of me falling in love with nature, and I just feel like now whenever I'm in that space, I'm the most connected to the spiritual side of myself. I think it's one of the most pure things that's left on the planet."
"Pure" is an appropriate word for the mellifluous music she has been making for the last few years, including her stunning 2017 EP Shanti, and it's also a fitting descriptor of her creative process as a whole. Having felt marginalized early in her career, Raveena has refused to dilute or compromise her artistic identity, resulting in songs, music videos, and live performances that feel singular and devoted to her love of nature and message of recuperation
"There are so many men in this industry, and they have this very archaic view of women a lot of the time, especially young women," she says. "I kept seeing that pattern happening over and over again, and I just felt like after experiencing that, I just needed to exert more control over my vision and make sure that people understood every part of what was going on."
That work, which she describes as something of a trial and error process, is culminating in LUCID, her debut LP. Initially, she hadn't set out to make the follow-up to Shanti an album, but that gradually started to feel like the logical conclusion as she worked on music with her partner, producer, and co-writer Everett Orr throughout 2018.
"We didn't even know we were making an album until the spring. We were like, 'Oh, we're going to do two EPs.' This was in March. And then in April, we were like, 'No, let's just combine the two EPs and make a mixtape,'" she says. "And then we just saw all the songs we had written over the past six to eight months and were like, 'We have a story here.'"
That story is a candid, unflinching look at her past and the pain she's endured, made easily digestible with her buoyant vocals and the record's lush production. In some cases, like on "Honey" and "Temptation," the instrumentals are warm and enveloping, with joyful bursts of electric piano and guitar. Others, like "Nani's Interlude/Petal" and "Mama," use a similar sonic palette for richly rendered biographic tales.
The former begins with a spoken interlude from her grandmother, whose wisdom Raveena began recording several years ago. The latter is a tribute to her mother who came to New York as an immigrant fleeing genocide in India, entering into an arranged marriage and an entirely new life. It's this kind of trauma, which can pile up exceptionally fast on today's youth, that Raveena wants to help heal with her music.
"This album talks so much about the rush of being young and everything that you go through, and how you're sometimes swept up into hard experiences that you don't even realize are coming your way, so you don't even have a second to catch your breath," she said. "I'm living in Queens at the same age as [my mom] when she got married, and it just feels like a whole 360, so it makes me wonder who she was at this time."
On "Mama," Raveena grapples with questions many face as they age and the playing field between them and their parents levels. "I will always wonder, who you really were before me/ What did you lose? I hope nothing too soon," she gently probes, before singing about the Queens corner where her mother started a new life.
"Nani" begins with a message from her grandmother that is both sobering and affirming. She first speaks about never expecting to outlive her husband, before ending on an empowering note, imploring Raveena, and the listener by extension, to live a full and regret-free life. From there the song transitions, wrapping you in rejuvenating vocal harmonies.
Raveena has long been singing about heavy, traumatic topics, specifically abusive and dysfunctional relationships, on tracks like "Johnny, It's the Last Time" and "If Only," but approaching them with an emphasis on self-restoration and internal love. She continues to explore these ideas on LUCID. "I talked a lot about healing on Shanti, but this album digs into why I had to heal in the first place," she explains.
She wants the record to be one that "people live with and heal to," the way Frank Ocean's Channel Orange, Amy Winehouse's Back to Black, and Sade's Lovers Rock were for her. That involves taking risks and telling stories that are personally exposing, but she says that's something that both benefits her listeners and herself.
"Every time I'm confessional it feels like when it's out there then I have to live with that and be strong about it," she says. "I have to accept and embrace that part of myself, so it's almost like a part of my healing process is sending it out into the world and being okay with that."
Artist Danny Cole, who has worked with Raveena as part of the creative self-exploration project Welcome Creature, said her openness has been both formative in their work together and inspiring to him in a broader sense.
"Raveena is a beam of sunshine that treats the entire world with such gentle care that it cannot help but respond in the same way," he says. "She uses her voice to speak harmony into existence."
LUCID manages the tricky feat many artists attempt on debut albums—to be both autobiographical and universally applicable. In Raveena's case, she succeeds because she makes the healing feel communal between herself and the listener. She makes no demands, encouraging growth that may not happen in a single moment, but blooms over time.
"Musicians have a huge impact on people's lives and the world, and that's a big ethos of why I approach music in the way I do. If you encourage more vulnerability and openness and self-love and appreciation of nature then that will have an effect," she says. "Music has that power, it's bigger than all of us. It's a spiritual force."
Stylist: Branden Ruiz