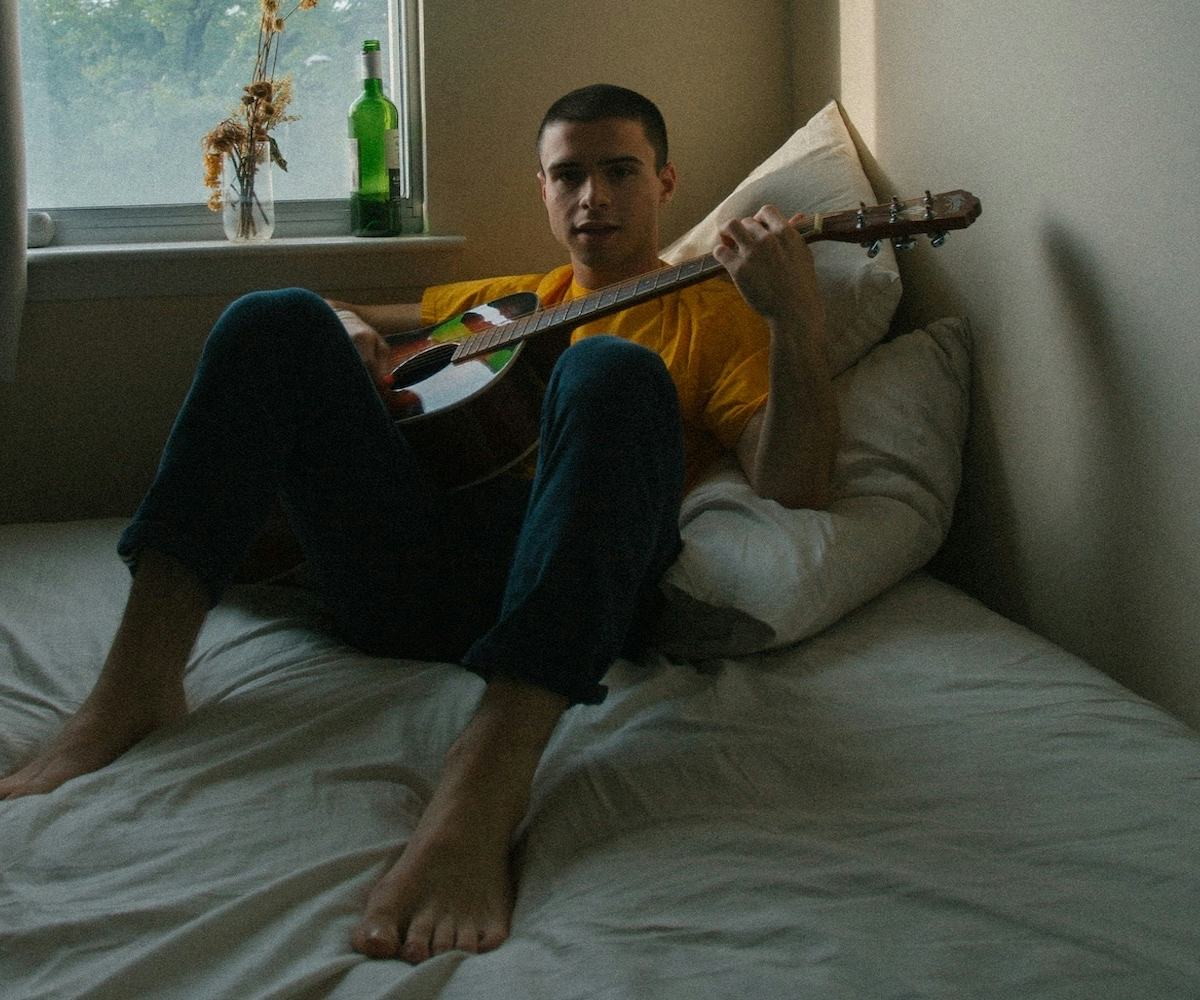 Photo By Ben Sherrill
Rence Is Ready To Confront His Dark Side
Learn more about his new music and plans to "level up forever"
Rence has had a breakthrough summer. Only two years into his music career, he's spent the last few months releasing a single, collaborating with Noah Cyrus, signing with Epic Records, and is now gearing up to release his second EP, FALL 2019, on September 20. Written while still in school at New York University—where he balanced classes, jobs, internships, and his music career—Rence used the creative process to reflect on the darker aspects of his life, like the loneliness and low moments, all while finding his voice and growing up as an artist. Ahead of the release of his latest single, "I Know," I spoke with Rence, aka Jackson Hirsh, about his foray into the music industry, genre-bending sound, and touring stadiums one day.
This past May, 21-year-old Rence graduated from NYU as a Performance Studies major and Business of Entertainment, Media, and Technology minor. Although his time at NYU jump-started his singing career, he'd started out as a producer while growing up in Seattle, and taking classes in sound design at his middle and high schools. With his passion for production and the help of what he learned in school, he built a studio, brought artists in, and started producing and DJing for others. "My music teachers really changed my life," he shares.
However, it wasn't until he moved to New York that music became his full-time career. In between focusing on his then-relationship, homework, and side jobs, he released his first EP Pink in April 2018. The song "Baby Blue" made waves and introduced him into the world as an artist. He used his college minor to land a publishing internship and familiarized himself with the ins and outs of the music industry for his future projects. When he started receiving his first publishing offers, an NYU entertainment law professor, who Rence considers "a dear, dear friend," helped him read through his contracts. "Those teachers and resources were so valuable," he tells me.
Shortly after he was signed, Rence was catapulted into the spotlight through a collaboration with Noah Cyrus, the track "Expensive." "It really just opened up a little hole in the music industry for me," he says. "It was an in." Rence stresses the sincerity in the decision to collaborate with Cyrus, emphasizing their mutual admiration and how that impacted the way new fans viewed him. "I really feel like you can smell when people aren't authentic," he says. "All those new fans that come from her world get to see me, and when they get to my Instagram and my Twitter, it's the same guy in the music. I'm just trying to be as see-through as I can."
Authenticity and self-awareness are exactly what Rence is trying to achieve with his new music. On FALL 2019, Rence reveals that he's gotten to know who he really is. Fitting with the title of the first track, "Darkside," he's questioning a "darker side" of himself on the EP. "I've grown. I've gotten to a point where I'm able to better reflect on the parts of my life that I don't love," he shares. "I picked out moments in the past few months where I was low and tried to contrast those with high moments. I tried to find the beauty in those moments and not shy away from them, as I used to do. I really faced my own things head-on with the hope that it can inspire other people to do the same."
Beyond exploring who he is lyrically, Rence experiments with his sound on FALL 2019. He considers himself genre-less, hopping between pop, electro, hip-hop, and indie across all six tracks. It's a bold decision for a new artist, but one that pays off, as it allows Rence to be his most true self. "When I'm creating music, I'm never thinking about the genre," he explains. "The only thing on my mind is, Do I like this or do I not?... From a technical producer standpoint, you've never had more access to a world of sounds than right now. It's just easy to mix and match sounds from different soundscapes, so why not?"
Rence's latest single, "I Know," seamlessly weaves between both hip-hop and electronic sounds. His favorite track on the EP, he shares, "feels like something that is simultaneously me right now at age 21, and also me at age 16 or 17." He describes the song as a "dig at myself for always assuming that I know what's best in a relationship." Lines like "I'm at my lowest/ Lower than lonely" and "Soon to forget me/ Yeah, I know" tie the song together, revealing his true, often self-deprecating feelings surrounding relationships.
As for the future, Rence is reaching outward. For the rest of 2019, he's planning more singles and possibly another EP. Right now, he shares that he's training his voice and health to be the best it can—all to prepare himself for his first album release next year. He's also organizing a touring schedule, whether it's his own or opening for another artist. He tells me he plans to make future Rence shows like Travis Scott shows: "first-class" and "like you're stepping into an experience." He explains, "I want to really give people a value for what they're paying for. I try to really be cognizant of the fact that people's hard-earned money is not spent willy-nilly. When you're paying money to go to the show, you really want a show."
Aside from staying happy and loving the people around him, Rence hopes to one day "make a crazy record" with T-Pain, his favorite artist, and collaborate with others like Justin Bieber, Billie Eilish, and John Mayer. He also dreams of playing in stadiums—but not for himself. "I want to do it for the people that are there," he shares. "I feel like in a world where it's hard for most people, as many outlets for enjoyment and creative witnessing or creative expression are possible, I think it's a good thing. I think the world needs more opportunities to smile and laugh—and cry even—and just be in touch with the emotions and the pain and the love that's around us. I want to be one of those outlets for people."