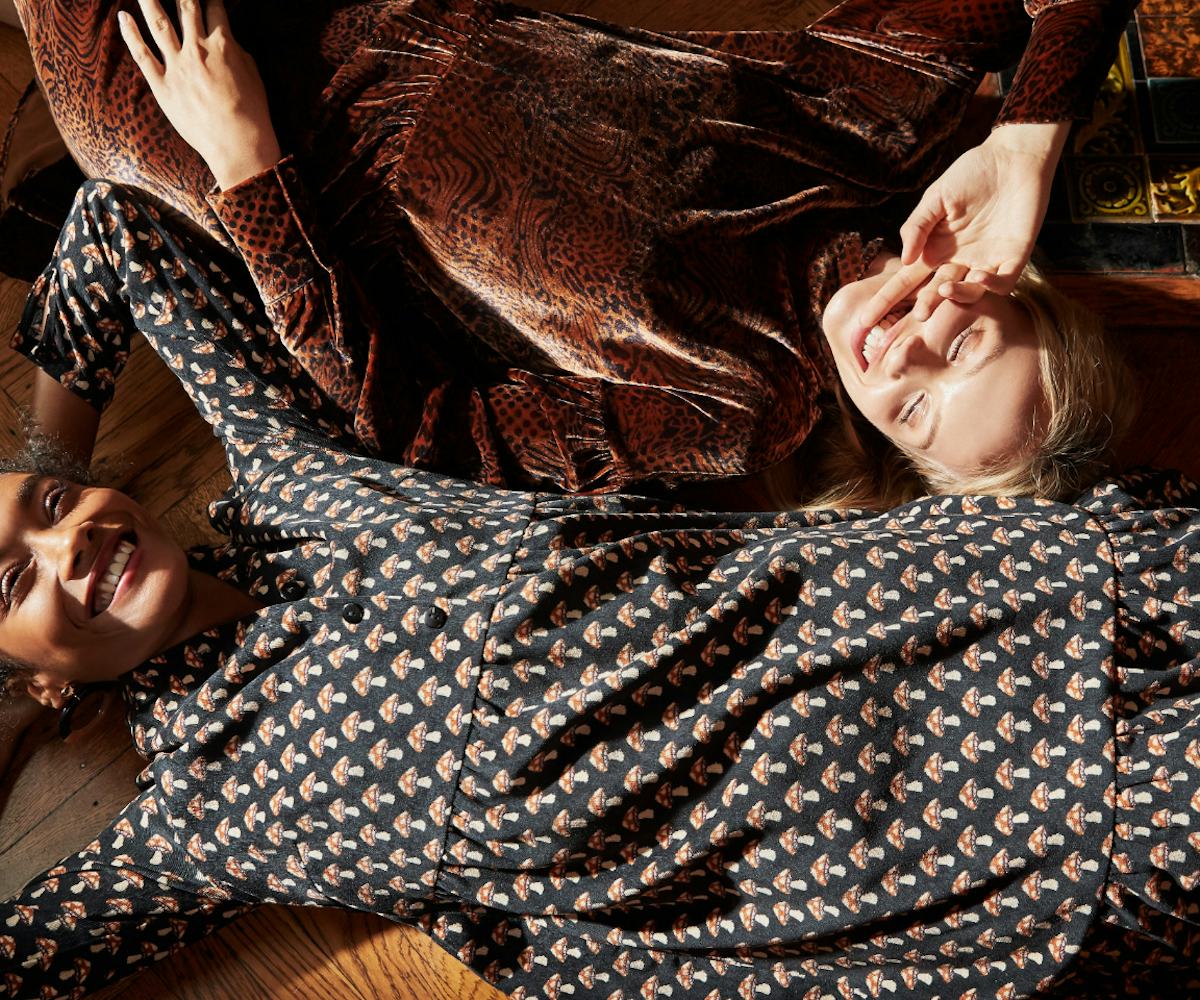 Photo Courtesy of Nuuly
4 Ways to Rent Your Holiday Party Wardrobe This Season
This temporary option is both wallet- and eco-friendly
It seems like getting through the holiday season with sustainability in mind has become the norm this year. For starters, we're beginning to accept the idea of gifting secondhand items to friends and family, as recent surveys have shown, so it only makes sense that we apply the same practice to getting dressed for the holiday party circuit. Why purchase more clothes when you can rent a statement designer piece from places like Rent the Runway, or keep your stock of sweaters at bay by looking into a subscription model that allows you swap and choose a wide array of styles throughout the month?
From longtime services to newcomers in the fashion rental world, read on for ways to rent your holiday party wardrobe this season. This temporary, eco-friendly option will help save your closet, your wallet, and the planet.
Rent the Runway x Jamie Mizrahi
Turning to one of the longest-running wardrobe rental platforms is a given, but what makes Rent the Runway different this holiday season is its latest collaboration with celebrity stylist Jamie Mizrahi. Known for dressing such fashion-savvy starlets as Katy Perry, Ashley Benson, Nicole Richie, Leighton Meester, and more, Mizrahi channeled her expertise for the new range, called Sweet Baby Jamie. RTR users can choose between a variety of party-ready styles, from super-glam (velvet dresses, faux fur coats) to comfy casual (chunky knit sweaters, silk midi skirts). Plus, Nordstrom has expanded its partnership with RTR, too, which means even more exclusive product to rent (and purchase) and the convenience of returning your rented holiday ensembles at additional select Nordstrom locations.
Wardrobe
What sets Wardrobe apart within the fashion rental space is that it taps into someone's, well, wardrobe, rather than offering an entirely new inventory of clothing. For its launch in early November, the platform teamed up with a slew of influencers, celebrities, and stylists throughout New York City — Alyssa Coscarelli and Alysia Reiner of Orange Is The New Black — to offer up their fashion-heavy collections for temporary use. The pick-up and drop-off process happens at partnering local dry cleaners (dubbed as "hubs"), so both parties won't need to worry about accessibility and the cleaning and storage process. (Hubs also provide changing rooms so you can check if an item fits before renting.) If you can't make the trip to pick up your party-ready garments, there's an option for delivery, too.
Nuuly
The parent company behind Urban Outfitters, Anthropologie, and Free People launched Nuuly as a clothing rental subscription service in the summer, allowing users to rent up to six items for an entire month. Whether you have plans to lay low with family or a jam-packed calendar of cocktail parties and get-togethers, there are plenty of stylish outfit options to help you get dressed this holiday season. Luckily, Nuuly made it even easier by curating some of their favorite pieces to inspire your sartorial choices.
Haverdash
Also fairly new to the fashion rental game, Haverdash launched in May and the subscription service provides users with the option to rent up to three items with unlimited swaps each month. Much like Nuuly, there's a style edit of festive, holiday-friendly outfit options from a solid mix of contemporary brands — BB Dakota, French Connection, and Calvin Klein — and influencer-friendly labels (think Cupcakes and Cashmere, Modcloth, and Leota).