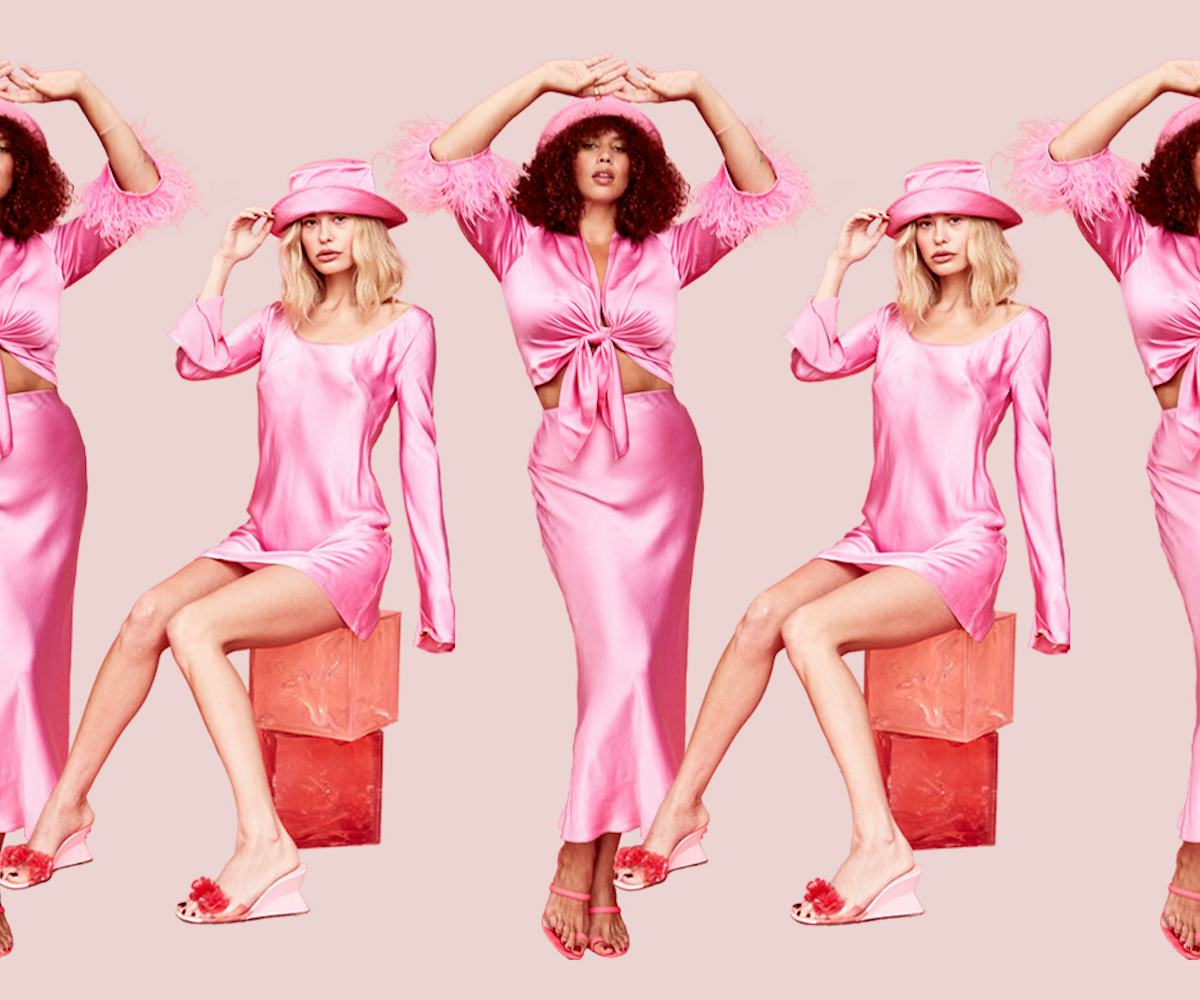 Photos courtesy of Rezek Studio
This Brand Lets Me Channel My Inner Elle Woods
Rezek Studio fulfills my feathery, pink (and chartreuse) fantasies
Friends don't let friends miss out on all the cool, under-the-radar things they know about, like which little-known beauty brand is low-key making the best highlighter around. And because we consider our readers to be like friends, we gather together all our best finds in our Don't Sleep On Thisseries. Check in every week to see what things we can't wait to share with you.
I've never been one to dress too over-the-top. Don't get me wrong, I love a good statement accessory or two, but it was only about two years ago that I finally ditched my all-black, all-the-time wardrobe to start incorporating a bit of color into the mix. But even with my newfound appreciation for color, something as in-your-face as, let's say, a matching baby pink, feather-lined blouse-and-pant set, wasn't something I'd ever expect to fall head over heels for, let alone wear.
That was, of course, until I saw said set from Rezek Studio, and my inner all-pink-wearing Elle Woods was awakened.
Rezek Studio is the L.A.-based namesake label by Ariel Rezek, who creates small-but-mighty collections of vibrant, silky pieces designed to hug you in all the right places. Inspired by '70s disco glam, the result feels like something that would be worn by the likes of Woods, or even Cher Horowitz, should either of them have been heading to Studio 54. And upon discovering the label, it's become my brand of choice for a night out, or even a trip to the grocery store. Because why not?
The current offering consists of silky tie-front blouses and matching pants (both feathered and unfeathered) in various shades of pinks, reds, and baby blues. More recently, she introduced a variety of chartreuse designs into the mix, along with slip dresses, bell-sleeved mini dresses, and even candy-colored bucket hats.
They're fun and playful, but also quite sexy, and, I can't help but be totally obsessed.
Did I mention that the brand also has a sustainability factor? Rezek keeps all production local to Los Angeles, supporting the local economy while also lowering the brand's carbon footprint. (You know, as if I needed another reason to fall in love.)
You can shop Rezek Studio's current offering at RezekStudio.com. Stay tuned for new colors and styles dropping this November, just in time for the holidays.