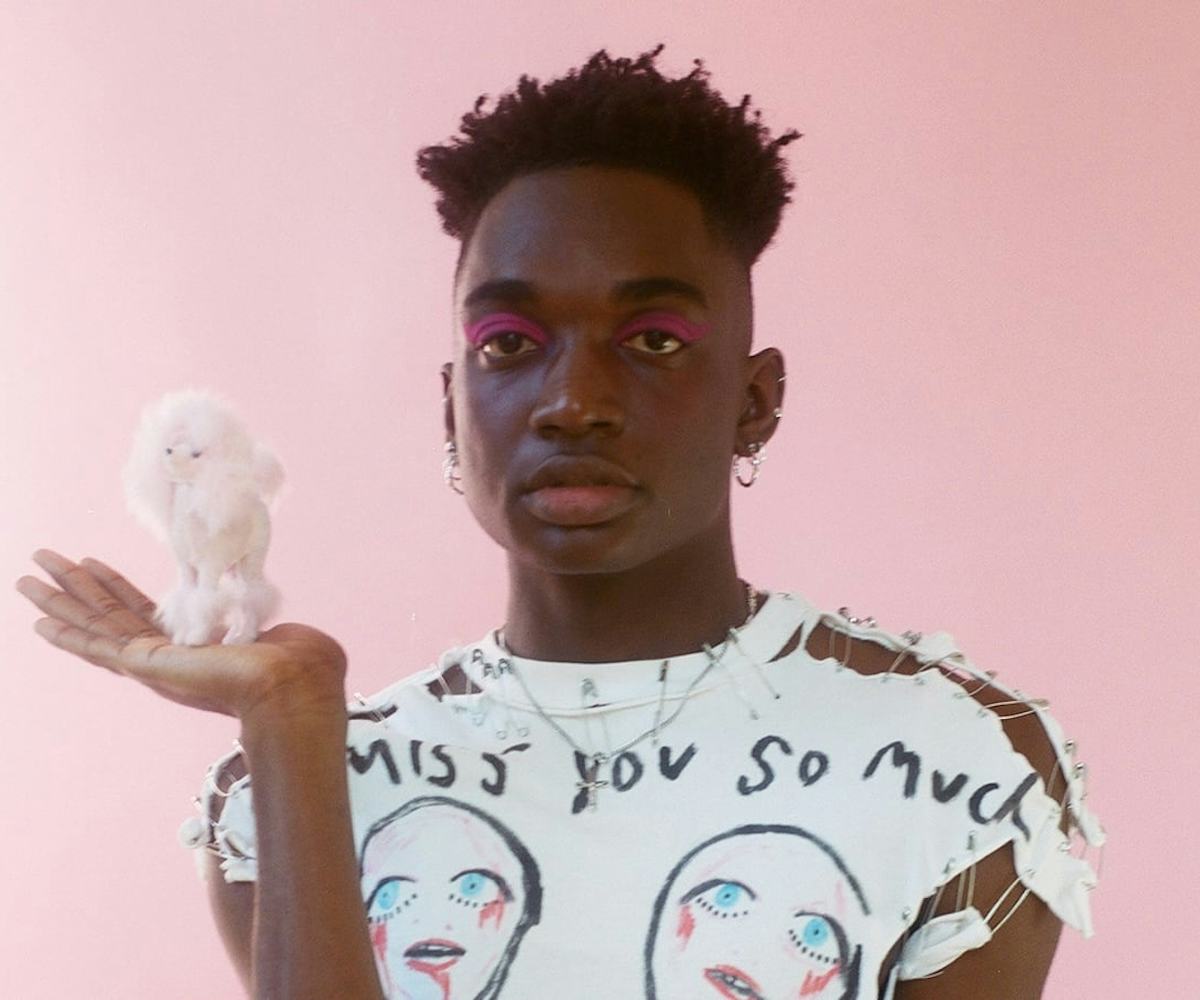 All photos by Jasper Soloff
Rickey Thompson Has 2.8 Million Instagram Followers—Here's Why
How this shy social media star went from being a bullied kid to a viral sensation
Rickey Thompson is shy. This may surprise his loyal followers, given his seemingly effortless charismatic and lively personality online. The former Vine star, best known for his uplifting and empowering humor, YouTube videos, and candid internet presence, tells me, "I actually get really nervous when I go to events by myself [in Los Angeles]. And people can't believe this about me!" Since moving to California, Thompson has dedicated his life to his Instagram and YouTube content, helping people embrace who they are. He explains, "Through my videos, I want more people to realize that it's okay to be different and be yourself. It's boring being like everyone else."
Thompson's ability to create viral content celebrating unabashed self-confidence isn't the only thing driving his career. His eye-catching, trend-setting sense of style has rendered him a new staple in the fashion world, and has opened doors for collaborations with the likes of Alexander Wang. He is also an icon in his own right within, and a champion for the LGBTQ+ community. His talents are interdisciplinary, and it's only becoming more evident over time that whatever Thompson puts his energy into, gets an infusion of positivity and passion, as he selflessly puts away any shyness to make his followers and fans laugh and embrace who they truly are.
Before returning back to Los Angeles at the end of a very busy New York Fashion Week, Thompson made time to speak with me about his ever-evolving relationship to the internet, how his fame has shaped even his closest relationships, and what advice he has for someone struggling to be who they are.
What was your relationship like to the internet growing up?
I was born in North Carolina, and constantly afraid of what people thought of me. I have always been shy. I was a kid who got bullied all the time, and as the years went by, I started [using social media] to talk about what I was going through in school and what I was seeing around me. People found it relatable. I first used YouTube, and then I started making Instagram videos and Vines.
I made videos through high school, and then eventually took a year off in college to pursue it [full-time]. I was going to school to be a lawyer. It was something I really wanted to do. My aunt was a lawyer, and I wanted to follow my aunt's footsteps. But I knew that the entertainment industry was also calling me, so I took a gap year and kept working hard [on my social media presence]. When Vine ended, I moved to California [the year after my gap year] and put all my energy into Instagram. California has opened up so many doors for me, and a lot of success has come my way since.
What was the first video that you were proud of and how has your content evolved over time?
My first video was on YouTube. All my first videos were about being bullied. I would be bullied in school and then come home and talk about my experiences into the camera. Those videos are still important to me.
The biggest thing I've learned [from the internet] is not to be afraid to be myself. I feel like a lot of people fell in love with me because I am myself. I feel like now I'm not as afraid to hold back from what I say at all. I feel like it's also becoming easier to be myself. I am more comfortable. I love the internet because it's a place where it's cool to be weird and different, and I love that.
What types of content are you drawn to right now?
I eat and breathe the internet. I am so obsessed with the Bratz doll challenge right now. I love it so much. I also love fashion [content]. I am always following different fashion [Instagram accounts] and asking myself how I can incorporate these accounts authentically into [my own feed]. Some of my favorite designers and brands are Alexander Wang, Balenciaga, and Louis Vuitton. This season, I've been into Philipp Plein. In terms of my own work, designers have been reaching out to me more and more because of my personal style and my videos, and I'm loving it so much.
Have you ever been tempted to take a break from or delete your social media?
I would never want to delete Instagram. Social media doesn't really stress me out. If stressed, I use Instagram as a place to talk about it. I look at Instagram as my personal journal. I feel like I share almost all of my personal life. If I go through a bad breakup, or a friendship failing, I'll turn to Instagram to rant. It's therapy for me. That being said, I feel like a lot of people don't understand the consequences that come with sharing so much of yourself [online]. If you put your whole life out there, people can be very hateful back. I've learned over the years to keep my head up and to just keep doing me. I used to take the hate personally, but then I sort of had this moment that was like, "You know what? I don't care anymore. If you're a hater, you're actually a fan. You're trying to see me. You want to see me get down." I don't let it get to me anymore. I have a tough skin.
How have your relationships changed since you became more well-known on the internet?
Over the years, I've had to watch my back in new ways. I've had to get rid of lots of fake friends. I get stronger and stronger every day. I've learned to protect myself in new ways, stay grounded, and surround myself with great people. I love my small group of friends right now, and I'd do anything for them. My friends are just the most important for me.
It's really changed my dating life. I can't really use dating apps because people either think I'm catfishing them, or just ask for a follow on Instagram immediately. I have to constantly recognize who is actually there for me. I'm pretty nervous to date. I've been through different people who have broken my heart. I am taking my time in the dating world. It can be challenging, but I feel like [love will happen] when it happens.
What advice do you have for someone struggling to embrace who they are?
Keep on working hard. Stay focused on your goals. Through being myself, I have been able to resonate with so many types of people, and I love that. I found love in the LGBTQ+ [community] from being myself.
[In terms of coming out,] come out when you're ready. Don't come out because someone is forcing you. You don't need to! Take your time! Focus on feeling comfortable with yourself and find good friends who support you. I wish more people understood that [the LGBTQ+ community] is filled with so many great people. A lot of people in the world right now fear us, but we are the most creative and unique people, ever. I'm obsessed with us. We're different and fun.
What is something about yourself that isn't showcased on the internet?
I am shy. I get really nervous when I go to events by myself. I literally always have to ask if I can bring a friend with me. And people can't believe this about me! I am more comfortable when I have a familiar face in the room with me. When I'm feeling shy, I sit down and have to talk myself out of it.
Through my videos, I want more people to realize that it's okay to be different and be yourself. It's boring being like everyone else.
This interview has been edited and condensed for clarity.
Photography: Jasper Soloff
Makeup: Ruthie Lewis
Styled: D'Mahdnes LaVaughn
Clothes: Patrick Church
Assisted by Gemma Josephine, Corin Christian and Cassidy Soloff
Location courtesy of Beyond Studios