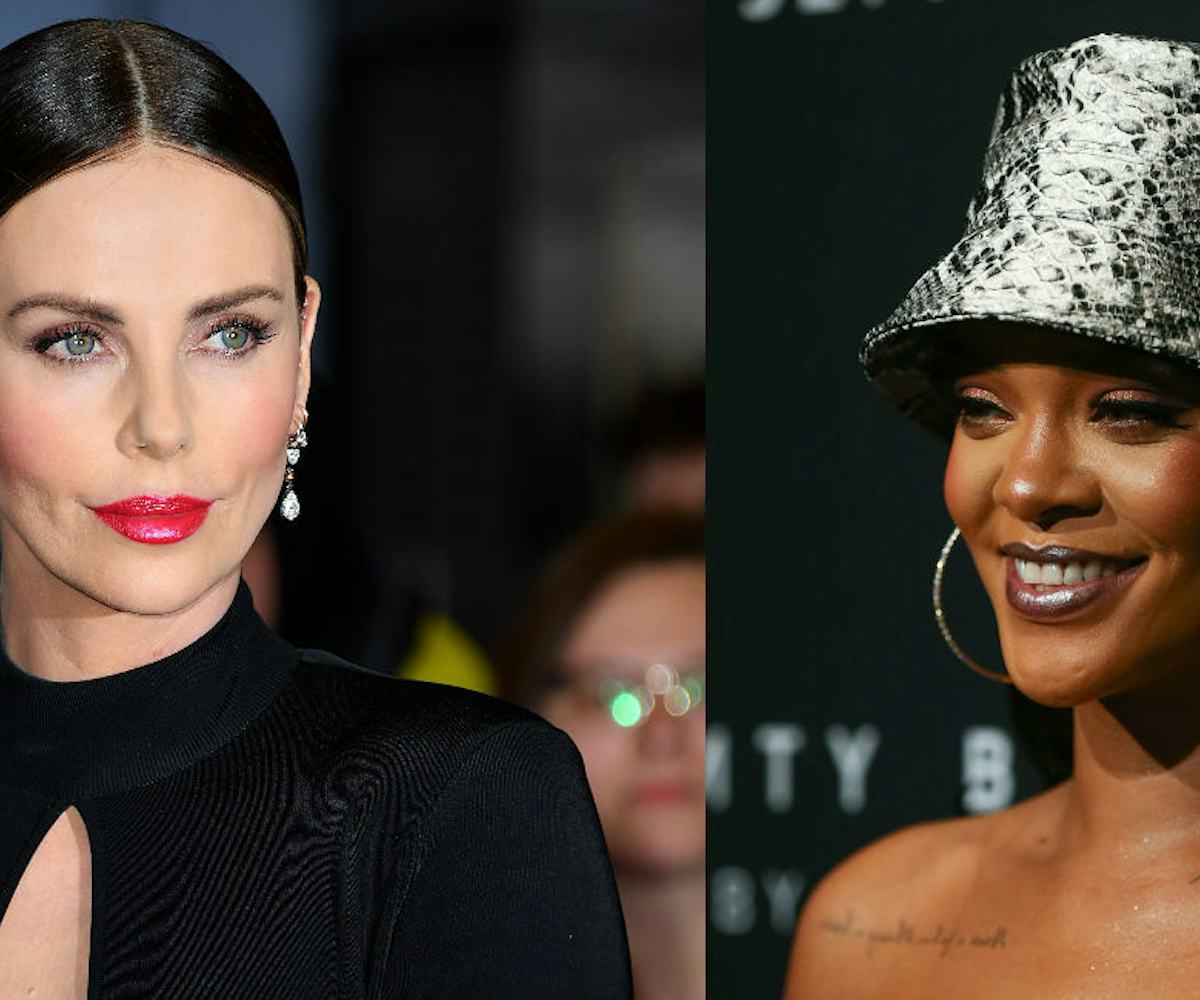 Photo by Gareth Cattermole/Getty Images; Photo by Caroline McCredie/Getty Images for Fenty Beauty by Rihanna.
Rihanna Trolled Charlize Theron In The Best Way Possible
We know a couple of things about Rihanna: She's a good artist, she knows how to throw a party, and she likes to release music on her timeline and her timeline only. Today, we learned something else about our favorite Barbadian singer, and that's that she likes to pull pranks on people.
Actress Charlize Theron appeared on Late Night with Seth Meyers and shared that Rihanna and her share the same publicist. And, as she explains, "You want your publicist to like you, you want to think that your publicist thinks that you're worth putting out there in the world and that has to come from a very authentic place." It's hard, though, when their other client is someone like Rihanna, she says.
Theron goes on to say that, regardless, she really thought her publicist loved her, and that she even received a text from her on her birthday that read, "Happiest bday." That was all well and good until she discovered that they also emailed Rihanna, when it was her birthday, the following message: "To my FAVORITE!!!! I hope you are having a blast."
How does Theron know this? Because, apparently, Rihanna decided to screenshot the exchange and put it on a T-shirt, which she then gifted to Theron. To add to the trolling, the singer also included her reply on the shirt which read, "I'm putting this email on a T-shirt and sending to Charlize! [laugh-cry emoji]"
"It made me feel great," Theron deadpans. All jokes aside, we'd frame that shirt if we were her.