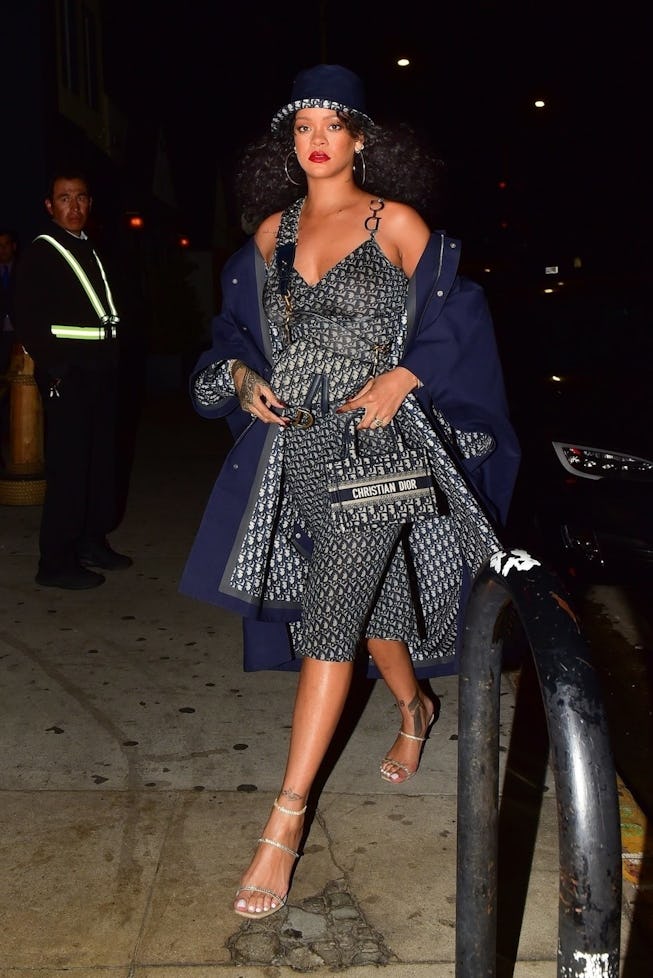 Photo by Backgrid
Is Wearing Two Bags At Once The Next Trend?
Yes, according to Rihanna and Céline Dion
Why wear one bag when you can wear two? This was Rihanna's line of thinking while out in Los Angeles over the weekend. The Dior ambassador went heavy on the logo trend Friday night for a dinner with friends at Giorgio Baldi, wearing an entire look adorned with the label's classic CD emblem, including a bucket hat, dress, jacket, and, of course, two bags. She completed the look with hoop earrings, strappy heels, and a red lip (presumably Fenty Beauty, but who's to say).
As for her two bags, Rihanna opted for the mini Book Tote along with the oh-so-classic Saddle bag that's been making a comeback throughout 2019. While Lyst may have just reported that Fendi reigned supreme in 2019, having the most coveted logo and one of the most-searched throwback items with its Baguette bag, Rihanna is making one serious final push for Dior.
She also might be onto something with the two-bag move. On that very same Friday, Céline Dion was out in New York City carrying not one, but two quilted Chanel bags along with her tweed Chanel jacket. Perhaps the two women are over the tiny handbag trend and taking a stand by carrying as many bags as they want? Or maybe they're just really bad at making sartorial decisions. Regardless, I smell a trend and will be stacking my bags until further notice.
See the two double-bag looks, courtesy of Rihanna and Dion, below.