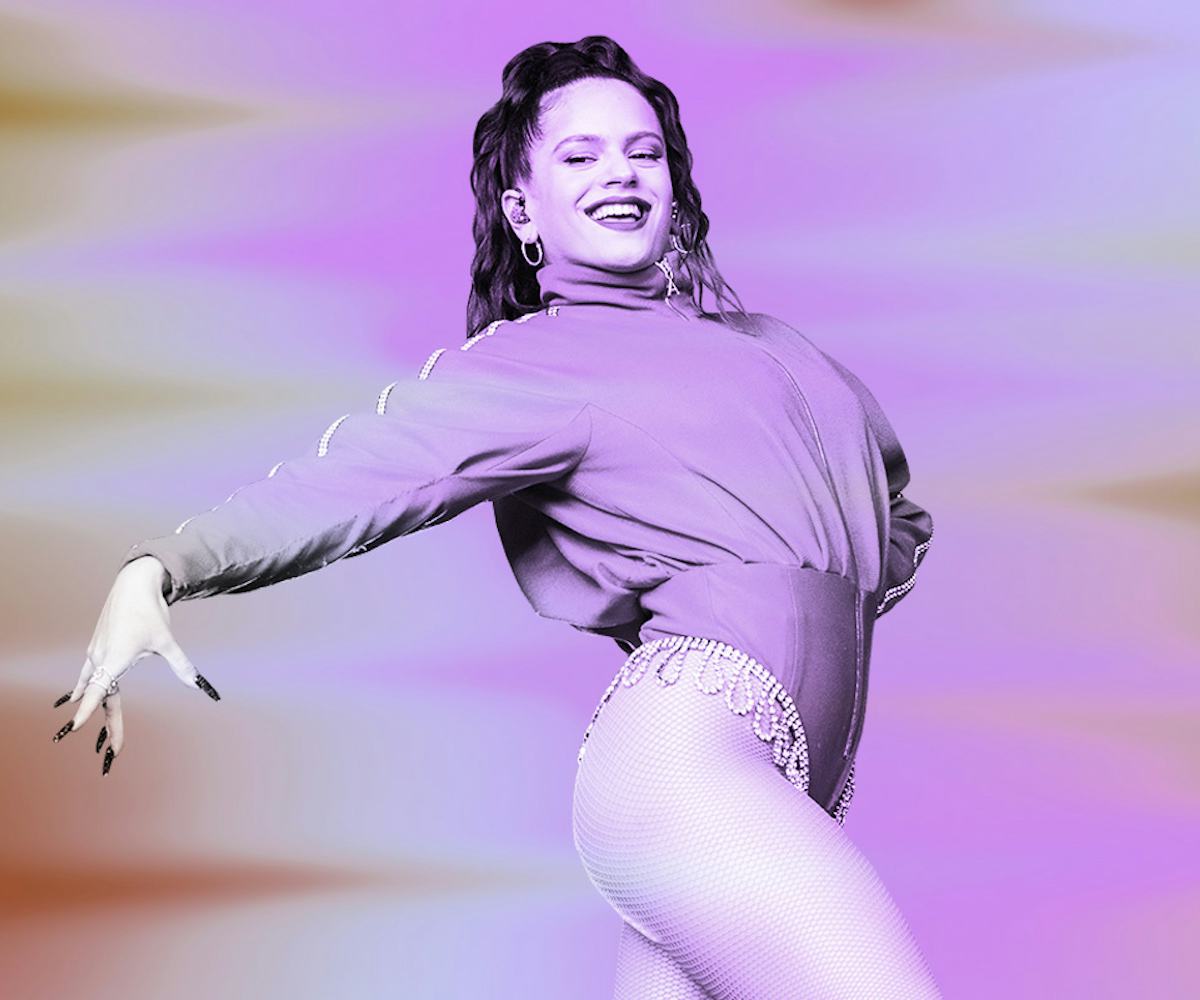 Photo Credit: RMV/Shutterstock
Why The Debate On Rosalia's Rise In Spanish-Language Latin Music Matters
Spanish singer-songwriter Rosalía is currently enjoying a wave of success after releasing songs like "Pienso en tu mirá" and "Con Altura" with Colombian reggaetonero J Balvin. She was first known for her take on flamenco music, and her star continues to rise with seven Latin Grammy nominations this year, as well as her August MTV Award win for Best Latin song and this month's MTV EMA victory in the Best Collaboration category with Balvin.
These recognitions have stimulated recent online discussions on Latinidad, which is a disputed concept in and of itself, due to who it encompasses and who it leaves out — as well as who should participate in Latin music awards. Also debated is Rosalía's involvement in reggaeton and the urban movement, el movimiento urbano.
According to host and artist Kathleen "La Gata" Eccleston, various artists have been looking to revive their careers by making reggaeton music, and collaborating with artists from the urban movement.
Rosalía is "a flamenco artist and she has a beautiful voice, this is not an attack on her but… she knows what she's doing in regards to hopping over into this market. It's fine, do what you need to do, but bring in other people with you. Don't just stay here for the second, get the buzz that you need, and be out," Eccleston said.
A lot of this debate is taking place on Twitter, and it's shaped by issues that have been plaguing the Spanish-language music industry for decades — especially the whitening, or blanqueamiento, of the urban movement and the industry as a whole.
Eccleston said that oftentimes credit isn't given to Black reggaeton artists, and the pioneering Panamanian-Jamaican artists that developed reggae in Spanish, when it's due. This is one manifestation of the colorism present throughout Latin American countries and Latinx communities in the United States, privileging whiteness.
When it comes to Rosalía, "at this point in time, it's less about her being European and more about her still being a white Spanish-speaking person gaining accolades and permeating spaces in urban Latin specifically that Black and indigenous Spanish-language artists have been robbed of or kept out of, despite being the originators of a lot of today's global sounds," Marjua Estevez, journalist and current features editor at BET, wrote in an email.
"Even the genre she's thrived in, flamenco, has had a long history of discrimination of gitanos. It's not lost on me that Rosalía is someone who took the time to study and learn her craft. None of that changes the fact that she's been inarguably privileged into the music space she occupies today. And what, now that she's acknowledged said privilege, is she doing about it?" Estevez adds.
Rosalía is not the first Spanish artist to be nominated for or receive awards for Latin music: Alejandro Sanz is the other artist with the most nominations going into this week's Latin Grammys, for example. Other Spanish artists that have found musical success in Latinx or Latin American communities are Enrique Iglesias, and his father before him, Julio Iglesias. Similar to Sanz, both father and son have already won Latin Grammys; Rosalía won two Latin Grammys last year.
"Uncoincidentally," journalist Ecleen Luzmilla Caraballo wrote for Remezcla, "most, if not all, who are welcomed with open arms both within and outside the confines of the textbook definition of 'Latinx' tend to be white."
Not everyone is interested in discussing Rosalía's place in Latin music, as some Twitter users have argued that talking about her background isn't important. Yet it's undeniable that the topic has resonated with many Latinxs and Latin Americans, as calls increase for representation and the recognition of those that have been, and continue to be, overlooked.
"That J Balvin, a white-passing Colombian man, is practically the face of contemporary reggaeton is maddening, but not the slightest bit surprising. J.Lo can make favela funk music, don faux locs, but feature an all-white cast of producers and dancers and be called innovative for it without ever having to be responsible for the context and paying-it-forward of said music," Estevez wrote. "I just think we're at a social tipping point where we can no longer afford to ignore these conversations. The internet plays a major role in displaying the things we cannot so easily turn a blind eye to."