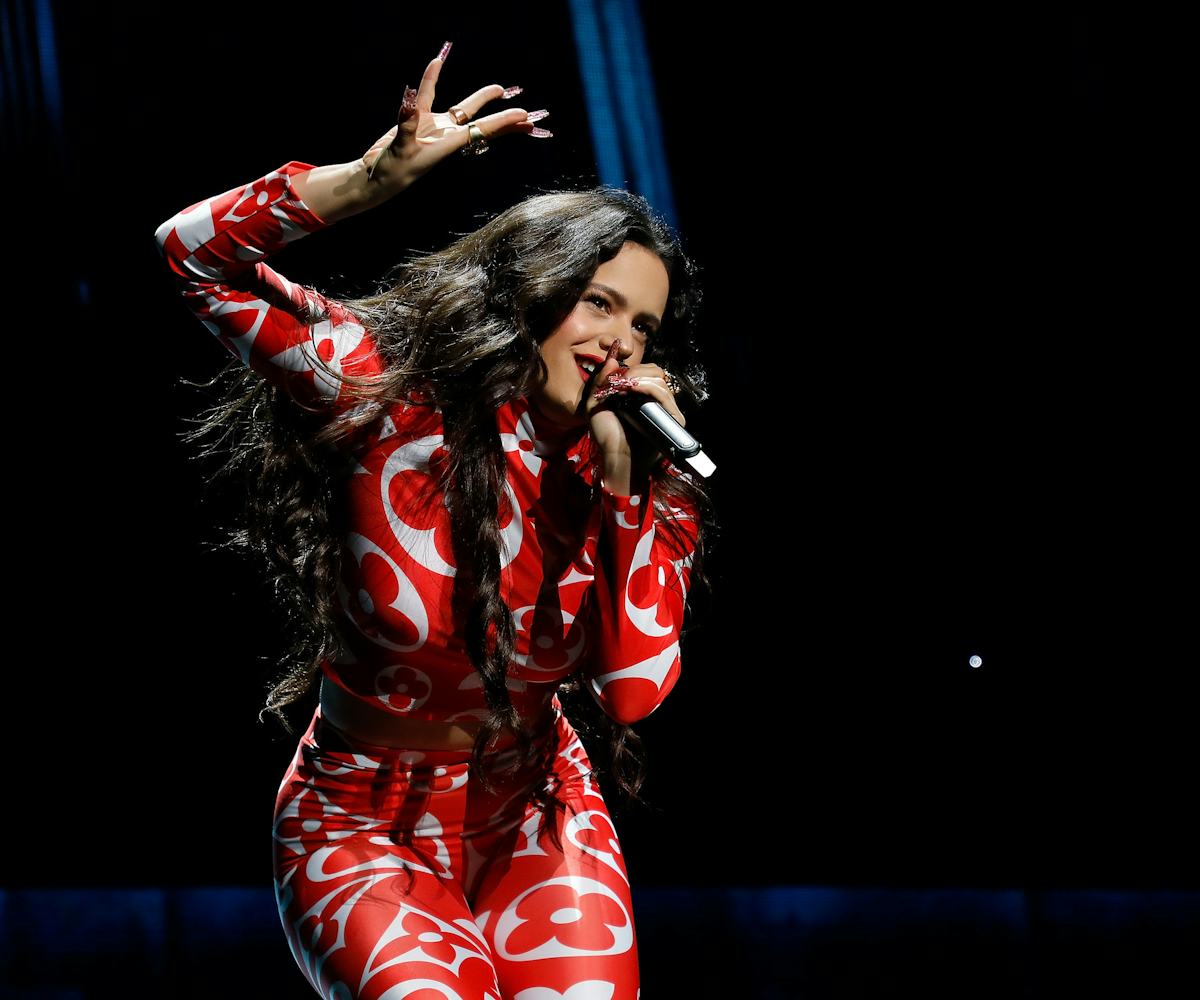 Photo by Taylor Hill via Getty Images
Rosalía And Her Incredibly Long Nails Are Finally On TikTok
Relatable content from everyone's favorite pop star incoming
There's yet another reason to get on TikTok: On Monday, Jan. 20, Rosalía announced her TikTok debut on Instagram, gracing the Gen Z-dominated platform with three videos in one night. Unsurprisingly, her account @rosaliavt has racked up nearly 330k followers, and is already full of all the beauty inspiration and masterful — albeit extremely DIY — creative direction you're used to seeing from the artist.
In true TikTok fashion, each video shows the Spanish pop star lip-synching to some of her biggest songs, including "Malamente" and "Con Altura" featuring J. Balvin, both of which have already gained over 1.5 million likes. The first video is pretty straight-forward, showing the singer mouthing along to her song with a bright red lip, black sunglasses, and wildly long, crystal-covered rainbow nails waving to the beat. But by the last upload, she'd warmed up to randomness that's made the app what it is, cutting between scenes of full-out dancing in an oversized Blonded T-shirt, and a robe while shoving popcorn into her mouth.
Prior to joining to TikTok, the most popular Rosalía song on the app, "Con Altura," had only been used in 250k videos, compared to the nearly 740k videos that feature "The Box" by Roddy Ricch, or the 10.4 million (!) that feature "Say So" by Doja Cat — both of which climbed the Billboard Hot 100 after going viral on the app. Regardless of what propelled her to finally get on the platform, it's a smart move considering just how capable it is of making an already solid song a viral hit.
Late this month, Rosalía will make her performance debut at the Grammys, where her 2018 album El Mal Querer is up for Best Latin Rock, Urban or Alternative Album. The artist herself is also nominated for Best New Artist, making her the first all-Spanish language artist to be nominated in the category.
See her first TikTok, below.