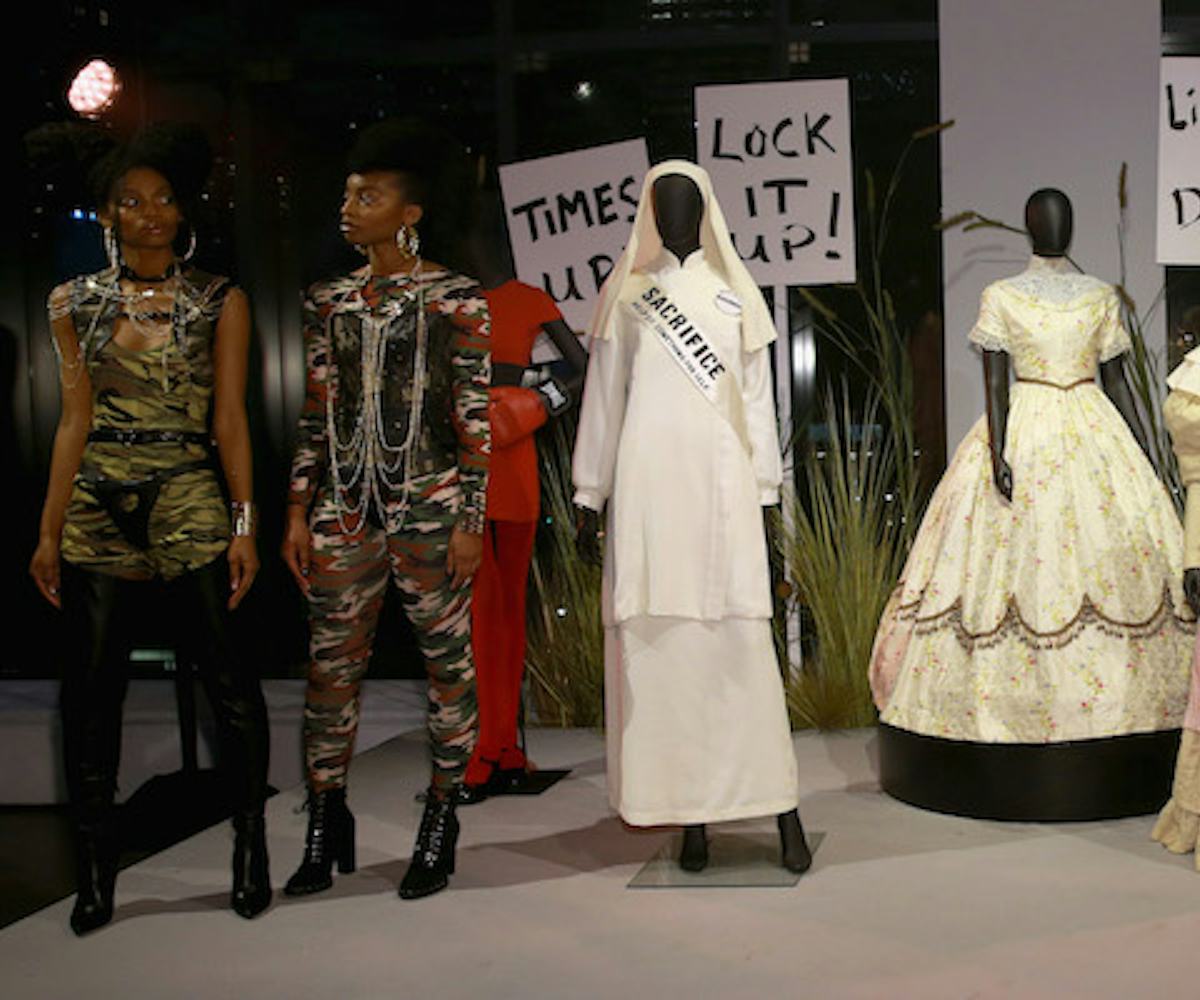 Photo by Bennett Raglin/Getty Images
Iconic Costume Designer Ruth E. Carter Honored At Next Of Kin Installation
A celebration of the work of the woman behind the 'Black Panther' looks
Last night, award-winning Hollywood costume designer Ruth E. Carter was celebrated in an overwhelmingly beautiful installation, highlighting some of her most iconic works. The event, Next of Kin: An Evening Honoring Ruth E. Carter, was thrown in collaboration with IMG and Harlem's Fashion Row on the eve of Fall 2019 New York Fashion Week and took place in Spring Studios, the hub for most of this season's runway shows.
When we refer to Carter as iconic, we are not hyperbolizing—she's the most important Black costume designer of our time. Over the course of her career, she's been responsible for not only outfitting all of Wakanda in Black Panther (for which she's already nabbed a Critics' Choice award, and is in the running for a 2019 Oscar), but also for imagining the looks of civil rights leaders, like David Oyelowo as Martin Luther King Jr. in 2014's Selma, and Denzel Washington in 1992's Malcolm X.
In celebration of all that Carter has contributed to Hollywood over the past three decades, over 35 of her original costumes spanning 13 films—from 1988's School Daze up through 2018's Black Panther—were on display in a series of themed vignettes featuring both mannequins and live models. Showcased along with each vignette was a modern interpretation of Carter's costumes by fashion stylist Ibrahim Kamara, proving how Carter's work is ever relevant. For example, various activists were reimagined clad in Pride gear or a "Black Lives Matter" T-shirt, while protest signs on display read "#MeToo" and "Time's Up!"
For Carter, this is a major milestone in her career. And in an industry that still struggles with diversity and inclusivity, it was an empowering kickoff to NYFW. "This installation marks the beginning and, not the end, but the full circle," says Carter. "If I had set a goal for myself and my career, this would, and does, represent achievement in costume design. It means so much for the children that we raised with our images—your children, America's children—to grow up and to acknowledge, honor someone who that can say influenced their lives in such a meaningful way."
Harlem's Fashion Row, which headed up the event along with NYFW hosts IMG, has served as a platform for multicultural designers to gain recognition for the past 11 years. This is an initiative that Carter finds extremely valuable, if not crucial, to multicultural designers and industry folks today. "Mentors are hard to find—I looked for one in the beginning, and didn't have an actual costume designer," she says. "That's not how it should be. We need to mentor and be the role models that are necessary to building stronger and more diverse communities."