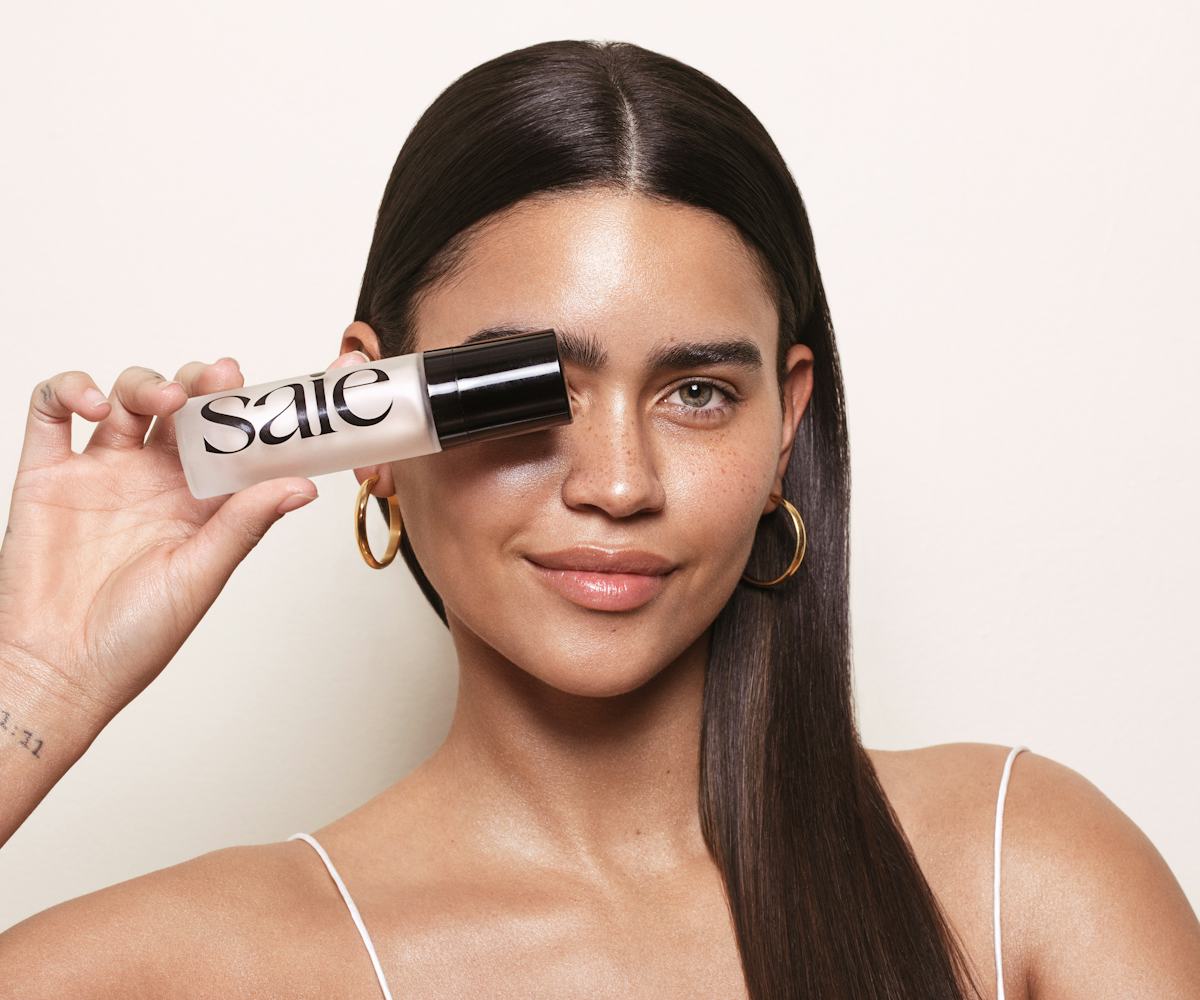 Image courtesy of brand
Saie's Second Drop Wants To Change The Way You Highlight
The beauty brand is following up its big debut with two new glow-inducing products
After permanently switching up what "clean" means for cosmetics with its initial launch, Saie has returned to permanently alter your highlighter regimen. Founded by former Estée Lauder executive Laney Crowell, the brand was named one of NYLON's favorite new beauty brands of 2019, and based on its latest additions, it's safe to expect even bigger and brighter things for the brand in 2020. Today, Saie launched two new products aimed at improving your glow. The Dew Balm ($18) and Glowy Super Gel ($25) can be used individually or together, and both were created to help you shine.
The Dew Balm, which comes in a small tube, is available in three shades and is formulated with 100% natural and clean ingredients including Hyaluronic Acid, Olive Fruit Oil, and Sunflower Seed Oil. The multi-purpose product can be applied to your cheekbones, brow bone, cupid's bow, or eyelids, and gives you the look of dewy fresh skin.
Its sister product, the Glowy Super Gel, comes in a cylinder, and features beneficial Ingredients for the skin like Vitamin C, rosehip seed, and Papaya. Intended for application on the face, the lightweight product will add a touch of shimmer to your skin without appearing too shiny or sweaty.
In an interview with NYLON, Crowell explained how customer feedback inspired the creation of both items. "Over and over again, we heard that people wanted a new way to highlight. People wanted products that were more dew than highlighting," Crowell said. "In a way, we kind of think of this launch as its own category. People didn't want a powder, they didn't want anything strobe-y. They wanted something that's hydrating, moisturizing, and even has skincare benefits."
According to Crowell, the products can be worn together, separately, and without or without other makeup. She acknowledged that "our makeup bags are only so big," and this launch was intended to help customers find more multi-purpose products. Additionally, the product was packaged to be applied on the go, with Crowell noting that you can simply use with your fingers.
When it comes to the best application method, Saie fans are encouraged to get artistic. Crowell suggested layering shades of the Dew Balm for a truly glowing complexion or use the balm after applying your foundation and moisturizer for an added highlighter. With the gel, Crowell recommended getting an all-over intense glow by applying it to your collarbone, shoulders, and legs.
Along with looking good, you should also feel good about using Saie. Crowell pointed out that the company is conscious of its environmental impact, and one of its core missions is to create a sustainable line. Along with using recyclable materials in much of its packaging and selecting the most sustainable option for the creation of each product, the company intends to be plastic free by 2021.
Get a look at the two new products you'll be adding to your routine, below.