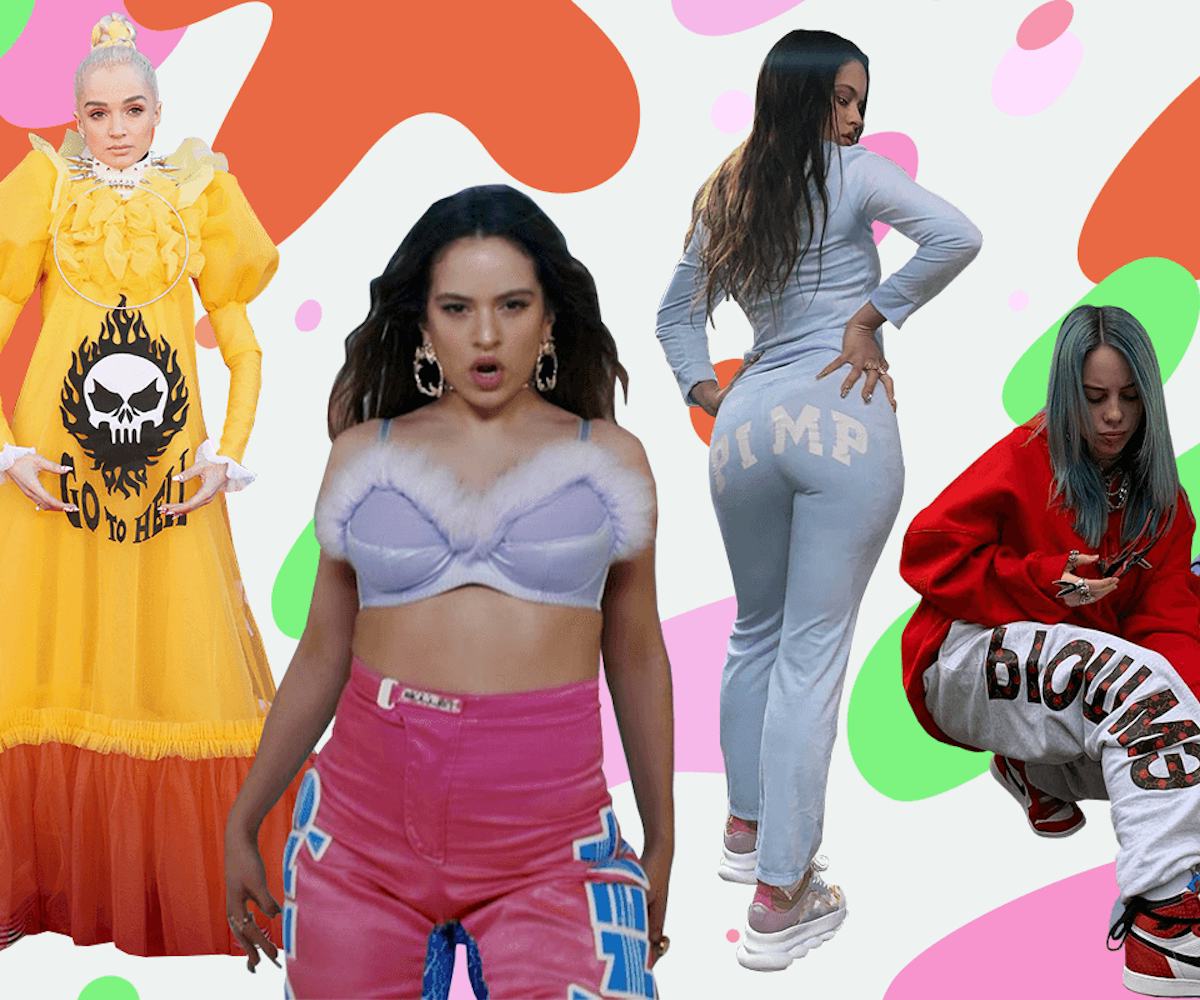 Rosalía And Billie Eilish's Stylist Shares The Secrets Of Combining Art And Fashion
Samantha Burkhart is a name you should know
Samantha Burkhart was an artist before she was a stylist. This makes sense, because her process of putting together an outfit is, in a way, a work of art—it takes practice, creativity, and skill; but, Burkhart wasn't just like an artist, she was an artist. "I have a Master's Degree in Fine Arts, and I moved to Los Angeles to go to Art Center," she tells us. "I did large-scale installations and paintings." Eventually, though, she got burnt out by the idea of "having to be the talent, having to come up with my own vision all the time," and decided to try something else.
This was in the early '00s, Burkhart explains, when stylists like Rachel Zoe were only just coming onto the scene. So, her initial reaction when her best friend asked if she wanted to help style Mariah Carey one summer, was: What's a stylist?
"It wasn't this thing that everyone knew about," she explains. "I didn't even know what a showroom was. I thought that if you went to a fitting, you would show up with one thing." Her first experience didn't exactly sell her on the career, either. She showed up as an intern for a stylist and, within 24 hours, the woman she was working for fired her first assistant. "It was emotionally chaotic," Burkhart says. "It was tough."
But part of what drew her away from art is what drew her to styling—specifically for musicians. "The visibility for what I was creating was just really minimal and really niche," she says. "Music is for everybody… it's such a great visual platform." It also helps that she got started when Lady Gaga was also getting started, and there's perhaps no better musician to make the case for the power of mixing fashion and art and visuals and music. "I left my career as an artist, and decided that I pretty much only wanted to work with music people to help them express themselves visually," Burkhart says.
But making it in fashion is actually as hard as it looks in The Devil Wears Prada. "Styling is a tough gig," Burkhart explains. "The pressure, the responsibility, having to keep track of thousands of items, and also just making people happy and being at their beck and call." She assisted for five years and decided to venture out on her own after she had a baby. "I just felt that my life had to reflect the place where I was at, and I had to push myself to take the leap," she says.
Next came finding clients. Her first big one was Sia, with whom she connected because her husband and Sia's husband were friends. "She ended up firing her stylist about five days before the Grammys, and she called me," Burkhart says. She got lucky, and continued to get lucky, like when she started working with Billie Eilish "back when she had 10,000 followers on Instagram and one song on SoundCloud." But what some people consider luck, others recognize as good instincts. After all, finding people to work with comes down to timing and being in the right place, Burkhart reminds us, but also feelings: "For me, it's really been about having a vision about the kind of people that I want to work with and being able to connect with them, too."
In addition to Eilish and Sia, some of Burkhart's other clients include Poppy and Rosalía. They all vary style-wise, but what they have in common is their strong artistic visions. Eilish, she says, likes to mix designers like Off-White and Margiela with thrift store pieces, which she's been doing since she first started. "It's exciting to see, and I think that her fans really connect with that," Burkhart says. "It's relatable, too. You could go to the mall and buy the things that she buys." Where Eilish is very tomboy-esque (she refuses to wear heels or even platform boots), Poppy is basically the opposite. She's more avant-garde and has worn items straight from Paris Couture week, like the snarky Viktor & Rolf dress she wore to this year's iHeartRadio Music Awards.
Rosalía, one of Burkhart's newest clients, is a nice blend of Eilish and Poppy style-wise. She's not afraid of a baggy pant or a form-fitting bright green latex bodysuit, and she can pull off both with ease. "She's able to really possess and own and inhabit things that are definitely kind of out there… She doesn't get lost in clothing and brings so much personality and embodiment to things that it becomes like one layer of the whole. Like, in a music video, for example, the choreography is already amazing, the song's amazing, so it just becomes this extra amazing layer to everything."
A perfect example of this is the recent video for J. Balvin and Rosalía's new song "Con Altura." The fashion is the clear standout, with fuzzy earrings, head-to-toe multicolored Louis Vuitton, and lots of neon taking center stage. It's like over-the-top Miami mixed with fun '90s cyber girl. It's good. "I didn't want it to feel cheesy, so I kind of focused on mixing iconic, vintage designer pieces with more contemporary and of-the-moment fashion," Burkhart says. One look she calls out is a vintage Thierry Mugler red flame corset top that Rosalía wears with matching Balenciaga boots. Since the video came together sort of last-minute, Burkhart also had to get creative, like using a Savage x Fenty fuzzy bra as a top. Rosalía also wears her own pair of traditional earrings from Spain.
DIY incorporation is typical for Burkhart. When we talk, she mentions that she's putting rhinestones on a pair of shorts for Eilish's Coachella performance. As a stylist, you typically work with a lot of fashion houses and designers, but she's also not above an art project or two. "It's such an exciting thing to be able to just go downtown and buy fabric or materials to make an outfit and bring a person's vision to life," she says. She's an artist first, after all, and coming in with that perspective has helped her not to get caught up in the madness that can often be the fashion world. "It wasn't like I had a burning desire to be a stylist and I think that, in a lot of ways, is what makes me successful as a stylist," she says. "I'm able to have a little bit of a detachment from it and enjoy it for what it is instead of thinking that it's making or breaking my life… It's been liberating."
It might make it easier for her to move on from the industry, also, which she says she'd consider if she ever finds herself disillusioned with styling in the same way she did art. What does she think her next venture might be? "Um, designing houses," she says pretty quickly. "A lot of stylists actually make a natural progression from, basically, styling people to styling homes," she says. "It's pretty much the exact same thing, it's just, like, the house doesn't text you at 11 o'clock at night about the earring that they have to have."