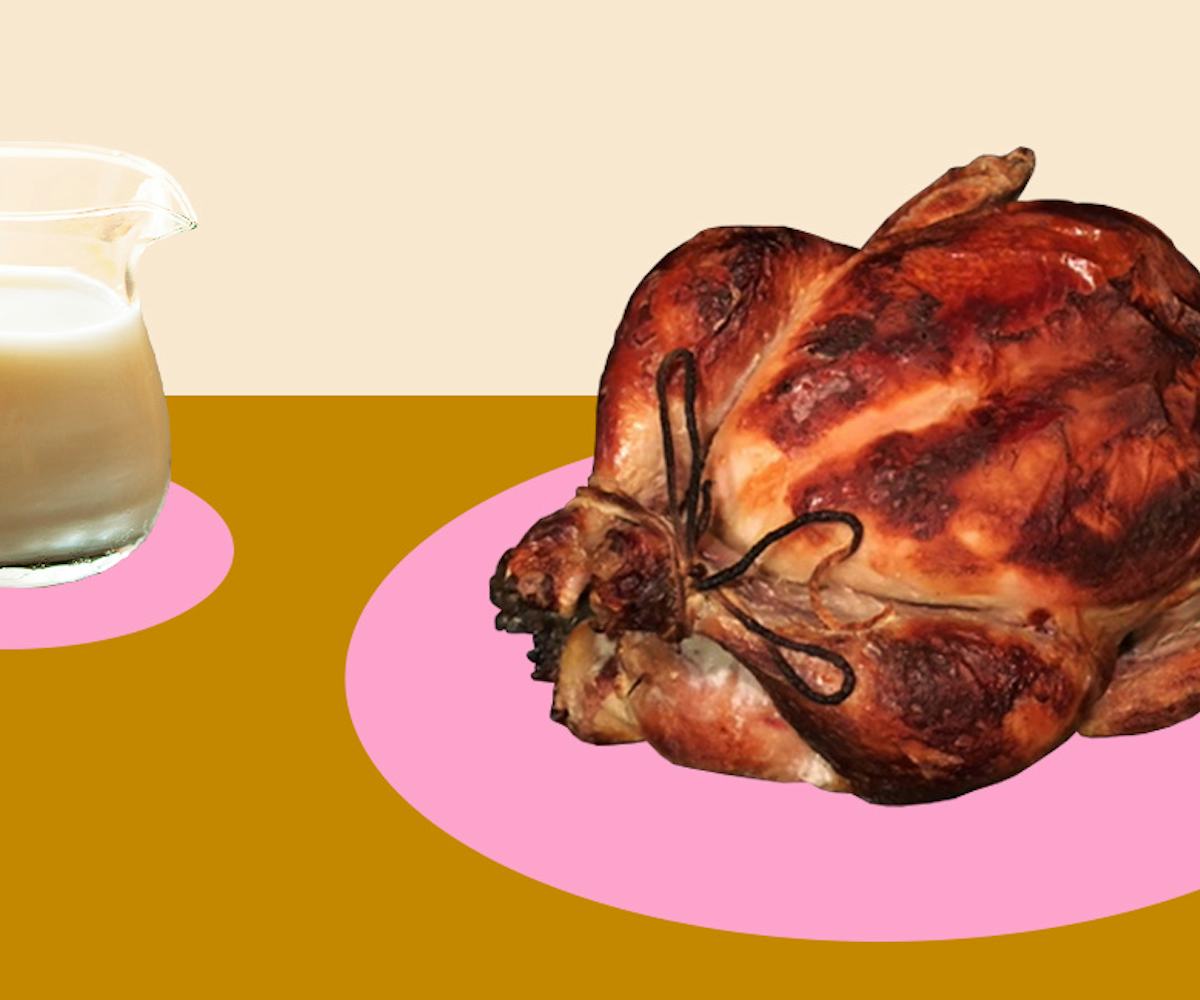 Photos by Getty Images (left) and Kristin Iversen (right)
The Life-Changing Magic Of Samin Nosrat's Buttermilk Chicken
I watched Salt, Fat, Acid, Heat, the four-part Netflix series starring Samin Nosrat that shares a name with her recent cookbook, over the course of one dark, cold night late last year; it instantly warmed me up. I watched it greedily, and felt gently, vicariously gluttonous as each episode progressed and I traveled the world with Nosrat, sampling limpid honey in Mexico, creamy pork fat in Italy, mahogany dark soy sauce in Japan, her mother's own crackly domed tahdig back home in California. And then there was that chicken.
In the fourth episode of the series, "Heat," Nosrat prepares her buttermilk-marinated roast chicken, a recipe so simple it doesn't even require much of a recipe. There are three ingredients, including salt—or, maybe four, if you include time. (As Nosrat says while making the chicken, "People think that cooking starts the moment you turn the oven on, but really it starts a lot earlier.") But if you watch the show, you won't even need to read the actual recipe, all you need to do is pay attention as Nosrat scatters generous pinches of salt over a pair of raw chickens, their glistening skin the color of a white T-shirt that's been worn regularly for more than a year. And, I know you're already paying attention, but pay special attention to the way Nosrat sprinkles the salt; her hand bows delicately from her wrist, her fingers extend long and loose; the salt seems to come directly from their tips in a brief moment of kitchen ballet. It's beautiful, I think.
Then, into a big plastic bag go the chickens, where they are doused in buttermilk, and in which they will rest for up to 24 hours before being popped into an oven (425 degrees, but Nosrat points out that having precise control over your oven's temperature is just an illusion), where their skins will become crackly and burnished, and their interiors stay lush and juicy. Nosrat says, snacking on a shred of the dripping meat, post-carving: "I'll never get sick of this chicken. It's so good!"
I have been known to cook a viral recipe or two, and after watching Nosrat make that chicken, I decided to jump on the bandwagon, make the chicken, and practice my salting technique. I had seen other people on Instagram post pictures of their own adventures with this recipe, and what was most notable about their accompanying commentary was not just the pleasure they experienced in eating something delicious (though there was that), or the pride they felt at having mastered a new dish (though there was that too), but rather the wonder they felt at the end result, as if it were alchemical instead of just chemical, as if those chickens came out of the oven coated in actual bronze, instead of just bronzed skin.
This recipe and the awe which accompanies its every completion recall the words Nosrat intones at the beginning of the episode: "Heat... it's the element of transformation." Only, it isn't just the chicken that has been transformed, but you—you are not just someone who cooks, you are now a cook.
Perhaps that seems to be a minor distinction, but it's one that not every recipe, no matter how beloved, can bestow. What makes this chicken recipe so brilliant, then, is that after you've followed its very loose guidelines once, you know it by heart. It becomes intuitive. Whereas other popular, still wonderful recipes will have you checking your phone every two minutes to make sure you're doing it right, this chicken is almost instantly a part of your muscle memory, you don't have to think about how to make it any more than you have to think about how to breathe.
Of course, simplicity isn't always the most compelling thing, particularly not for the kind of cooks who are driven by hashtags. In a recent article for the New York Times Magazine, Nosrat wrote about viral recipes and her desire to create one of her own, driven by "jealousy" for her Times colleague Alison Roman (of #TheCookie and #TheStew fame) and New Yorker food writer Helen Rosner (who had her own genius roast chicken moment, involving a Dyson hairdryer). Though Nosrat claims she hasn't yet had a viral recipe of her own, she does reference this chicken, admitting that it's "the best—and most popular—recipe [she's] ever written," crediting that popularity to the fact that "it's simple, easy and extraordinarily tasty. Anyone with an oven can make it."
But those who have made the chicken love it for other reasons than the fact that it's easy. What Nosrat has given us is not just a dish to make, but a code by which to cook. She is teaching us that there are rules to making food that tastes good: We must utilize salt and fat and acid and heat. But within those rules, we can and should—we must—find joy.
It is in this way that Nosrat reminds me a bit of Marie Kondo, whose own Netflix series, The Life-Changing Magic of Tidying Up, has achieved viral popularity (as did her identically titled book), and is premised around the idea that if our things do not spark joy within us, we should let them go. And though a lot of attention has been paid to the exactitude of Kondo's methods and her lack of sentimentality around, say, unread, dust-gathering books, the point of the Konmari technique isn't simply about following a set of rules. Yes, the rules are a part of it, but it's more about understanding and trusting in a system, letting go of fear, and figuring out how to make magic out of your everyday existence.
This magic in the everyday, this delight in well-folded clothes or a simple meal of beans and herbs and roasted vegetables, is infectious and transformative, and is doubtless the reason that watching both Nosrat and Kondo is simultaneously soothing and energizing. They are a reminder that the power to change is within us, that we can explore by traveling the world or by trying new things within our own homes. We can make the ordinary feel extraordinary, and maybe grow to understand that the two things are not so different after all. We can change our lives and feed ourselves; it's simple enough, and it's so good.