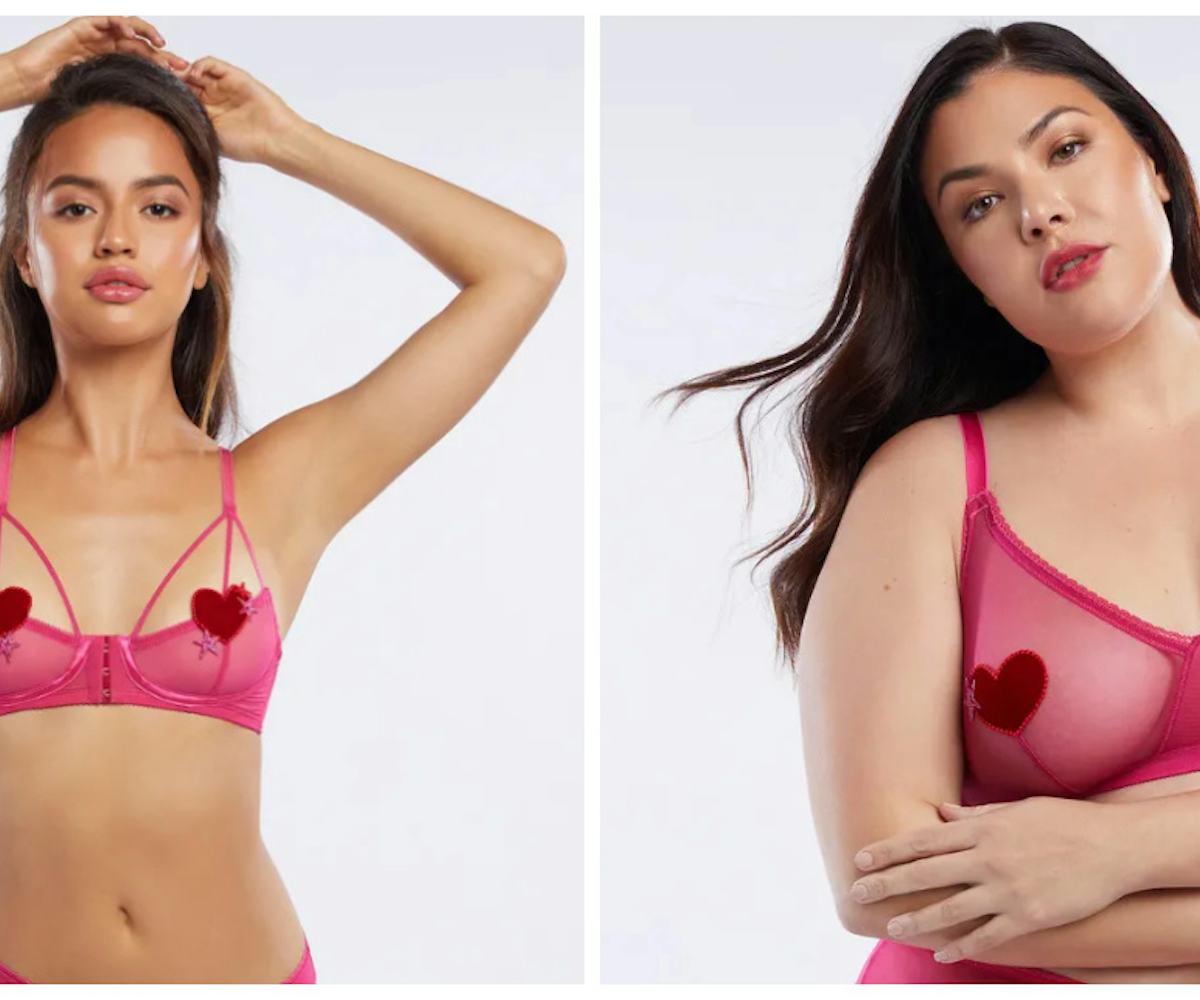 Photos courtesy of Savage X Fenty
Savage X Fenty Called Out For Design Differences In Straight And Plus Size Styles
"These are two veryyyy different types of sexy being sold"
UPDATE 1/11/2019 4:30pm: Dalessandro has written on her Instagram Story that a member of the Savage X Fenty team reached out to her and thanked her for speaking out.
On Wednesday, Alysse Dalessandro (@ReadyToStare on Twitter) tweeted about Savage X Fenty's recently released Valentine's Day collection, drawing attention to the drastic differences in design between the straight and plus size collections.
The tweet compares two photos of the "Hearts" bralette for sizes S-XL and sizes 1X-3X, which are listed separately on the Savage X Fenty website. It's plain to see that the two models are wearing completely different designs and that the plus size design lacks the strappy, skin-bearing detail.
"I understand construction cannot always be the same for plus size (especially in lingerie) but I know you can do strappy bralettes in plus," she wrote, "so why do brands do this?" She also includes examples from other brands in the thread.
Other Twitter users have drawn attention to the fact that there is a stark difference between other products on the site, which save the "sexier" designs for customers who fit in sizes S-XL. There are options for plus size customers, but they're much more limited, covered, and, as one user notes, a completely "different type of sexy."
While it's great that Savage X Fenty carries a wider range of sizes than some other lingerie brands and is inclusive of all bodies, it's imperative that the options aren't completely different for people larger than a size XL. Lack of such designs for plus size women—even if the brand doesn't mean it—promotes the idea that people over a certain size can't be sexy and shouldn't bare skin.
Though it should be noted that the two bralettes have slightly different names—the one for the straight style is called "Hearts Half Cup Bralette" while the plus size one is a "Hearts Bralette," and there's no "Half Cup" style in plus-size and vice versa—and could be a result of the brand creating two entirely different styles for the two sizes.
We have reached out to Savage X Fenty for comment and are awaiting a response.