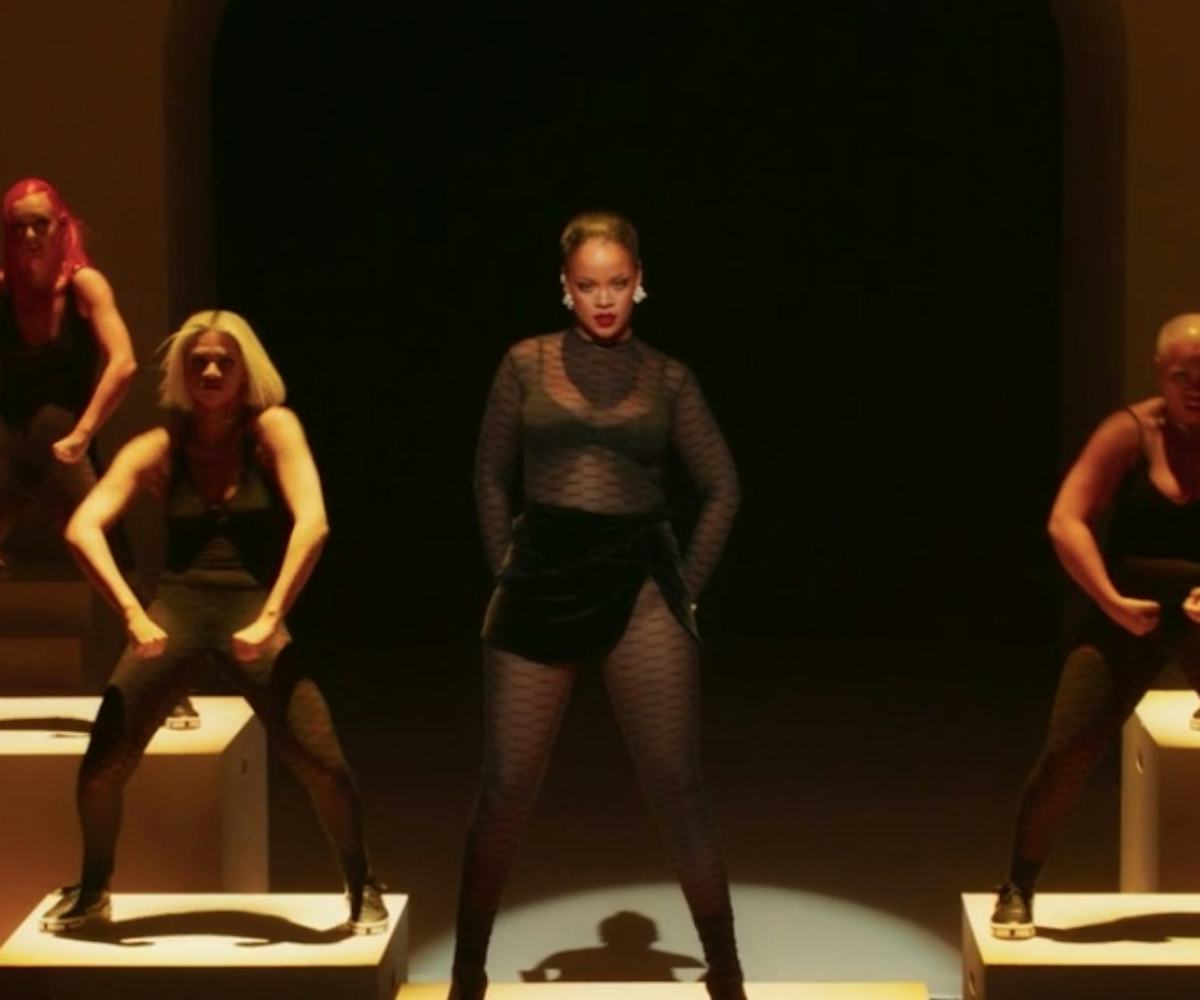 Photo courtesy of Amazon Prime Video.
Rihanna's 'Savage x Fenty Show' Is 'Homecoming' But For Fashion
And it's further proof of Rihanna's genius
During New York Fashion Week, my friends who work in fashion and beauty are usually tired, overwhelmed, and ready for the whole thing to be over by pretty much the end of the first day. So I've never been envious that I wasn't attending—until I realized what I was missing out on by not going to Rihanna's Savage x Fenty show.
The show itself was top-secret—meaning, everyone's phones were locked away during the show, so nobody could take pictures. But that didn't stop people from raving about the performances, the body inclusivity and positivity, the production, and Rihanna's ponytail. I was sick that I missed it.
Thankfully, Rih collaborated with Amazon Prime Video to let the masses in on her lingerie extravaganza. The Savage x Fenty Show is now available to stream, and while it's beautiful to behold from start to finish, it was the first 15 minutes or so that had the biggest impact on me, and showed that the creative genius of the Bad Gal is absolutely undeniable. The show is a stunning combination of creative introspection, in which Rihanna makes clear that she is her own muse; a demonstration of a hardcore work ethic; and an amazing final product that only the mogul herself could have dreamt up.
Rihanna, who recently became the first woman of color to lead a house under the LVMH brand and the first woman to create an original brand for the fashion conglomerate, was involved in every step of the Savage show's process. She obviously spearheaded the looks, but she was also involved in every part of the set design, the lighting, camera angles, casting, and choreography. With her best friend and business partner, Jenn Rosales, right by her side, Rih intentionally made something that was the opposite of what everyone else was doing at NYFW.
For the show, Rihanna ditched the runway concept in favor of a stage that had a series of stairways, openings, and a compartmentalized tower that allowed for dozens of models to be showcased at the same time. Models didn't just walk, they participated in bold, colorful presentation that was equal parts concert and performance art. Laverne Cox, with a wave of her hand, sent dancers into a state of ecstasy before doing a dance number. Halsey enacted a steamy rendezvous with a woman during her performance. The show featured models with all different body types and identities, like cancer survivor Mama Cax and plus sized model and artist P.S. Kaguya.
The Savage x Fenty Show is part fashion presentation and part documentary. It's Beyoncé's Homecoming… but make it fashion. In the same way we learned to appreciate just how hard Bey works, this Amazon original clued us in to just how limitless Rihanna's creativity is. There is a moment in the film where Jay Brown, CEO of Roc Nation (which has managed Rihanna's career since 2010) remembers how, when she was only 18, Rihanna was "just ready to go. She started taking everything into her own hands, and doing it herself." Now at 31, the Savage x Fenty Show is a 50-minute testament to what she can do with all of that hands on experience and looking inward for inspiration.
This may not have been the album we've been desperately waiting for, but it'll do for now.