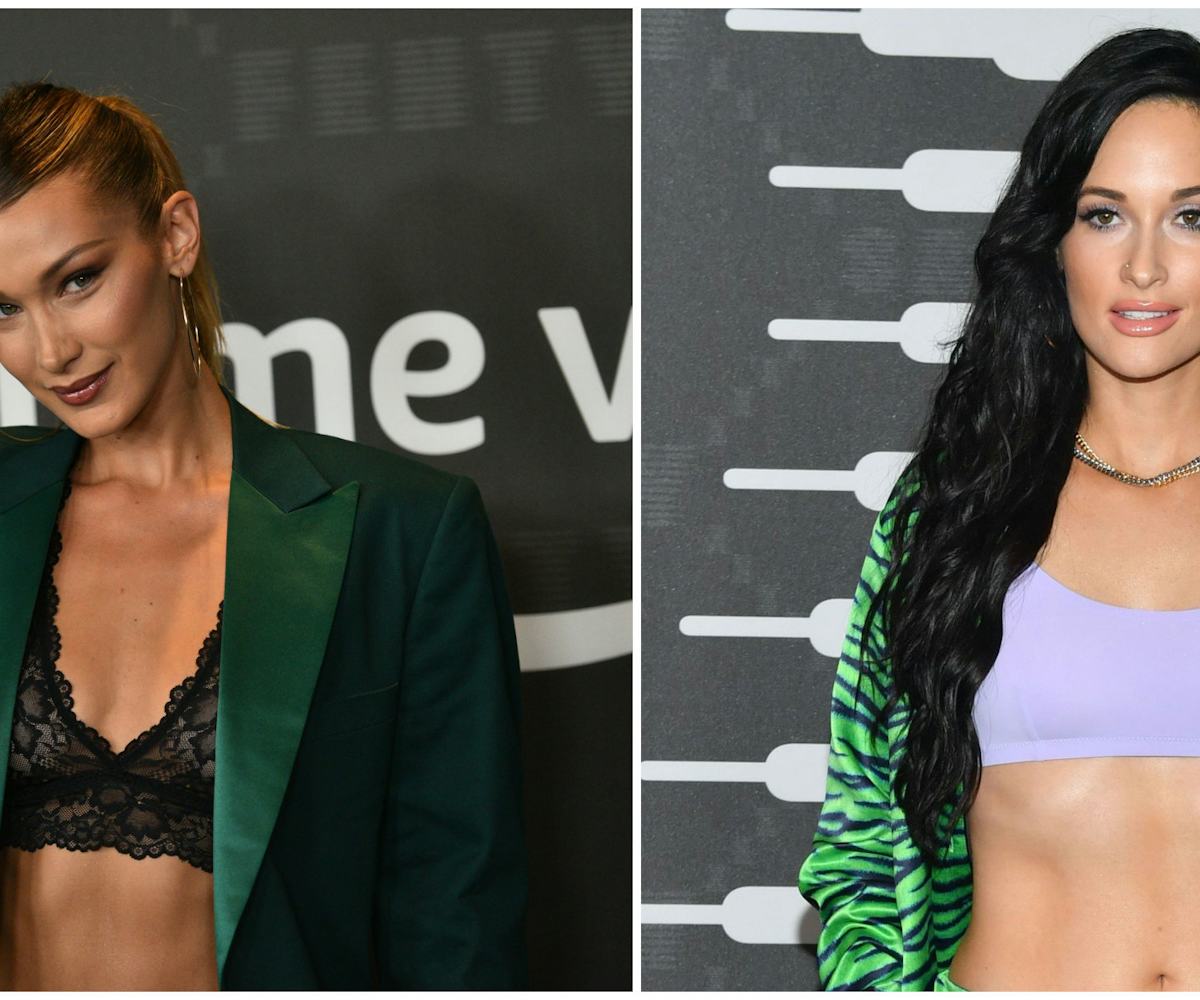 Photos via Photo via Erik Pendzich/Shutterstock
Bella Hadid And Kacey Musgraves Make A Case For Wearing Suits With Bra Tops
Preferably Savage x Fenty brand
Kacey Musgraves, Bella Hadid, and Bishop Briggs showed up to Savage x Fenty show last night wearing suits with their jackets unbuttoned to show their bras. This has now become my new favorite trend in existence.
Since it was the Savage x Fenty show, tons of attendees let their best lingerie show. Cara Delevingne, who also performed last night, wore a dress with the top half unbuttoned to show a black bra, and Rico Nasty wore a hot pink coat that left her yellow lingerie set exposed. But it was Musgraves, Hadid, and Briggs who stood out to me, walking down the red carpet wearing different iterations of the suit-and-bra combo.
Musgraves wore a silky black-and-green tiger-print pajama set. The Savage x Fenty top was unbuttoned to show a Microfiber Bralette in Purple Lavender, making the whole outfit look like the most comfortable thing I've ever seen on a red carpet.
Hadid also joined the trend, wearing a forest green suit with what looks like the Floral Lace Bralette.
Briggs' outfit took cues from both Hadid's and Musgraves' looks: Her set was just as silky, and her bra was just as lacy. The set may just be the Savage x Fenty Black Caviar, and her bra looks like the Savage X Bralette. Her all-black ensemble was topped off with a white backpack and white sneakers.
I give all these celebs props for their style choice: This was definitely the best way to pull off the suit trend while at a lingerie fashion show.