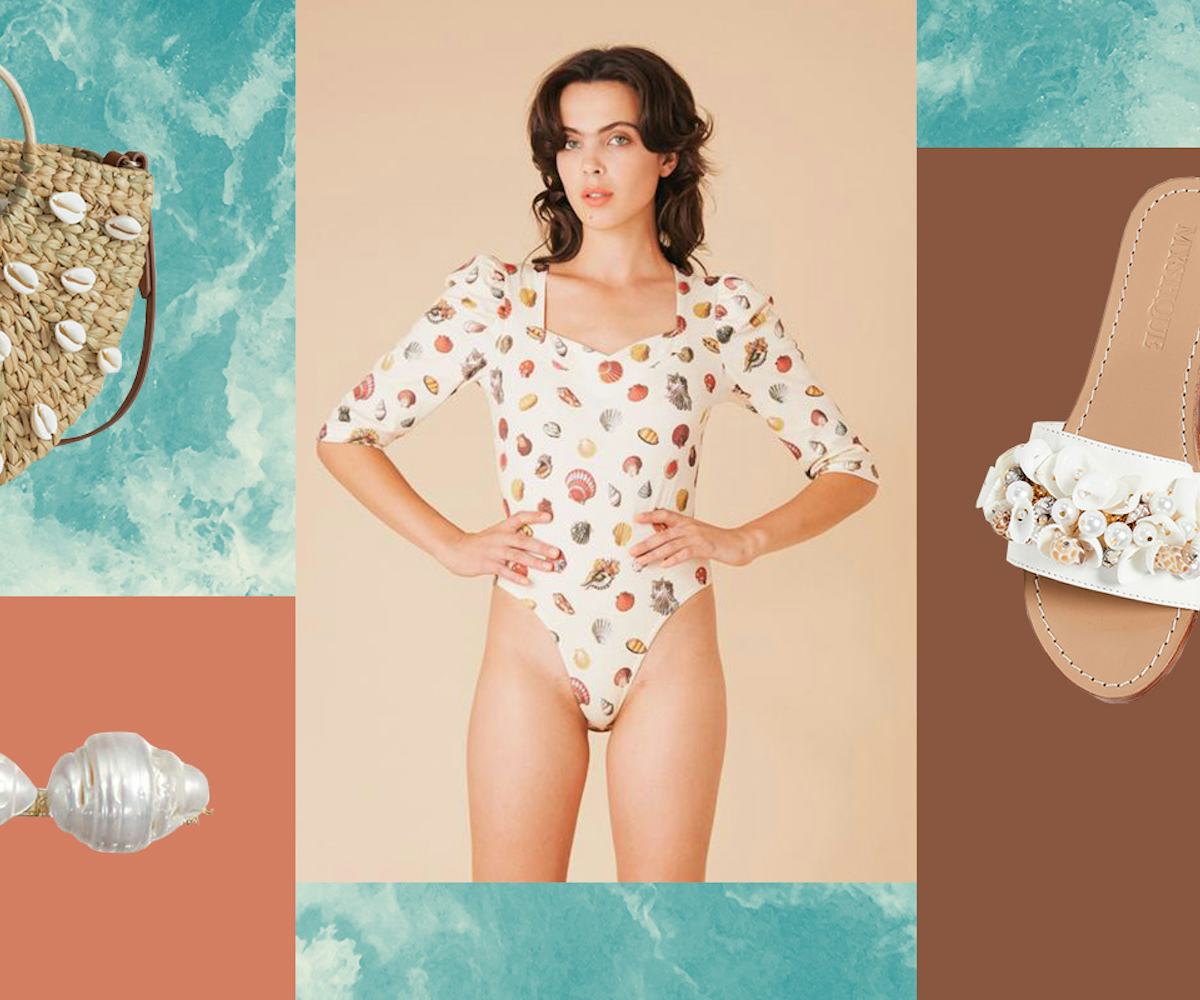 21 Ways To Channel Your Inner Sea Nymph
All of the seashell-bedazzled (and -inspired) pieces we're eyeing this spring
It might not be beach season everywhere just yet, but it's clear that all things sea-inspired are having a moment. Of course, we're not referring to the (thankfully) now-dead holographic mermaid trend that once took the festival scene by storm, or the nautical references we see resurface on the runways every couple of seasons. No, 2019's sand and sea influences are all about channeling your best inner-sea-goddess self with seashells, starfish, and more.
This trend first emerged during the latter half of 2018 with mini conch shell-embellished hair clips and dainty cowry earrings with a very DIY feel. However, it's since evolved for Spring 2019. We're now seeing everything from scallop-shaped handbags and puka shell-bedazzled slides to starfish-printed skirts.
For those of us not able to comb the shores for seashells and other sandy finds of our own, we rounded up the 21 must-have items to embody this trend all spring and summer long.
Valet Studio, Ariel Clips n Mint, $55, available at Valet Studio.
Mango, Bamboo Shells Bag, $100, available at Mango.
Samantha Pleet, Venus Bodysuit $160m available at Samantha Pleet.
Loeffler Randall, Shelly Wrap Sandal With Shells, $195, available at Loeffler Randall.
Chan Luu, Brick Raffia And Shell Earrings, $45, available at Chan Luu.
Lelet NY, Seafoam Barrette Set, $150, available at Lelet NY.
Topshop, Shell Straw Round Grab Bag, $40, available at Topshop.
Capulet, Teagan Belted Midi Dress, $180, available at Lisa Says Gah.
Maison Irem, Pino Big Hoop Earrings, $150, available at Shopbop.
SVNR, Matira Barrette, $150, available at SVNR.
Shashi, Baltic Necklace, $58, available at Shashi.
Urban Outfitters, Shelly Shell Leather Sandal, $59, available at Urban Outfitters.
& Other Stories, Woven Puka Shell Tote Bag $79, available at & Other Stories.
Free People, Chase The Sun Bobby Set, $28, available at Free People.
Madewell, Cowrie Shell Cuff Bracelet, $22, available at Madewell.
Mochi, Lorrie Shell Necklace, $98, available at Anthropologie.
Abaca, Lisa Says Gah, $150, available at Lisa Says Gah.
& Other Stories, Polka Dot Seashell Satin Midi Skirt, $79, available at & Other Stories.
LOÉIL, Heir Pearl Barrette, $62, available at LOÉIL.
Mystique, Seashell Slides, $184, available at Shopbop.
Ettika, Shell Belt, $75, available at Revolve.
NYLON uses affiliate links and may earn a commission if you purchase something through those links, but every product chosen is selected independently.