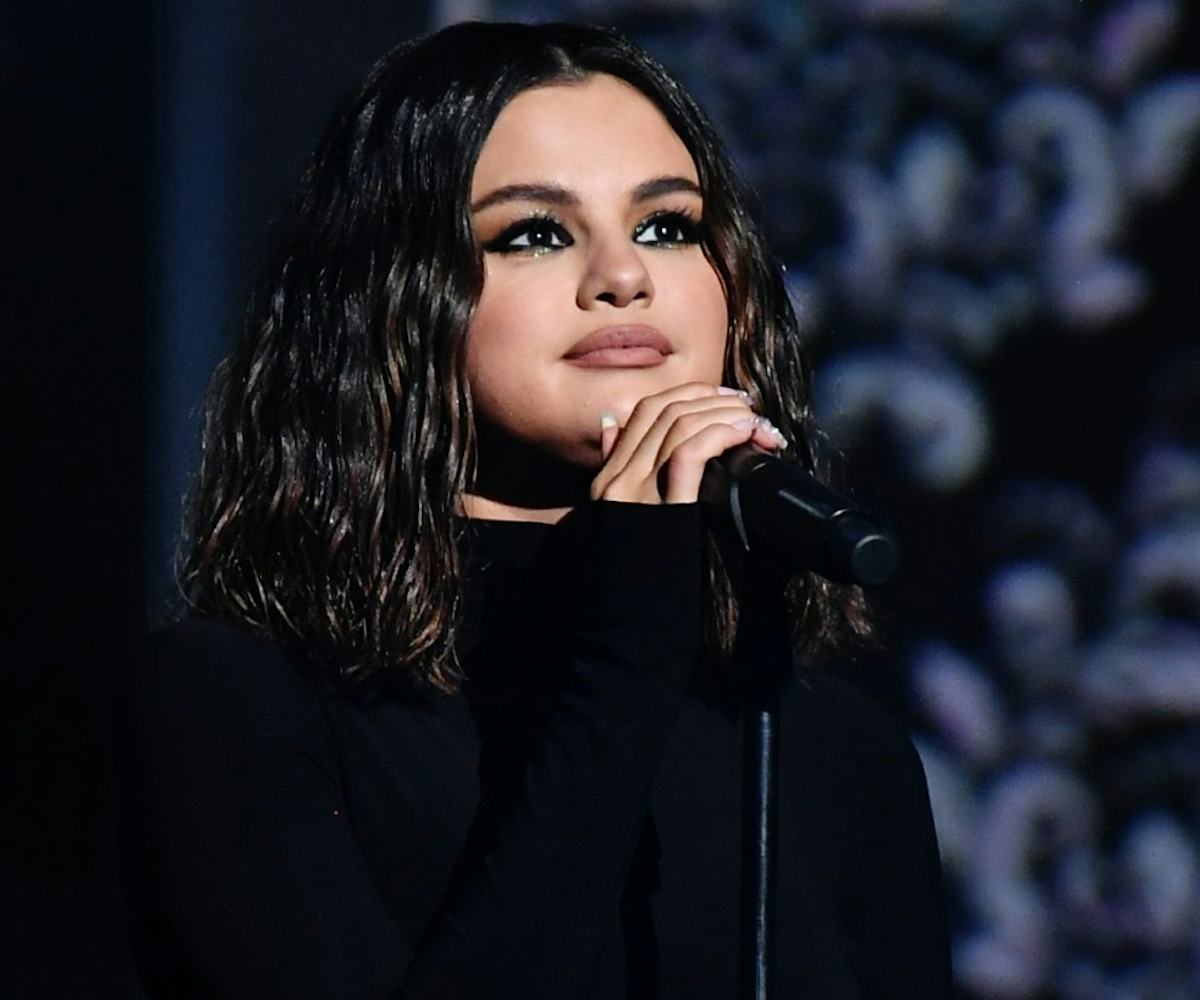 Photo by Emma McIntyre/AMA2019/Getty Images for dcp
On 'Rare,' Selena Gomez Finally Lands On Her Own Signature Style
The aesthetic of the pop star's third solo record is one she's steadily been arching towards for some time now
It took two albums (five if you're counting her work with The Scene) and nearly half a decade for Selena Gomez to hone in on a sound that really works for her. On 2015's Revival, she discovered that her strength is in her delivery — not by belting, or wailing, but by syncopating her words, punctuating every note with a sort of whimsical attitude best exemplified on tracks like "Hands to Myself," and later, "Bad Liar." What became equally as important as her enunciation was the space in between what she was saying. Highlighting that static, negative space has continued into her current era, and it is a key component of her latest record, Rare to a degree where it's even visualized on the album's cover: a cropped Polaroid of Gomez lying in blankness.
For as much as we know about Selena Gomez, we don't really know much at all. It's true that Gomez has generously revealed a lot of her private life to the public over the past few years: a lupus diagnosis, a kidney transplant, and two very public breakups. In the spaces in between, she wasn't totally off the radar, either. In 2018, she protested gun violence at March For Our Lives, she volunteered with A21 to combat human trafficking, and even showed up for a punk gig at the infamous Brooklyn dive bar Alphaville. But for someone with the work ethic and mass popularity that Gomez possesses, her five-year disappearance from pop radio was one that felt significant.
With Rare, Gomez's moment to more intimately reflect on everything that has happened to her in that time, we don't get much closer to learning who she is, despite the title track pivoting on that premise. What we do get is a relatively straightforward and at-times brilliant, finely-tuned pop album loosely about trying to get over someone, and all of the requisite steps shuffled about: the cutting off, the dancing again, and the comeback ("Look At Her Now"). It's a record that testifies to self-preservation, but only as it relates to that ex. She's not naming names here, but on the percussive penultimate track, "Cut You Off" she is counting the days they were together — 1460 of them or four years. Just about as long as the time she spent with Stephen Baldwin's new son-in-law.
Aesthetically, however, Rare is Gomez's most cohesive endeavor to date, an impressive feat considering that the LP was cobbled together from years of material gathered from her different musical eras. "I thought I was ready," Gomez recently told Spotify about the album's extended conception. "I collected all of these sessions, and don't even remember half of them." She may not remember but it's proof that, subconsciously or not, Gomez' musical aesthetic has steadily been arching towards this destination — one that skews left from the glossy path of pop — for some time now. Her 2017 string of genuinely fantastic singles — "Bad Liar" being one of them, along with an unexpected link-up with Gucci Mane and Petra Collins for the galvanic "Fetish" — brought her music onto numerous critical year-end lists, and it felt like Gomez was finally getting her due after striking a unique nugget of stylistic gold. Coupled with a handful of EDM-lite slappers she released soon after with Kygo and Marshmello, fans and critics alike were left buzzing for more.
There are several moments that stack up to "Bad Liar"-heights on Rare, particularly on the lush and blossoming title track, which sounds almost like the more maximalist underside of that coin. Gomez excels here, prowling lines about "burning toast in the toaster" over an animated melange of bongos and pedal steel. It's a little silly, but you can hear that she's in on the joke, a deduction that becomes the uniting thread between the album's greatest peaks, be it the aptly-titled "Fun" where she tries her hand at funk minimalism, or the undeniable groove of "Dance Again," where she insists her "trauma's in remission." Rare is best at its most breeziest moments, where Gomez has the space to play with her rhythms, sighs, and isn't trying too hard to be serious.
Which says a lot about the more emotional cues on the record. Rare has been touted as her most personal album yet, but in the end it only gestures toward a deeper pain, never attempting to directly reckon with it. Save for the album's emotional centerpiece, the lead single "Lose You To Love Me" which was produced by Billie Eilish's brother Finneas, Gomez's troubles are packaged in hooks that are too efficient to offer anything beyond surface-level sentiments on recovery. Rather than singing about her difficulties, she sings around them on songs like "People You Know;" furthest the song goes is: "People can go from people you know to people you don't." She nearly gets to breaking the barrier a few times on "Vulnerable," which couples the record's darkest undercurrent with its most radio-ready chord progression. "If I show you all my demons, and we dive into the deep end/ Would we crash and burn like every time before?" she wonders, hinting at the level of repetitive trauma she's endured.
But It's difficult to hold onto the fleeting moments of tenderness when they're also preceded and followed by several throwaway tracks manage to dilute that message of "vulnerability." Like "Lose You To Love Me," which is immediately followed up with "Ring," a schlocky number built around similes invoking jewelry, phones, and puppets. Rare's weakest moments range from truly flavorless (the Bebe Rexha-interpolating duet with 6LACK,"Crowded Room") to downright obnoxious ("Let Me Get Me"). Gomez certainly doesn't owe us serious introspection or any kind of personal epiphany, but on the back half of the album, it begins to sound like she may be actively avoiding the possibility.
By the time Kid Cudi shows up for the album's grand finale, it's "Man on The Moon" meets "We Are The World." He brings his signature spacey howls, and Gomez phones in the hook. "Is there a place where I can hide away?" she asks. "Red lips, French kiss my worries all away. There must be a sweeter place, we can sugarcoat the taste." For better or for worse, "A Sweeter Place" feels like a fitting conclusion for everything that preceded it. Maybe there is a sweeter place, and we have glimpsed it and its sparkling possibilities, but Rare doesn't make a strong enough case to want to fully open the door to get there, and Gomez doesn't sound that convinced either.