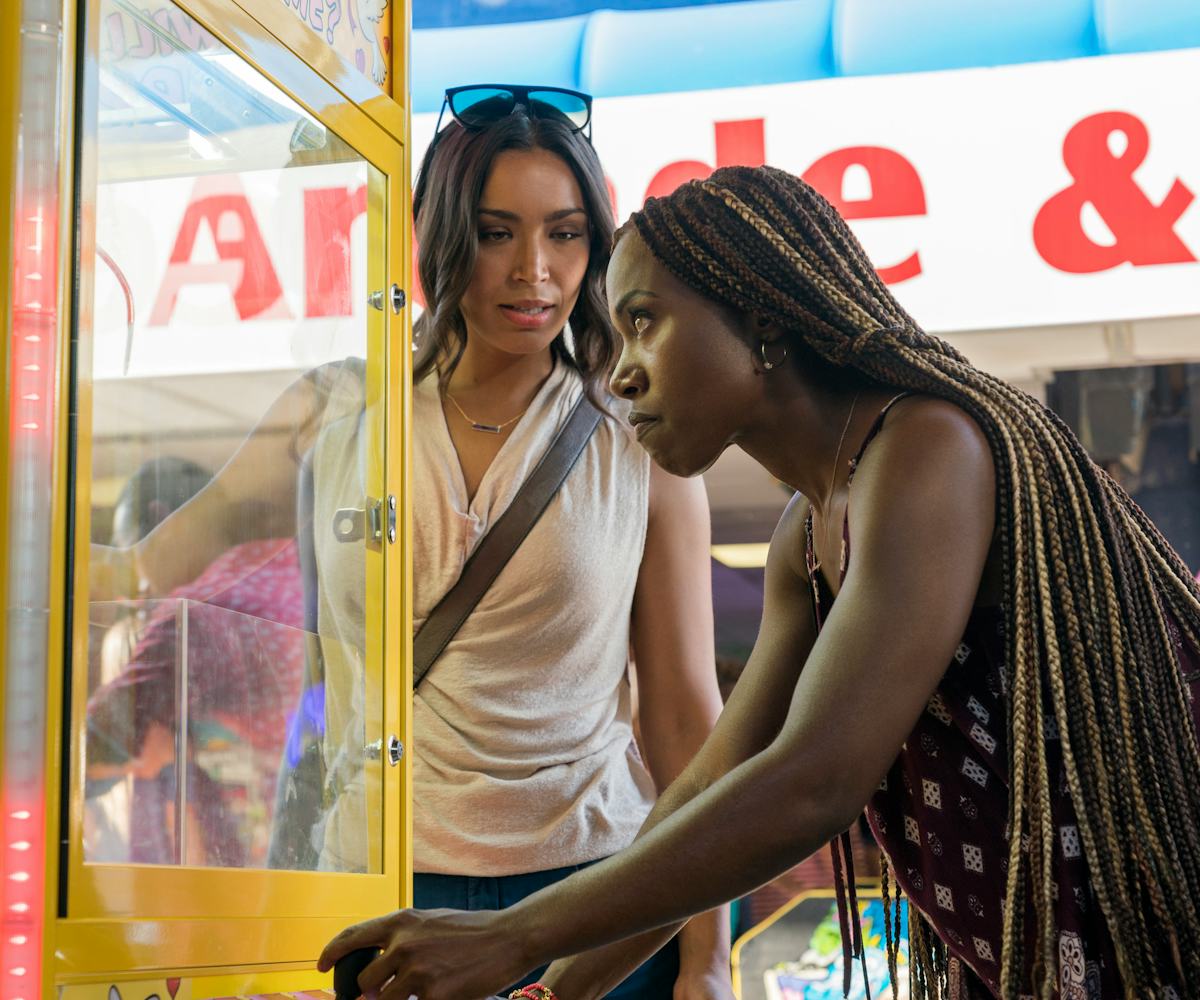 Photo courtesy of Netflix.
Can We Talk About That Sex Scene In 'She's Gotta Have It'?
Black women having sex makes some people uncomfortable
The new season of She's Gotta Have It starts off fresh with scenes of Nola Darling (DeWanda Wise) saying goodbye to the three men she used to see; she's ready to enjoy summer in Brooklyn. And things quickly get steamy when it's revealed that Nola will be enjoying summer with single mom Opal (Ilfenesh Hadera), the one lover to survive Nola's emotional obstacle course. Before we even reach the seven-minute mark on the episode, viewers are let in on a montage of queer sex between the two women that lasts for a full two-and-a-half minutes. While sex is a normalized part of the She's Gotta Have It universe, from the 1986 film to the first season of the series, these moments between Nola and Opal were notably different because it's still shockingly rare to see Black lesbian sex on screen.
If you want to see shows with women getting it on, you have plenty of options to do so. Take a throwback look at The L Word. Indulge yourself in Netflix originals like Gypsy, Sense8, Easy, and even Orange Is the New Black. Queer sexual tension is at the heart of Killing Eve; and, more family-friendly shows like Jane the Virgin and The Fosters have offered all-girl intimacy for viewers. The majority of the scenes in these shows, though, include white women. Black characters like Poussey (Samira Wiley) on OITNB and Chase (Kiersey Clemons) on Easy are often paired with non-Black partners. Conversely, all-Black sex scenes, while also in abundance, are usually heteronormative. So while it's great that Insecure has been lauded for normalizing casual sex amongst Black millennials, and that Queen Sugar, Power, and Empire also don't shy away from the meeting of brown skin, it shouldn't be an either/or situation. And yet, we are accustomed to only being shown onscreen sex when it's filtered through the lens of whiteness and/or heterosexuality.
This is why seeing Nola holding her long box braids while going down on Opal and seeing Opal's nipple rings is so singularly satisfying to me and so many other viewers. But, the anomalous nature of this scene is probably why it also made some people uncomfortable. Many on Twitter thought the scene was too long and, in some cases, unnecessary. While everyone is entitled to be uncomfortable by onscreen sex based on their own experiences, I couldn't help but wonder how much of the discomfort was based on heteronormative conditioning. We are subjected to violence, rape, torture, and murder against women—particularly women of color—onscreen all the time, but two Black women making each other cum is somehow read as gratuitous.
Of course, there were others who recognized the scene as just being sexy as hell.
For me, though, it was more than just sexy: It was a revolutionary moment. That it triggers so many strong feelings is precisely why it needed to be done. We are only now opening ourselves up to Black women's sexual autonomy and pleasure. We still have a ways to go in normalizing other Black women being the source of that pleasure. Nola and Opal offered a great example of what that can potentially look like.
As is the case with representation, one prominent example simply isn't enough. I'm already dreaming of more scenes that include fat bodies, strap ons, and definitely more Black hairstyles. Issa Rae, write this down for the next season of Insecure.