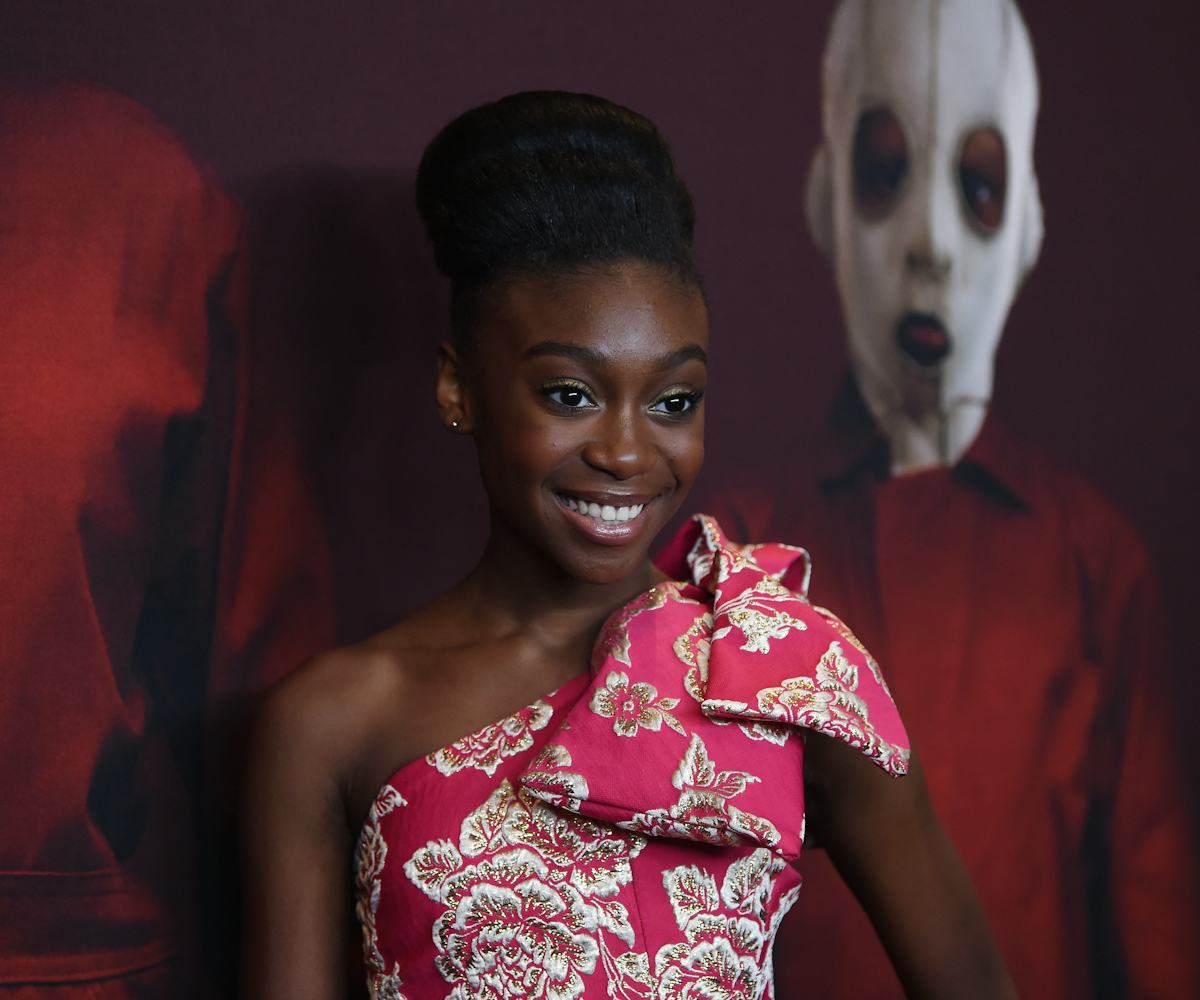 Photo by Jamie McCarthy / Getty Images.
'Us' Actress Shahadi Wright Joseph On Why She Was Terrified Of Lupita Nyong'o
There were a lot of scary moments that went down while filming Jordan Peele's new film
Jordan Peele's mind is operating at genius levels. He laid a creative smackdown on liberal racism with his masterpiece Get Out, now he's just introduced a way to make all of us afraid of ourselves with his follow-up, Us. One of Peele's inspired moves in his latest film is the casting of 13-year-old Shahadi Wright Joseph, who nails it playing both teenaged Zora and her creepily smiling doppelgangers. Us is Joseph's first movie role after a seasoned career on Broadway that includes The Lion King, School of Rock, and Hairspray Live!. When she stopped by the NYLON offices to talk about Us, Joseph assured us that stepping off the stage and in front of the camera wasn't difficult at all: "I would say that it was actually a little bit easier, because there weren't so many people watching [me] at one time." There was actually something much scarier than first-time jitters on the set of Us: Joseph's costar, Lupita Nyong'o.
"My first reaction when I heard I was going to be playing [Nyong'o's] daughter… I almost did a full-on backflip," Joseph said, but, in a case in why you should never meet your idols, Joseph soon found herself freaked out by Nyong'o's ultra-realistic method acting. Like Joseph, Nyong'o also does double-duty, playing a loving wife and mom with a hidden past, and her own monstrous doppelganger, Red, who is the hidden past. As Red, Nyong'o speaks with hoarse, muffled voice, and is prone to ticks and intense stares that are thoroughly haunting. "She would get so into character on set. It would spook me out a little bit," Joseph said. After seeing the movie, we can say we definitely get it.
But, Joseph was able to give Nyong'o a scare of her own in a pivotal scene toward the film's ending (no spoilers here!) that left Nyong'o screaming, too. "It was kind of perfect," said Joseph.
Terrified cast members aside, the Us set was pretty chill thanks to Peele's comedic spirit keeping things funny and light. "He created such a great environment for all of us to work in and just be together and really bond," Joseph said. She explains that it was Peele's leadership that created the chemistry audiences witnessed onscreen. As for her character's sassy endurance, though, that was all Joseph, who put in a ton of work for this shoot, including training for months to be ready to film a scene where she runs full speed up a steep hill. Good thing she did because she had to shoot it five times. "And I had to pretend like I wasn't out of breath," she added. I could never.
One of the most interesting things about Joseph is how dedicated she is to being a normal teenager. Before she leaves our offices, she's already introduced me to an app that allows me to split multiple images of myself in one frame. And when I asked her if she was homeschooled, she advocated for attending regular school, saying that she liked it "because there are people around you and you can socialize with your friends. I feel like I learn a little bit more when I'm actually in a classroom." And she would know. She tried homeschooling for a year but found herself so lonely that it stopped all of her productivity. Joseph didn't go into detail, but she's assured me that she's already "gotten the hang" of dealing with the social clout of being a movie star in middle school.
And she is on the path to being a star: Us isn't the only major motion picture you can catch Joseph in this year. On July 19, she'll be voicing young Nala in the remake of The Lion King with Donald Glover and Beyoncé. And she's already looking ahead to the future. "I also want to start exploring maybe drama and comedy… if Tina Fey asked me to be on SNL, I wouldn't rule it out." With Joseph's talent, there's nothing that can be ruled out.
Us is out in theaters now.