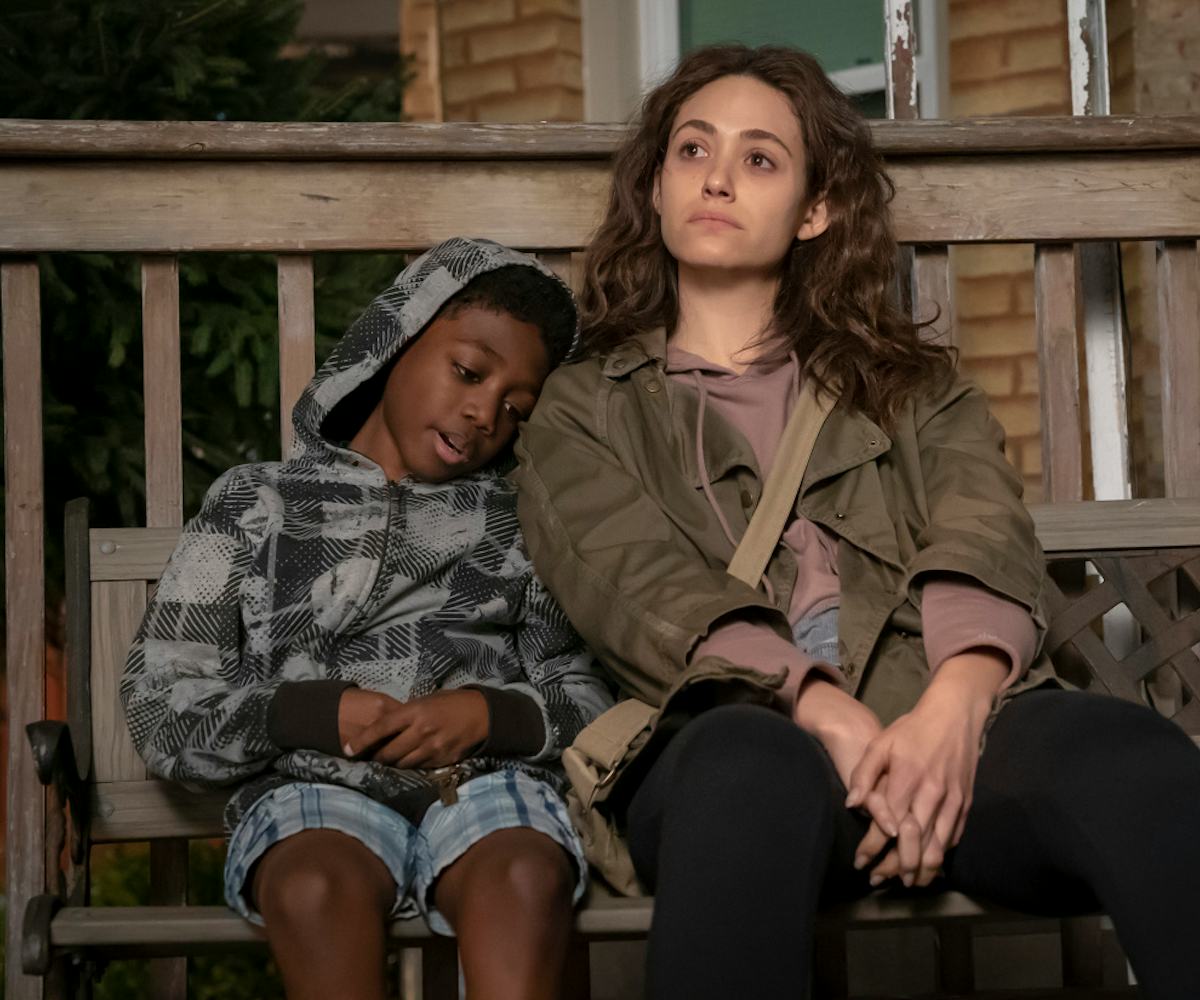 Photo by Chuck Hodes/SHOWTIME.
How 'Shameless' Changed The Conversation Around Mental Health
And made clear its connection to systemic poverty
If you were to ask someone to sum up the Showtime series Shameless, you'd likely hear something like this: "It's a funny show about the Gallaghers, a poor family on Chicago's Southside." While that's an accurate description, it's not the entire truth; poverty, after all, rarely exists in a vacuum, and a whole host of other issues usually accompany it. But because the Gallaghers are white—with the exception of Liam (Christian Isaiah)—they've managed to escape the racism that typically goes hand-in-hand with classism. But there is another, less talked about issue that often accompanies economic woes that Shameless covers in abundance, even if the show often only implicitly acknowledges it: mental health. In doing so, Shameless captures the codependent relationship between mental health and the working class, one in which stigma and silence only intensify the effects of both problems.
Through several characters, Shameless has explicitly ventured into the complicated conversation surrounding mental illness. In the first season, neurotic Sheila Jackson (Joan Cusack) suffered from intense agoraphobia, never leaving her home. Beginning in Season 4, the show began to explore Ian Gallagher's (Cameron Monaghan) struggle with bipolar disorder, an illness he inherited from his mostly absentee mother, Monica (Chloe Webb). Over the course of the next five seasons, Ian's mental illness has prompted him to go missing, kidnap a baby, and, most recently, develop a gay Jesus complex. In the ongoing ninth season, Ian's father Frank (William H. Macy) dates Ingrid (Katey Sagal), who has mania, and whom he met while they were both in the hospital; he was there for an alcoholism-induced liver transplant, she was a patient in the psychiatric ward.
By specifically naming mental illness in just some of its characters, Shameless reflects how mental health is often only recognized when it arises in the form of extreme behavior or crisis. But this kind of illness-induced chaos is at the center of just about every story line on Shameless and shows how systemic poverty is a mentally disruptive kind of trauma.
This can be seen, perhaps most notably, in Frank's alcoholism, which has created the generational impoverishment that his children are faced with; addiction is an affliction that falls under the mental health umbrella. He passed that disease down to his eldest son, Lip (Jeremy Allen White), who is the only one in his family who is seeking help and recovery. Then, this season, Frank's eldest daughter Fiona (Emmy Rossum) appears to have hit rock bottom after losing her income-generating property, her car, her relationship, and the use of her arm after injuring herself in a car accident. Her condition—which looks like depression—has led her to binge drink alcohol, experience intense mood swings, and become confrontational and erratic at work. It's an ongoing state of despair, similar to one she experienced in Season 5 when she violated her probation and served several days in jail. For the most part, the mental health of Fiona, Frank, and Lip has been met with avoidance, and is not addressed by their loved ones—or themselves. Shameless plays on a position of general ambivalence that even those experiencing mental health issues can often take when it comes to their own well-being.
Even more poignantly, Shameless highlights how poverty itself is often a source of mental and physical trauma. Carl Gallagher (Ethan Cutkosky) has been engaged in a life of crime since before he even hit the double digits as he learned early on that he would have to fend for himself in his dysfunctional family. Debbie Gallagher (Emma Kenney) had to have her own toes cut off and tried to do it herself because she couldn't afford to see a real doctor as a teen mom. Liam has already been kidnapped for ransom by drug dealers. At the very least, every single Gallagher likely has PTSD.
What seems to translate the most about mental health from the Shameless universe is that poor people simply can't afford to take care of their diseases, literally or figuratively. The cost of health care in the United States, is quite simply, too damn high. Mental health care is often inaccessible, especially if treatment requires taking time off work, making therapy a luxury. Additionally, mental health is not only stigmatized but criminalized when people of color, or poor people, are the ones suffering. Depression is read as laziness, not having the energy to deal with your kids is seen as neglect. Shameless is a perfect allegory for how poor people have to keep moving in the face of ill-managed mental health. Oftentimes, they have to laugh to keep themselves from crying—or from an even worse fate.