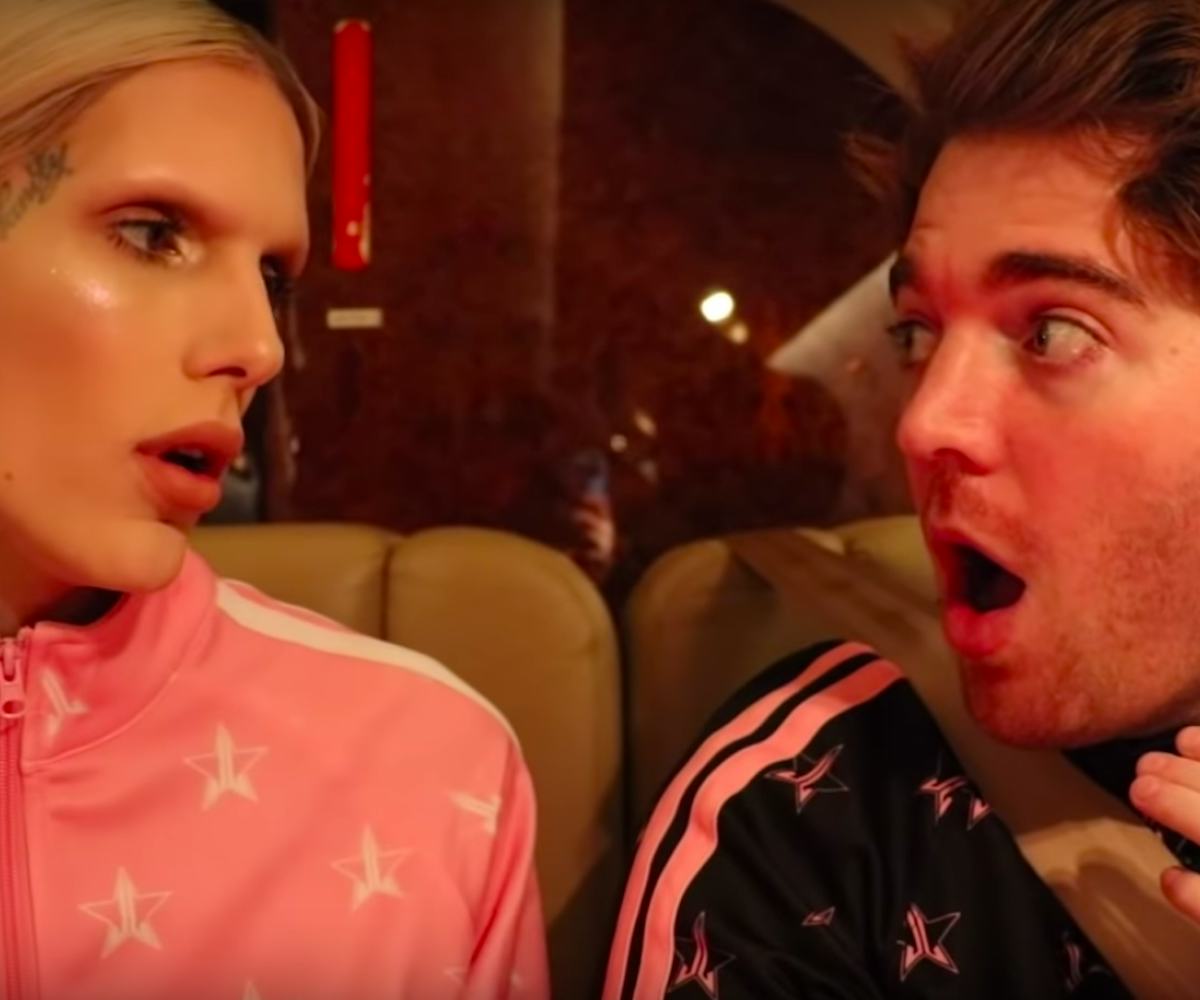 Screenshot via @ShaneGlossin YouTube
Jeffree Star and Shane Dawson Shade Almost Everyone In The Beauty Community In New Video
36 minutes of dragging Kat Von D, Jaclyn Hill, and more
Shane Dawson wants to take his beauty content more seriously, and he has a brand new YouTube channel to prove it. On Jan. 21, the vlogger introduced the world to @ShaneGlossin — a new space for "random, dumb, and sometimes creepy videos that revolve around the beauty world" — and the first official video is just as dramatic, chaotic, and controversial as you'd expect. Titled "The End Of The Beauty World," the 36 minute video covers a lot, but perhaps the most noteworthy bits are when Dawson and Jeffree Star gossip about the beauty industry and the influencer power players within it, hitting on everyone from Kat Von D to Jaclyn Hill.
The not-so-subtle shade starts early in the video, when Dawson reveals he is now getting PR boxes from beauty brands, including Vat Von D — whose recently-departed founder publicly fought with Star back in 2016. "They put me on Kat Von D's [PR] list and I had to tell them to take me off of it," he says laughing. While talking with Dawson about getting tattoos of their makeup collaboration logo later in the video, Star says, "No, honestly what if we got Kat Von D to do it? She needs work. She has a baby now, she needs work," followed by the room breaking out into laughter.
The gossip later extended itself to the industry at large, when fellow YouTuber and Dawson's soon-to-be sister-in-law Morgan Adams brings up how poorly she was treated on a recent beauty press-trip by other influencers. As Dawson relays her story to Star, the beauty mogul — controversial in his own right — isn't surprised.
"She's smart and she probably saw through the smoke and mirrors of who those people are quickly," Star said of Adams' trip. "[Beauty brands] have all these parties and what you're not seeing is, a lot of demons come out at night — and I don't mean people without their makeup on. I mean like people that over-take pills, that wanna get f*cked up, that gets really wasted at night and you see like the demons come out in them," he continued, without mentioning any names.
"It's just like a whole crazy experience, cause like you see this girl doing tutorials and now she's blackout drunk screaming and crying about her ex on the floor and you're like, on a brand trip. Why do people have no boundaries? Because there are no rules — you're just there to post about an eyeshadow palette," Star said.
After this, Dawson briefly touches on the infamous feud between James Charles and Tati Westbrook in 2019, but only to say he wishes they'd "shut the f*ck up" about their then-still brewing falling-out. He also says that fellow YouTubers Gabriel Zamora and Nikita Dragun shouldn't complain about being dragged into the controversy of others when "they brought themselves into this."
Of course, no recap of all the 2019 beauty world drama would be complete without touching on the controversy surrounding YouTuber Jaclyn Hill, stemming from her beauty launch and subsequent recall. According to Star, he would have reviewed her lipsticks, but he had to wait until she "figured out what was happening with it," referencing the units that reportedly had hair and mold on them. "Is that mold?" Star says jokingly in the video while he does his makeup.
"What actually happened because my PR box, they're all hairy. To the point where it looks like I rubbed it on my dog," says Dawson. They go on to point out that Hill had since made a statement about the issue, though they're not sold on her claim that fibers from the lab gloves fell into the formula. "I have never seen labs wear white furry gloves," Star said, using finger quotations.
Are Star and Dawson truly unearthing the actual end of the beauty world? No. But they now have an entirely new platform to let you in on all of its undeniable mess.