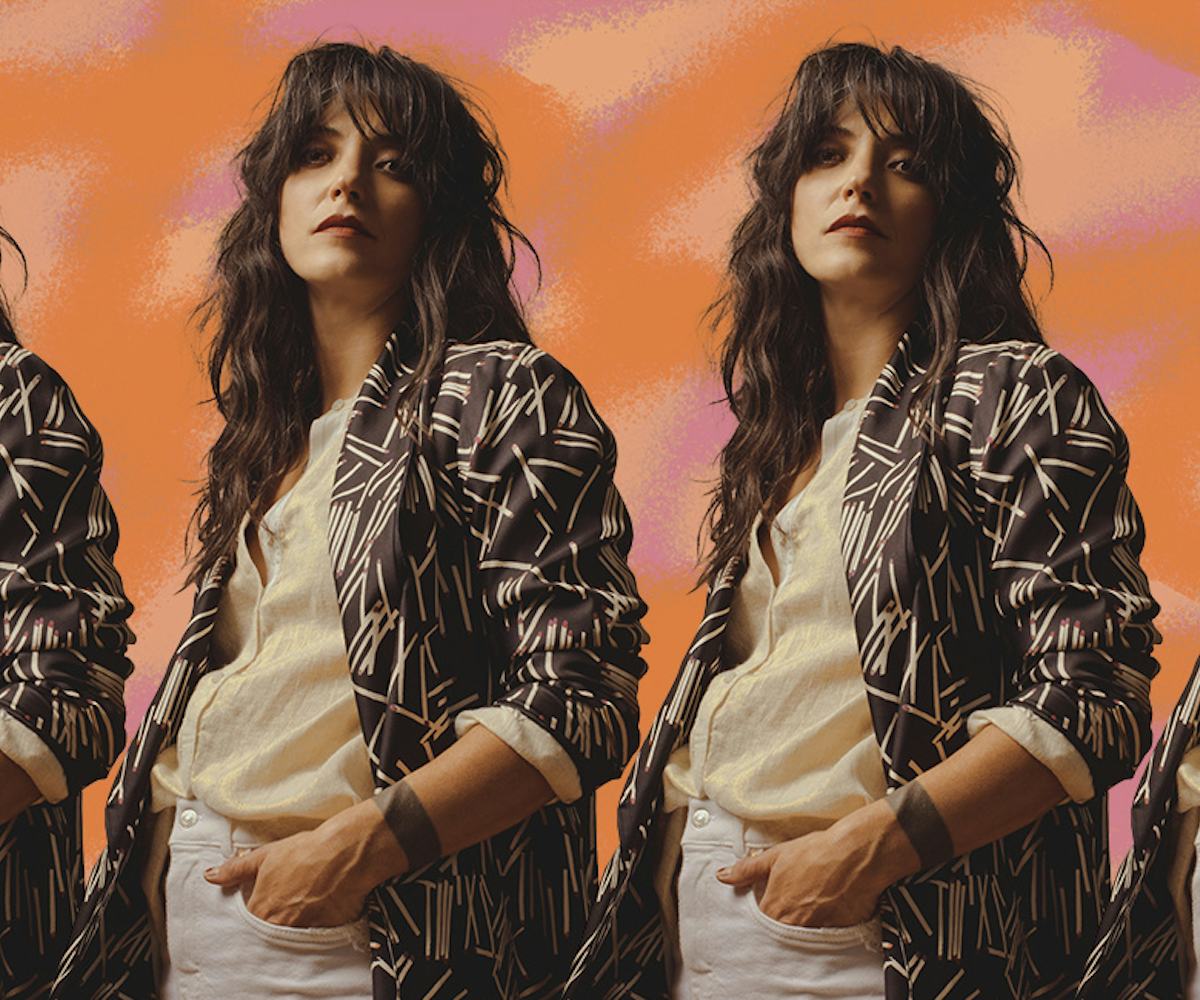 Photo by Ryan Pfluger
Sharon Van Etten Makes a Bold Return To Music
Her new album, 'Remind Me Tomorrow,' marks another evolution in her music
As a writer, I've encountered many record company publicists in my line of work, but not all of them were also active musicians. Sharon Van Etten was one of those exceptions. Back in 2009, she was working in media relations for a Brooklyn indie record label when I first encountered her, not knowing at the time that she was also a local singer-songwriter. Later, when I heard her debut album, Because I Was in Love, which was independently released that same year, I was captivated. With her voice and guitar on that record, Van Etten poignantly documented the trials and tribulations of relationships in such stark, heartbreaking, and compelling fashion. It didn't sound like someone who was doing music merely as a side gig to a nine-to-five job: This was something from an emerging artist seriously determined to bring her songs to a wider audience.
Shortly afterward, Van Etten and I met for the first time in person on a warm sunny afternoon in New York's East Village neighborhood. We were eating frozen yogurt and sitting on a stoop on St. Mark's Place where she talked about her life and music. "It's all things I would say to people," Van Etten told me about her songwriting back then, "whether it would be I'm talking on behalf of my friend to somebody or talking to a lover. I want everyone to know that it's okay to be sad and it's okay to be reminiscent. I want it to be conversational… I want to be as direct and honest as possible."
That directness and honesty would define Van Etten's music for the next 10 years, during which time a lot has changed in her life. Three more albums and numerous shows around the world later, Van Etten has gone from being an under-the-radar musician to a universally acclaimed artist. Her last studio record of original material, 2014's breakthrough Are We There, appeared on most critics' year-end best-of lists. But despite the momentum, Van Etten would, uncharacteristically, take a four-year break from recording after her tour in 2015; during which time she became a mother. She also attended college to study psychology, with the goal of becoming a therapist. Additionally, Van Etten explored acting through her role as Rachel in the Netflix drama The OA, and she made an appearance on Twin Peaks: The Return.
Now Van Etten has returned to the spotlight with her much-anticipated fifth album, Remind Me Tomorrow, which was just released on Jagjaguwar. Produced by John Congleton, who is best known for his work with St. Vincent, the new album marks a noticeable and bolder departure from Van Etten's previous albums with a prominent emphasis on electronic music influences, particularly through the use of synthesizers. Representative of that shift was the album's first single, "Comeback Kid," a dramatic and jolting blast of synth rock that is both dynamic and powerful, with Van Etten channeling Pat Benatar and Patti Smith in her confrontational delivery (she even put aside her own guitar for this project). What hasn't changed, however, is her arresting singing and her lyrics of melancholy and hope, from the haunting and moody "I Told You Everything," "Memorial Day," and "No One's Easy to Love," to the romantic and tender "Jupiter 4" and "Stay."
Starting February 6, Van Etten will embark on a tour through North America and Europe in support of the new record. As she is preparing to play stages once again, the singer spoke with NYLON about her break from recording, the bold sounds on Remind Me Tomorrow, and what's next for her.
So much has happened to you in the last four years with motherhood and non-music endeavors. Did you think that you would ever record again, or was music less of a priority during the hiatus?
It definitely wasn't a focus. I was trying to figure out how to diversify and how to be creative while being [at] home, paying attention to family and friends, and expanding my horizons in school.
Remind Me Tomorrow is such a stylistic departure from your earlier albums. Was that something you had intended to do prior to making the new record?
When I finally sat down and looked at all the songs I had written during that time, I realized it was 40 songs. Then as I was narrowing down what I wanted the album to be, the ones that I was drawn to were the ones that were synth-driven and syncopated beats because of the way that I was tracking drums when I was writing. It wasn't intentional. All of a sudden, the songs that I was most excited about were the ones where I'm not playing guitar. That hinted at where I was going to go with it. But it wasn't until I sat down with John Congleton and he asked me what my references were for the record. And with the bare-bones instrumentation that I had already tracked on the demos, what I was most excited about was exploring this electronic side and the left-of-center tastes that most of my fans don't know I listen to.
I can definitely hear those musical references that you had suggested, such as Portishead and Suicide, on several of the tracks on the record.
It was really fun and liberating. It was a little nerve-racking at first to say [to John], "Okay, I'm going to let you choose the musicians, and I'm just going to show up and be the singer now," and trusting this person that I've never worked with before. But he really understood what I wanted, and he even made it better. He chose amazing musicians... there was no ego at all, everyone tried things as he was able to articulate them. Half of the things were spontaneous and then planned. So it unfolded before me.
You didn't play guitar on Remind Me Tomorrow, which marked another musical break for you. Did you miss playing it?
It made me more vulnerable. That's what I rely on to sing and perform and have something to hide behind. But it was also really liberating because I could just show up and be a singer and focus on that. And I'm a much better singer when I'm not distracted by playing. It's also it's really fun to sing that kind of music. In the writing process, I felt like every time I sat down and played my guitar that I was writing the same song over and over again. By playing keys and drums and trying all these other things, I felt like I was coming up with something a bit more new, even though you can still hear my melodies in there.
Is it accurate to say that the majority of the lyrics on the new album was directly informed by your experiences during the hiatus?
They all started over the last four years, from when I was on the last tour in 2015 to all the way up until when I was in California right about to work on the record. The first song on the record ["I Told You Everything"] was the last song I wrote. It's like a chapter of my life. I feel like every new record is a chapter and it's moving forward. It encompasses a lot
Has motherhood and being in a romantic relationship changed your lyrical perspective?
I think it's given me many more perspectives. It also helped me write differently, because I started writing some of these songs before I was pregnant. Then I was working on lyrics while I was pregnant, and Trump got elected. And then I had my kid the year that Trump came into office, and I wrote during my child's naptime staring at him. So the songs that started off as love songs to my partner turned into love songs to my son—but also with all the undertones of what's going on in the world, trying to be positive with all these other things lurking in the background. My job is to make my son feel safe. So that's the kind of coaching I'm going have to give myself over the years, which I'm sure that there'll be many things that I want to protect him from.
The synth-rocker "Comeback Kid" was the first track released off of Remind Me Tomorrow; the Jonathan William Turner-directed video for the song shows you in the present day juxtaposed with images of you from the past. Is that track somewhat autobiographical?
Absolutely. It's that feeling when you go back home and visit your family and you're always going to be that kid. No matter where you're at in your life and your career and how much you've grown, that is what people are going to remember you as. You can't shake it, and you're always going to be that kid no matter where you're actually at in your own mind and life. It's that funny kind of feeling when you go back home and what that brings up.
Another single from the new album, "Jupiter 4," is both tender and romantic. And the video was beautifully shot by director Katherine Dieckmann, for whom you scored her 2016 movie Strange Weather.
This was definitely my love song. When I first wrote it, I was experimenting with trying to write songs for other people, and I remember being in a place where I could write something and being like, "I feel really good giving this to someone else. I could make it like a pop song or a rock song." And I gave it to my friend Donna Missal. She recorded a version of it that's amazing. And at the end of the day, I still felt like, "You know what? I still want to do my left-of-center version of the song." It was a fun exercise, and I think any songwriter should do that: to hear their songs in different universes. It helps you grow as a writer and performer. It was really fun to write that song and work with Katherine.
The anthemic and driving "Seventeen" really conveys the conflict between the older and younger generations as well as the issue of gentrification in an always-changing New York.
I've lived in New York for 15 years now. When I first moved here, I had a friend take me under his wing and show me the ropes, like what neighborhoods artists and younger people were hanging out in. My first apartment was on Broadway and Marcy [in Brooklyn], and he showed me where Williamsburg was back then. He said, "Things are happening really fast. Just remember that throughout time, civilizations rise and fall." [laughs] I remember having no idea what he was talking about. I've lived here long enough to see things come and go, places that I loved, places that were of no consequence, [and] you're like, "Okay, I can't afford this anymore." And you find where the more affordable rent is, but then also the generations that are following you actually are living in the areas you can't afford anymore. I remembered for the first time I caught myself being annoyed that a place I loved had closed, and hearing my friend's voice in my head that "this is what happens, civilizations throughout time rise and fall." I had a good laugh at myself about it.
The record closes out with the ballad "Stay," which has the lines, "Imagining when you're inside/ When you make those kicks at night." Is that song about being a mother?
That one started off too as a love song to my partner, and I didn't have all the lyrics done. I just had the chorus. I was working on lyrics, trying to be creative. It was toward the end of my pregnancy, and I'm starting to think of all the things that I want for [my son]. There had been a couple of times where I was writing lyrics, and I had this vision of a projector showing films of my child who wasn't born yet, like running and looking to me. I think a lot of mothers feel that when they're envisioning what's about to happen. All I want is the best for him, regardless of what I've been through already in my life.
It seems like Remind Me Tomorrow is going to surprise a lot of your fans previously accustomed to your indie folk rock. But, at the same time, it represents another musical evolution for you.
And it's still me. Even though I was a little nervous about stepping up production and leaning more on synthesizers and keyboards, there are musicians playing on the record, and it's my lyrics, my voice. It's still my songwriting. I want to keep fans excited and knowing that I'm going to try something different every time, so I can grow as an artist, too.
In addition to your working on this album, you've made a foray into acting with The OA. Will you continue to explore acting, or was that a one-time thing?
It's not an emphasis for me. But if something interesting comes up, I am game. I feel like it has expanded my horizons and it helped me as a writer and as a performer. Getting into a role, and looking at all sides, has been really expansive for me. But it is very time-consuming once you're in it. So I would have to plan it right, and the role would have to really resonate with me. But I'm game. 2019 will mostly be touring, that's for sure.
You also went to school to study psychology during your break, with an eye towards being a therapist in the future. Are you finished with your studies?
No, I have a long ways to go there. I just finished a semester, and I'm only a sophomore. I won't be able to go [to college] next year because I'll be on the road. But I'm going to try to do some research while I'm on tour. Right now, I'm giving myself the realistic goal that, by the time I'm 50, I would like to finish school and have my own practice.
Do you foresee music being in the cards by the time you reach that age?
I don't see music ever completely going away from my life because it is my form of therapy. I don't know what that means for records, touring. I might not want to be in a van when I'm 50. [laughs] Music is such a huge part of who I am, and it helps me through a lot. It's my outlet, so I don't see it going away.
Your career has definitely progressed in the last 10 years since Because I Was in Love. Do you ever step back and wonder about what has happened for you?
It makes me reflect even more. It's overwhelming to feel the kind of support that I've had from friends, family, fans. I really appreciate every moment. I feel blessed every day that I can make music and that people are hearing it. And it's my voice, my words, and people are connecting to it in their own personal way. I try not to overthink it beyond connecting with people.